Visualize - Actualize
Bo's 3d CAD To Progressive Concrete Blogs - A Free Exchange of Ideas
Hire me for almost any kind of work represented here.
Note: These pages are placed in the public domain and are furnished "as is". The author assumes no responsibility for the use or misuse of the concepts in this series. All pertaining laws should be satisfied, in duplicating or testing my concepts or descriptions, as are posted on my linked pages.
All-Pictorial Menu (Which might be more complete).

Summer of 09, 'Annualized Site Prep'


Small Eyelid Greenhouse -- Cost Competitive Design


Green HVAC For The Greenhouse Age


Low Clearance Culvert Solution To Solve Heavy Rain Washouts


2008 Sit Down Gardening ! -- Ergonomic Nutrition ?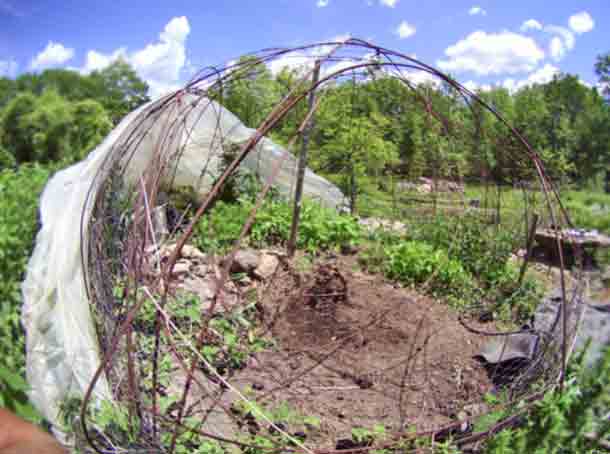 Extremely low cost eyelid greenhouse.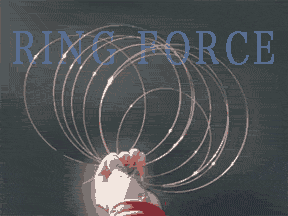 Ringforcement--Theory & Practice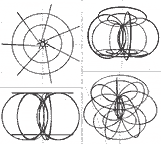 Toroidal (Or Donut) Truss (Under Construction)


2007 Free HVAC? More on this & Alternative Insulation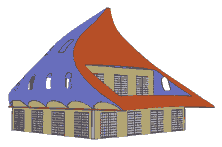 Innovative Architectural Modeling "Sail Box"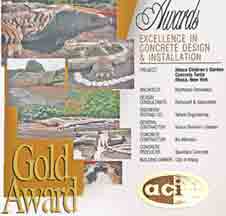 American Concrete Institute Central New York Chapter ACI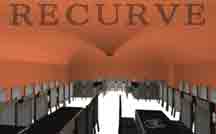 Recurve Cable Truss Arch Built Easily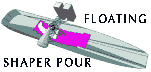 Floating Bed Fabrication Facility
Near Buoyancy Form Work For Cementitious Structures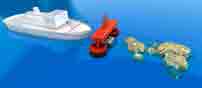 Oceanic Gyres, Is Garbage Clean Up Possible?


Sandy Bottom Aqua culture-- Aquatic Fencing & Other Concepts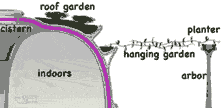 Competitive Green Roof Home With Hanging Garden Arbor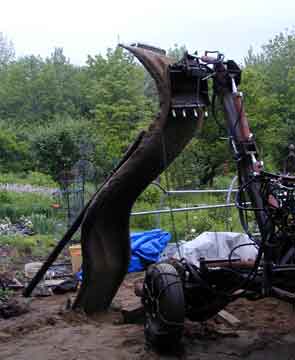 Tilt Up "Lightweight" Ferrocement Wall Sections
Grove style framing for a building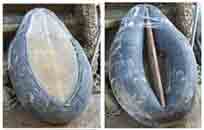 Inner tubes As Form work For Structural Coffers


Continuing Progress on Grove Dome (Glazing 2008)


Arc-Optimized Vault Surfaces For Efficient Strength


Tilt-Up Square Donut Vault Construction Concept


Pole Formed Concrete Walls And Columns

Locally produced Bulk Materials For Construction


Forming vaults by raising molds or raising tiles upon poles.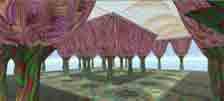 Arcades made with vaults which are shaped like goblets.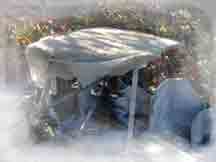 Sculptural Vaulting Experimentation

Recycled auto tires might form a mold system for vaults


Inner tube air forms for molding ferrocement structures
Monolithic Hand Finishing Both Inside And Outside Of A Vault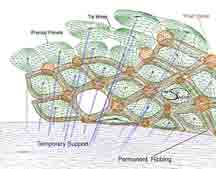 Tiled Dome Building
Vault Judo: A method to flip vaults in place.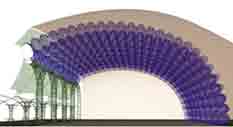 Arched Purlin Truss (Huge Surface Truss)


Crumb Rubber & Ferro-Tensegrity


Self Tensioning Sheet Metal Reinforced Ceiling
Testing #9 Gauge Wire Ringforcement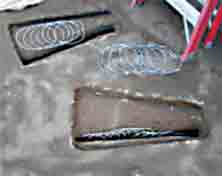 Stair building style which uses ring reinforcement.
Spiraling rings for frames, rafters and truss structures.
Job site machines might form flat coils and mesh.
3D rings and a 24/7 concrete construction robot?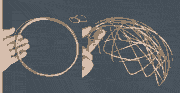 Instant dome frames from rings and subdivisions for nested frameworks.
3D Reinforcements from nesting rings on cube faces .
Progressive concentric spiral as reinforcement.
Alternative masonry using fiberglass insulation blocks.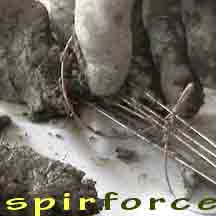 2007 experiments with minimalist ferrocement frameworks.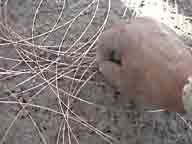 2007 Fast-&-Easy Flat Ferrocement Work.
2005 Hand Made Mesh Experiments
Pre 2004 mesh forming methods are linked here.
Ringforcement concept for a small (5m/ 15ft) dome.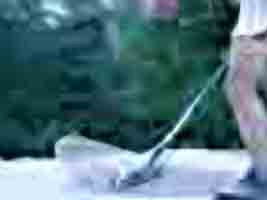 A method for smoothing FerroCement, using rollers.
Expanding Expanded Lath Concept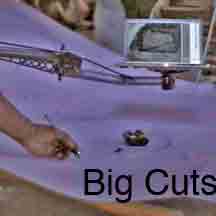 CAD "replaces" the Measuring Tape and the paper work planning.


Raster Aided Vectors / Digitizer Aided Building Computer Aided Labor


Experimentation with intersecting joists.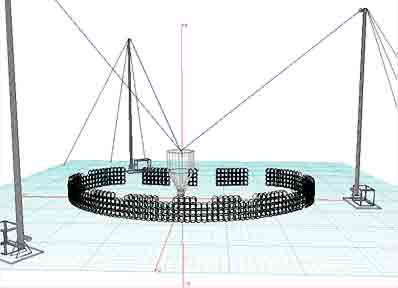 27/7 Additive Construction Concept

"Corduroy Wall" Forming Method.
Hollow "corduroy wall", wet tilt shaped drain pipe.


Corduroy Snail Shell and Columns.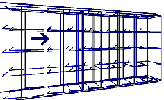 Interlocking WWM units to form versatile wall units.

EPS Grinding-Experimental Concept.


Bucket mixing of cement, spiral mixer research.
Bend your own rebar mixers plus.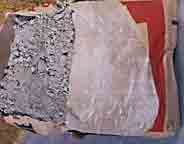 Difficulty With & A Partial Solution For Lumps In Bagged Cement.
Micro cement/ concrete batcher research.


Concrete pump using recycled radials research.
A simple lid adapter which sprays cement from a 5 gallon bucket (20 liters)
Literally Integrate Architecture With the Earth To Achieve Cost Free HVAC
Self Heating House Blogs.... (primarily for cold climates)
PAHS Retrofit - AGS For Ordinary Buildings
Branching U Tube Thermal Siphon For Perpetual Temperature Stabilization
Passive Annual Heat Storage Built Strong


Self Comforted House -- Ferrocementing for PAHS style building.
Historical precursors before PAHS with a relevant discussion link....

2007 Earthwork & Challenges
Concrete Compost Toilet Research
Near-Range-Audio Vibrator-Sculpting Tools
CAD Animation: Revolving, pivoting, (spiraling) form concept
CAD Animation: Tilt up dome concept
Agmont Park, fountain restoration. in Bar Harbor, Maine


"Earth Molded Concrete: Artisan Secrets"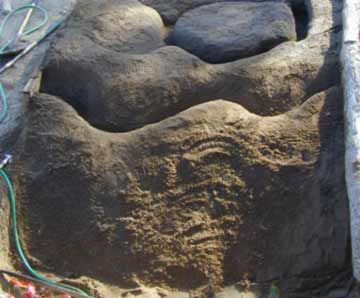 Sand Cast Large Contoured Wall Panels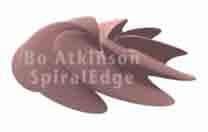 Insulated Firebox Experimentation

Spiral Donut Masonry Heater Concept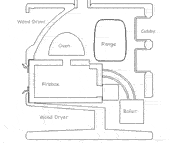 Monolithic Pour, Tilt up Masonry Heater Concept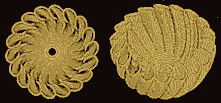 Vortex Flame Amplifier : Solid Fuel Burner Experimentation


Spiral Heat exchanger - Intriguing Assembly Method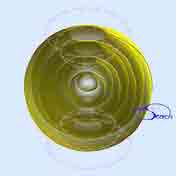 1994 Spinductor Concept
Donut spiral: relation of poloidal to the tetrahedron
Parasitic Antenna Elements... Geometric modeling some interference patterns.
Note: These pages are placed in the public domain and are furnished "as is". The author assumes no responsibility for the use or misuse of the concepts in this series. All pertaining laws should be satisfied, in duplicating or testing my concepts or descriptions, as are posted on my linked pages.
Visualize - Actualize -- Bo's Arts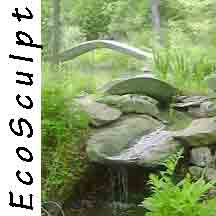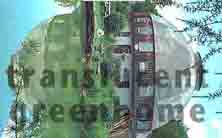 Translucent dome built entirely single handed by Bo Atkinson. See an old sketch the author made with an ancient Windows program. See trickle down solar heat storage concept. Sculptural concrete dome, a minimalist concept. Translucent sheathing details.

Star dome: intrinsic star tessellations.

Ringforcement: a synergy of ferrocement, concrete, masonry and curved construction methods.

Building your dream geometry ?

free assistance, (when time permits), with accurate nonlinear geometry.

A sketch for an article on integrating conventional stud construction with ferro cement.


Extra axial : twisting spins- poloidal

Radial wave: rotated spins.

Spiraling sphere models / "spinductor": spherical inductor

"Nex'inductor": miscellaneous spins structures

Tetra helix prism : refracted spin

Knot like torsion structure : tetrahedral spin

Tetrahedron derived curve. three fold spin. Interactive, Periodic Table Of Elements..CAD sketches using curvaceous meshes.
Pictorial portfolio without captions, but more links, click here.

These intellectual properties are placed in the public domain and are furnished "as is". Comments are invited. Consultancy or constructive cooperation is offered, as time permits. E m a i l- boa1@pivot.net

Disclaimer

The author makes no warranty, express or implied, for any purpose. The author assumes no responsibility for the use or misuse of the linked disclosures or ideas. In all technological and conceptual actualizations, Bo Atkinson advises appropriate consultation with State registered and capable engineers and legal professionals before engaging in testing or building structures or marketing products, to be sure that the public welfare is preserved and that all codes and laws are properly observed. Author: Bo Atkinson (MaineUSA)...Tel : 207 342 5796

Fair Use & Royalty Freedom
Since the beginning of popular internet usage, enersearch published many patent free design concepts and practical reports on the www, as a "defensive disclosure" to preserve the public right of use on a royalty free basis. Unpatenting reduces costs of progress and liberates the creative spirit to freely innovate more productively. If linked content of this website is found to infringe on a registered invention, please report this with relevant documentation references. Reasonable attempts will be made to verify which is indeed the "prior art", as compared with dates of public domain research and publications. I do not encourage infringements on patents and advise users of my website to exercise due caution in all critical possibilities. Please feel free to write me but bear in mind that i, Bo have to make a living as a struggling worker. While big interests benefit the most from patents, small business persons and struggling inventors may not enjoy difficult patenting mazes. Instead the small inventor can advantageously share intellectual property immediately and enjoy it's use in the public domain.

Enersearch History
Enersearch gave up on the "non-profit" business path in 2008. (All assets were purely intellectual and "inured" to the public domain as required by non-profit law). Enersearch was a non profit corporation founded in 1980 to promote harmonious integration of art, science and philosophy. All design concepts and technology marked with the enerseach logo were placed in the public domain to benefit the public welfare, as provided by law. Patents were not sought because putting technology directly into the public domain was more likely result in the public reception.
Furthermore While enersearch economized by not having to pay for a domain named virtual server space, the midcoast server has graciously allowed unlimited web space for many years. Prior to the midcoast server, a now defunk server under the name "agate.net" previously hosted some enerseach work at http://www.agate.net/~insearch. Verification of these initial efforts may be accessed, thanks to efforts of the archive.org. (Some files in the Way Back Machine are missing, but some remain intact.) Insearch was a name given to a xeroxed publication distributed through snail mail (by enersearch), to engage in information exchange, through low cost channels of communication, (before the internet was made public).

Enerseach has researched regenerative annular theory and practice since it's founding in 1980. Many practical spin off projects have been published in humble formats since 1980. Patent Disclosure Documents dated Febuary1979, stamped by the United States Patent & Trademarks Office certify some invention preparation efforts by the author, which later were exercised in the non profit mode. Research and low- budget publishing efforts have continued at a small scale since that time. Operating expenses were almost nothing, but the mission was consistently carried forward without profit.
Note: These pages are placed in the public domain and are furnished "as is". The author assumes no responsibility for the use or misuse of the concepts in this series. All pertaining laws should be satisfied, in duplicating or testing my concepts or descriptions, as are posted on my linked pages.
Enersearch was incorporated in 1980 but never materialized financially. A synergy of concepts were developed and are reflected in the pages of this series. The synergy continues as a single handed effort of Bo Atkinson, in Maine, USA.

Email comments welcome ~~~~~~~ boa1@pivot.net

Tel : 207 342 5796 . . . (Maine)
An entirely pictorial portfolio for Bo Atkinson-- index.html