Radial Spiraling Waves As Coils & Magnetic Core Surfaces ~ April 30, 2013 Update:
Images showing that varied windings of wire-coils can be rotate copied to form integral coil assemblies. (Additional features for consideration are linked here).

My formZ modeling software now provide a clipping plane which reveals the inner profile along a clipped, geometrical plane. Thus we see that the NURBS surface profile is somewhat-identical to reflexive, concentric coils.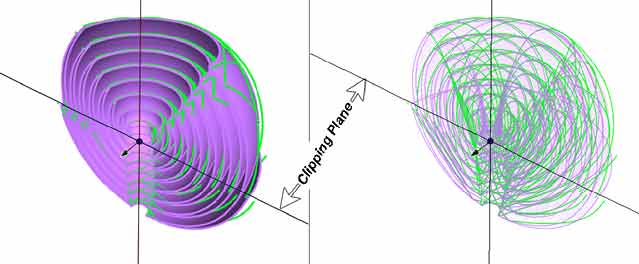 The model below demonstrates that actual wire- helices, when used as lofting profiles, almost provide clearances between wires-coils and suitable core-planes, or suitable core-surfaces. In as much as the recently observed "transverse force vectors" may in fact manifest converging-diverging effects.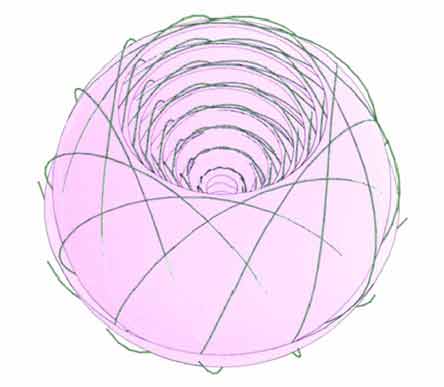 A centrally transparent render with multiple view angles, assists understanding of the whole arrangement of coils. Coils which can be configured and cross-connected through the center to boost self capacitance. Along with further, tuning characteristics.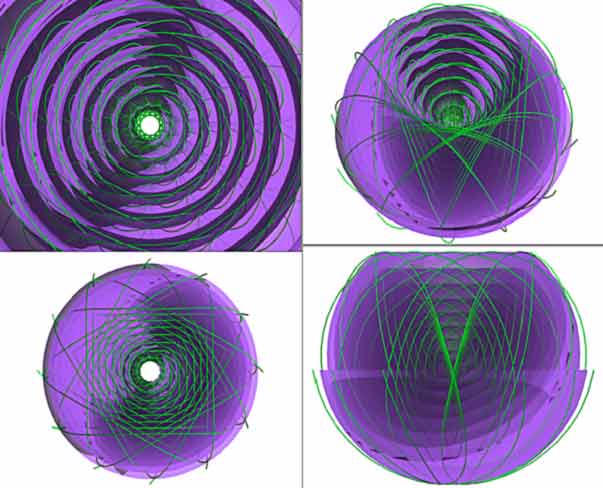 April 2013 Envisaging Transverse Force Fields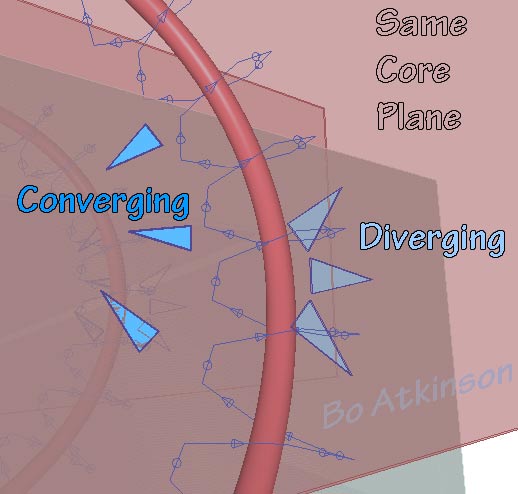 InductiveCouplingGeometry.html
Reflex-Vortex-Interleaved.html
HelicalWaveTransverseCoil.html
The oscilloscope-photo shows my typical harmonics achieved with older, cruder coils, which bear some aspect of transverse induction. I have wondered if frequency harmonics (from swirled or swerved magnetic fields) could become significant frequency multipliers. (Achieved with coils alone, without external circuitry ). The rounded paths lend more to my postulate of frequency transforming effects. At this April 2013 writing, (update), the fullest implementations of transverse winding configurations, have yet to built and tested. My focus so far has been primarily geometric modeling. Conceptual modeling clarifies efficient probabilities, where some of my models are challenging to build with my humble tooling. My goals can be set with the limited apparatus and equipment which i possess. Here are other pages of this series of webpages, which focus on transverse force fields:
Remainder of this page: Older Images dating as far back as 1994 (?) I can't use my oldest drives to verify exact dates, because of major hardware changes... Though it it might be interesting to try some day. In the 1990s, i was attempting to sell my graphical rendering skills- It was a time of extremely low bandwidth and very small hard-drives. (Or i should say: When the average computer user could not afford hard drives capable of storing significant digital imagery, in general.)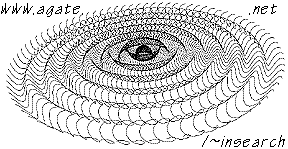 Modeled in 1994 with SIlverscreen software, posted on my 1st website: www.agate.net/~insearch