An actual postcard by Ed Elvidge.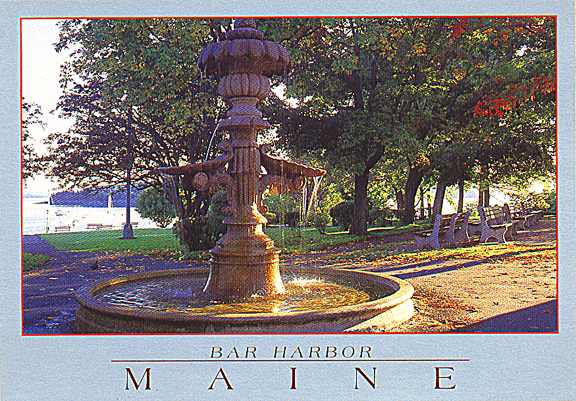 Comprehensive reconstruction of the fountain at Agmont Park, Bar Harbor, Maine. Fountain was sculpted by Eric Soderholtz durring Bar Harbor's" Golden Era"
Enersearch was contracted by The Bar Harbor Village Improvement Association to do the restoration work.

See the dimensioning of this fountain using computer software.
Restoration was reported in the Ellsworth American.
Note: These pages are placed in the public domain and are furnished "as is". The author assumes no responsibility for the use or misuse of the concepts in this series. All pertaining laws should be satisfied, in duplicating or testing my concepts or descriptions, as are posted on my linked pages.
Searching Synergy ....

.... Free Exchange of Ideas
Enersearch was incorporated in 1980 but never materialized financially. A synergy of concepts were developed and are reflected in the pages of this series. The synergy continues as a single handed effort of Bo Atkinson, in Maine, USA.

Email comments welcome ~~~~~~~ boa1@pivot.net

Tel : 207 342 5796 . . . (Maine)