Corduroy wall, (the term following from corduroy road), addresses several ideas.
1] Reduction of form labor and material, quicker finish options.
2] Corrugation of wall, structural ribbing effect.
3] Aesthetic appeal, variation from flat concrete structure.
4] Extended capability for low budget projects.
These ideas are tested gradually as opportunities arise. Below are pictures of a wall built underneath an existing wooden work shed. The shed roof will be dropped onto concrete and is incidental to the ideas discussed here. The intent here is to report on the satisfaction with this wall construction method. Pouring concrete from a readymix truck proved entirely feasible. The content on this website, http://harmoniouspalette.com, is placed in the public domain only as a free exchange of ideas and as a "hard studied wish to serve life". The author assumes no responsibility for the improper use of the concepts in these web pages, as all relevant laws of life and local codes should be verified and observed before any building or experimentation proceeds. discussion is welcome, please write. Bo Atkinson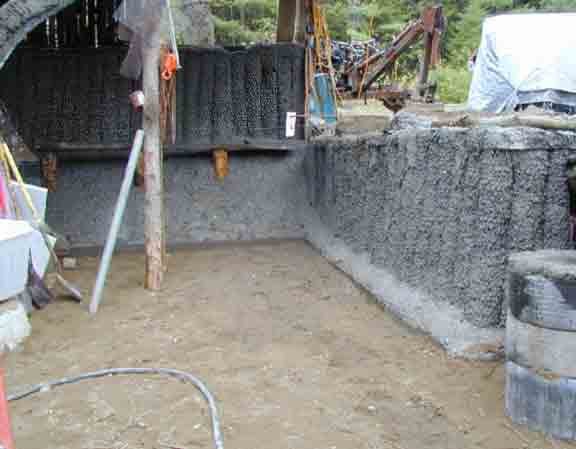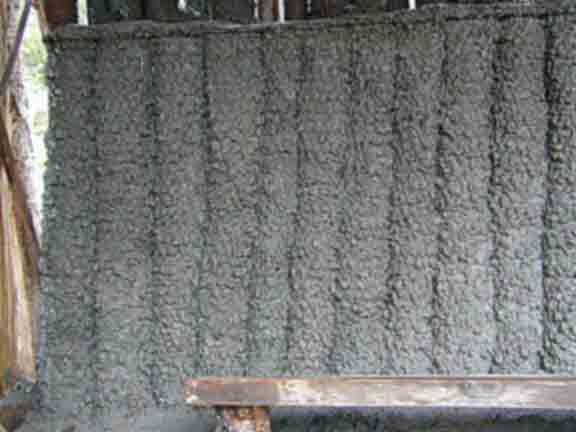 Small (1") chicken wire was used along with 3/4" concrete aggregate. The 3/4 aggregate held very well inside the 1" wire fencing. I might add that 2" wire also holds 3/4" aggregate moderately well. In this job, the concrete was poured in consecutive "fence tubes" causing no problems of leaning or bursting. Surprising but my prior testing with column pours showed that even a free standing wire fence or mesh tube can be filled with concrete-- almost with no support at all!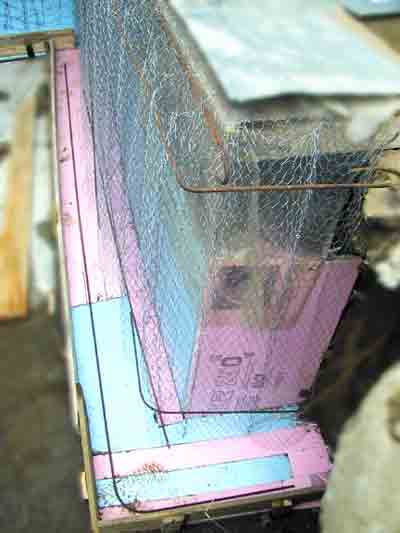 In my shed example above, a wooden edge was first "staked" into the dirt bank and then wire form tubes were simply stapled to wood. Insulation foam board was installed to insulate sub soil from frost-heaving. (I used up scraps with different brand colors... The insulation coverage was broadened later, not shown in pics). The wire- form- tubes were "hog ringed" together. Rebar was pushed through the length and bent at ends. The wire fence form held the rebar in a good position structurally. Preparing the site and wire forms took days. The concrete pour took about 4 hours-- just one one man- myself. It was poured late in the day. Finishing was not bothered with. Note that the concrete-truck access was highly restricted in this particular pour, so that 90% of labor time was devoted to shoveling and raking concrete around obstacles and into place.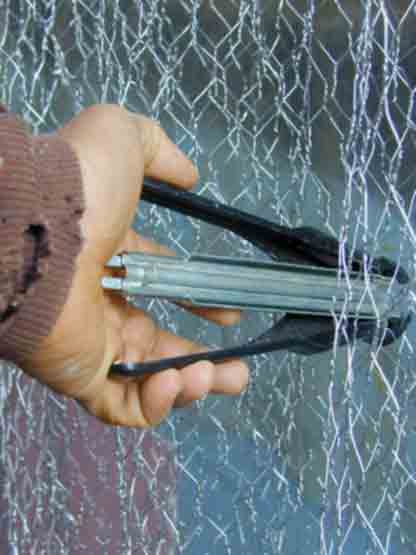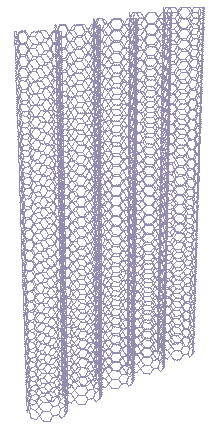 While the pictures above show a rectangular layout, other building layouts hold promise for these cost savings. The chute-swing-radius of a readymix concrete truck can be used in laying out wall sections. An entirely straight wall can be broken up into many arc swings. Large swings, full circles or small swings will all work well. The advantage of these chute- swing layouts is in the concrete pour. Here the pour can be continuous and labor of raking and vibrating is almost nil. Additional finishing is optional. The CAD model below shows 2 arced sets of mesh tubes. If 6 ft tall and 8" in finished diameter, the concrete volume would be nearly 2 CF per tube. The pictured model would have 40 tubes per arc with nearly 3 CY of concrete. Pour time would be very fast. No overtime truck charges, and one man can handle all the pouring work in a short time. Peace of mind- a goal in concrete work ;)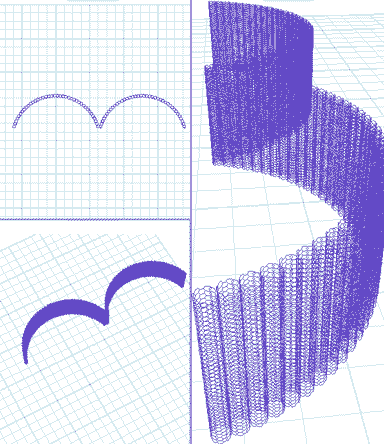 3D CAD model of mesh tubes laid out on 10 ft radius.
On a similar vein, could engineering prove that compressed earth will also work in corduroy wall structures?
Click here to see a corduroy pour method used for a compost toilet project.
Click here to see a related wall concept: Welded wire mesh used in square cell layout.
Picture below-- an arch using corduroy support.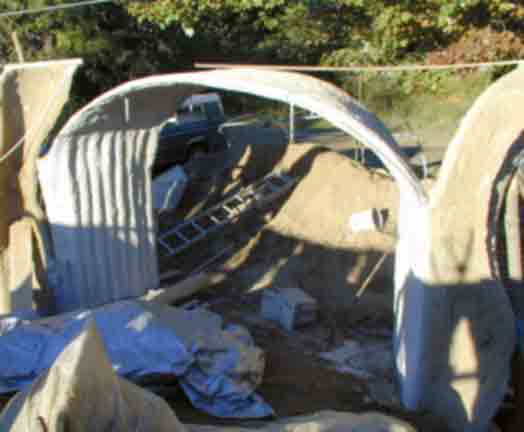 The content on this website, http://harmoniouspalette.com, is placed in the public domain only as a free exchange of ideas and as a "hard studied wish to serve life". The author assumes no responsibility for the improper use of the concepts in these web pages, as all relevant laws of life and local codes should be verified and observed before any building or experimentation proceeds. discussion is welcome, please write. Bo Atkinson
Comments are invited and consultancy is offered. These research reports are in the The content on this website, http://harmoniouspalette.com, is placed in the public domain only as a free exchange of ideas and as a "hard studied wish to serve life". The author assumes no responsibility for the improper use of the concepts in these web pages. All relevant laws of life and local codes should be verified and observed before any building or experimentation proceeds. discussion is welcome, please write. Bo Atkinson and are furnished "as is". The author makes no warranty, express or implied, for any purpose. The author assumes no responsibility for the use or misuse of this research. Bo Atkinson, enersearch Tel : 207 342 5796 . . . (Maine USA)