Neverending ~Unintimidating ~ Enchanted ~ Floral Joy
This page contains pictures of two weddings we did in the summer of 1999. Alda contracted the florals and Bo contracted the lighting and structural decorations separately. A very dear Japanese bride asked us build a fabric replica of the famous Torri Arch of Japan. The suspended fabric arch measures 12 ft. in length and 8 ft. in height. Orchids were threaded beneath the Torri Arch to please the dancers. Special clear glass topiary vases were blown for the occasion.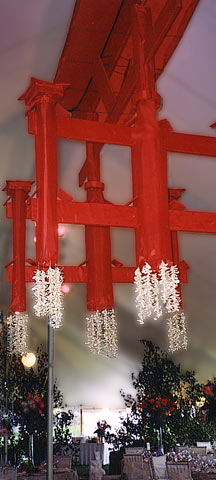 If you are interested in Bo's stoneware products, see my price list. (click here).
I customize to your shape requests at similar cost using a
sand casting technique. (Click here for a detailed sand casting explanation).
Above: A stone basin with party fish was snuggled amongst the trees and shrubs which were brought in to the tent for the occasion.
Below: Traditional stone lantern and water bowls were made by Bo, modeled on photographs from Japan.
 After the celebration, these were delivered to the bride's garden. This end of the tent was partitioned by the trees
and shrubs for cocktails, hors d'oeuvres and the place card table.
See my computer generated plans for this job.
Left: a twig arch was made by Bo
for the terrace wedding ceremony.
Florals were by Alda.
Alda's Celebration Source List ...Click here
Click here to see Alda's Maine Weddings page with pictures of some of her wedding work before 1999.
Click here to see Bo's 1998 wedding deorations and lighting .
Bo has been a sculptor in differing mediums for 30 years.
Next, A Western Cultural Wedding
Below is a wedding with topiary structures modeled from a book belonging to another dear bride. The book showed the spendid Longwood Gardens, in Pennsylvania. The following pictures show their effect in a 4 pole, 60 X 90 ft. tent set up at Asticou Inn in North East Harbor, Maine. Bo built 16 standing topiaries up to 8 ft. high and suspended another 8 ball topiaries 3 ft. in diameter. Bo's soft flood lighting accented the atmosphere as night descended. All of the florals were created by Alda. Most of this work was prepared in Montville with the help of our trusted sub contractors.
See more of my original offerings:
Spring Flowers 07-08 Summer Flowers 07-08 Autumn Flowers 07-08
See more of my original offerings:
New! Alda's Maine Origami Wishing Boats®
New! colors ~ Alda's Freedom Pearls®, not just for Bridesmaids, cultured baroque, freshwater pearl gifts
A Perfect Wedding Gift ! Central Maine Vacation Land
Call Alda: 207 342 5796
Asian-American And Topiary Themes 2000
Alda's Celebration Source List
Tel : 207 342 5796