Maine Weddings Celebration Decor

One dear mother of the bride sent me a kind note of thanks after the wedding celebration: "Dear Bo- You wouldn't believe the letters we are getting! Wow! Thanks again for making our dream literally come true! (Signed ____)".

Difficult details like setting pin spotlights over 40 tables in a tent needed magic. This installation job was unusual, record heavy rains soaked the ground and high winds challenged the tents. Thankfully, on the wedding day, the sun returned, the climate was serene and the wedding celebration delighted everyone!
3 Photos: Beach Trees & Tulle With Small White Lights & Pin Spot Lighting, Asticou
Leaf shadows on ceiling in a Sail-Cloth Tent
Hemlock Art -- Giant Fern
Hemlock Tunnel
Birchelabra on table and a branchelier above
Indoor Woodland decoration installed at the Bar Harbor Regency Stone House
Short perimeter trees (made safe for fragile sailcloth Sperry Tents).
Z
Oak Bough & Leaf On Tent Poles With Hanging Votives & Dimmed Back Lighting
Firefly Chandelier At Asticou Inn
Mandapam At Samoset Resort
The structural look is somewhat softened by sapling birch (priced by the tree quantity ordered in service agreement).
Birch Saplings Inside Goose Cove Lodge
Pine Boughs In Martin's Barn, Searsmont
Birch Trees With Small White String Lights & Lanterns
"Blossom Lanterns" On Arched, Re-Shaped Birch Saplings
Hemlock Boughs With Hanging Votives
Red Pine Composition In Stone Amphorae With String Light Chandeliers
A Stain Resistant Frame Tent With Trees
A "Midsummer Night's Dream" (After Party) Frame Tent
Birch Trees With Tulle & Band Lighting
Trees Indoors
Trees Indoors, Asticou Dining Room
Indoor Trees, Retreat At French's Point
Above: Low Birches On Left
Squirrel-Island-Hall Transformed With Birch Trees & Lanterns
Flower Sphere Lantern For Floors Or For Hanging
(Floral Work By Alda)
String-Light Ball Chandeliers With Pine Boughs At Laudholm Farm, Wells
Twig Chandeliers or Brancheliers ~ Sooth a frame-tent easily !
Fireplace Hearth Trees
Customized Concrete Sculpture From Any Tradition
Trees may be "planted anywhere" in sculpted stone bases for a ballroom.
Faux Bois "Root" Bases For Indoor Floors



Bo's Maine Ceremonial Birch Arch, All Saint's By The Sea, Southport

Twig Structures Can Support Flowers
Customized Topiary Structures
Quilt Partition For Rehearsal Dinner Ambiance
Photos are abbreviated to speed internet reception
.
Outdoor Winter lighting
I offer design and installation services. I work with a network of independent contractors, electricians and other professionals. I manage all sorts of creative solutions, even at the last hour, if required and if possible. I transform the impossible into the realm of the possible! Call Bo Atkinson 1-207-342-5796 or write boa1@pivot.net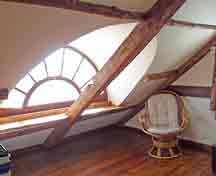 A Great Wedding Gift idea! 22 Acres of Land For Sale With Lake Access
Next are some computer renderings based on some Newer commercial tents used locally. Ask me to do customized visualizations! (Customized, computer accurate models are offered when you hire me and send a $100, non-refundable deposit. These computer models greatly help in arranging tables and decoration features. Visualizations are digital renderings which provide a sense of what it could look like in real life.) I love visualization work and use architectural rendering software (formZ).
This is a scale model of the 64X124 Sperry tent. Trees of this large size and arcing overhead require special skills to install.
Custom designed chandeliers can be invented . Visualize before finally choosing. Discover what plans will fit given circumstances best. Call or write.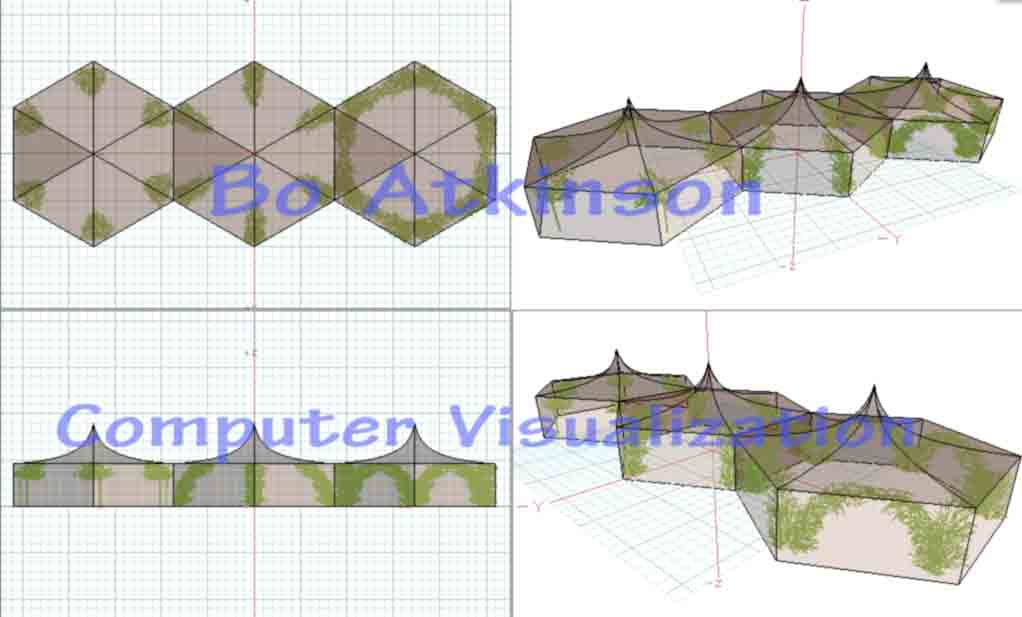 I offer to model any tent design to scale, in this case with tree arches along walls.
I can help you accurately arrange seating, as in this continuous table, (given exact table and tent size)
Another innovative service which could be provided for you is to project digital images and video right on to the tent surfaces! In case you would like to add higher technology features, this could add new dimensions to your celebration. Subject matter could range from one's own memorabilia to computer generated patterns based on the music, or some of both. It could even include some live camera views of the party itself, for added effect. This is naturally a service needing much more discussion and clarification. Pricing would depend on the extent and the desired form of service. The projections will naturally have some angular distortion and provide more of a dreamy theme, rather than a documentary theme. I could digitally model what this would look like, just ask! Visit this page in the future to see more visualizations!
Here is a link to a public event where I decorated 2 dance halls for the town of Camden, year 2000.
Very different styles are available... See an Asian - American wedding celebration theme, (Click here).
Computer based planning is extremely helpful in organizing many aspects of special events. Computer aided designs as in examples above predict the appearance of decorations which can be built. Customized stone decorations can be made for celebrations and then installed permanently in gardens. Endless options are available with highly customized, concrete sculpture.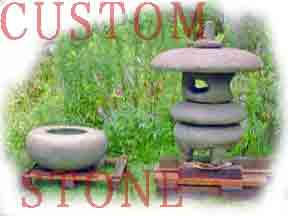 To see other examples of Bo's sculpture, click here.
.
Bo will sculpt custom designs by commission. I can be reached by email:boa1@pivot.net
To build a symbol, hire a sculptor.
Direct line to Bo Atkinson Tel : 207 342 5796 . . . (Maine)
Lake access with 22 plus acres of land !
Alda's Celebration Source List, with many local resources to consider...Click here
Alda's Summer 2009 Wedding Photos (Click Here)
Alda's Spring 2009 Wedding Flower Photos (Click Here)
Also~ 2007 & 2008 Maine wedding and celebration flowers....
New! Alda's Maine Origami Wishing Boats®
New Colors!~ Alda's Freedom Pearls®, not just for Bridesmaids, cultured baroque, freshwater pearl gifts

Asian-American And Topiary Themes 1999
See Bo's ideas for a pavilion, (originally proposed for a hotel).
Bo's index page
To jump to the top of this page, click here.