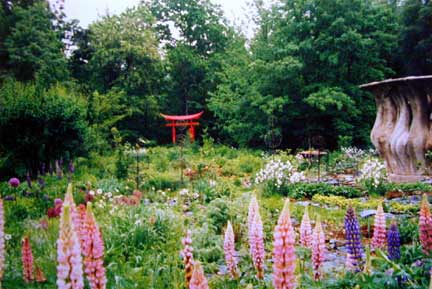 Bo and Alda's Garden 2002
See Alda's 2010 Wedding Photos
See Alda's 2011 Wedding Photos
Alda's Source List Contact Alda
Maine Telephone Area Code-- 207
Organic MaineTent Decor & Lighting
Bo Atkinson_342-5796

Maine Caterers
111Maine/ Topsham 729-9111 Jennifer Banis
Bar Harbor Catering Company Mandy Fountaine -664-8474
Belle Fête Events & Catering Brunswick 800-791-4530
Bianco Family Catering Diane Bianco Brooklin 374-4999
The Black Tie Co Portland Paula Cano 761-6665
Brown Bag Rockland Claire Holmes 1-800-287-6372
Laura Cabot Catering Waldoboro Laura Cabot 832-6337
Cappy's Camden Johanna Tutone 236-2254
Jonathan Chase Blue Hill 374-2970
Coastal Critter Lobster Clambakes Mark Eller 785-2022
Creative Catering Eileen Bartlett, Laurel Maddock Stockton Springs 567-3563
Crocker House Hancock Richard Malaby 422-6806
Destination Catering Biddeford Chuck 283-1787
Frye Mountain Diversified Montville Lilian Ficker 382-6196
Maine Coast Catering Josh Gamage Rockport 236-6163
Maria Van Magnus Woolwich 443-2284
Megunticook Market Catering Camden 236-3537 \
Moveable Feast Blue Hill John Hikade 359-218
New Salvage BBQ Portland 553-2100
Red Plate Catering & Events Damariscotta Jean 563 2992
Robinhood Free Meeting House Georgetown Michael Gagne 371-2188
Sea Coast Catering and Lobster Bakes Nobleboro, Lurie Sprague-Palino 563-8539
Silver Tureen Kennebunkport Rob 967-9991
Swan's Way Lincolnville Stacey Glassman 763-3996
Trillium Belfast Abigale Avery & Michael 338-5080


Maine Wedding Cakes and Cookies
Brian Chinn Old Town 817-3013
Cake Creations Ellsworth Karen Baron 667-8691
Camden Cake Lady Hillary Bousum 763-3996 ~ 338-5080
Celebration Cakes J.Cakes Bar Harbor Janice Strout 288-4062
Crissy Beanis Damariscotta 563-7000
Got Cake? in Maine Winslow, Paula Desrosiers 660-6176
Grandefinalecakes Rockland Christian Clayton 691-8287
Laugh Loud Smile Big Rockport Vicki 230-7701
Joan's Cakes Deer Isle 348-2812
Maine Cakes & Cookies Appleton Diane Penzey 1-877-699-0089
Stephanie Miller, Cake Baker Waldoboro 832-5774
Morning Glory Bakery Bar Harbor Camille Hoffman 288 -3041
Piece of Cake Waldoboro Stephanie Miller 832-5774
Patricia Moroz Rockport 232-4813
Sticky Fingers Waldoboro Edmund and Carolyn Prosio 832-6600
Swan's Way Lincolnville Stacey Glassman 763-3996
Sweet Sensations Rockport Steve Watts 230-0955
Trillium Belfast Abigale Avery & Michael Casby 338-508

Maine Wedding Coordinators
All In One Productions Chelsea Marlene Ulmer 622-9850amymaedesign.com
Amy Jefferson+Mae Ogorzaly Lewiston amymaedesign.com
Bea and Company South Portland Sandy Shapiro

daisies and pearls 232-5559 Sarah goodwin
Friend Of The Bride Krista Hastings Bucksport 469-1060
Katherine's Event Planning Portland
Landfalldesigns Brigid Amendo Coordinator
Laurie White Blue Hill 812-1789
A Maine Wedding East Boothbay Sally Bullard 633-2372
Coastal Events Rockport Sara Pratt 236-6449
Maine Seasons Event Planning Brunswick Meagan Gilpatrick 729-2308
Sweetest Thing Weddings Bangor Amber Small 942-7571
Shalestyle Michaele Thunen SanFrancisco 510- 527-5279

Notary Public

A Maine Wedding East Boothbay Sally Bullard 633-2372
Captain Ken Barnes 691-1714
Barbara Wilde Colby, Wedding Officiant Bar Harbor 303-832-5104
Cyndi Clayton " Dressed To The Nines" 596-0119
Sara Huisjen Bar Harbor 610-2872
Maine Wedding Places

Alamoosook Lakeside Inn Orland. Gina Bushong 866-459-6393
Alden Camps Oakland Carter and Martha Minkel 465-7703
Asticou Northeast Harbor 1-800-258-3373
Bar Harbor Club Bar Harbor Deb Jordan 1-800-328-5033
Bar Harbor Regency Stone House Bar Harbor Deb Jordan 288-9723
Belfast Boathouse 338-3063
Blair Hill Inn Greenville Moosehead Lake Dan and Ruth McLaughlin 695-0224
Blueberry Cove Tenants Harbor
Bunker's Wharf Gouldsboro 963-2244
Camden Amphitheater 236-3440
Camden Yacht Club 236-7033
camp bishop wood hope 7633148
Camp Hammond Yarmouth 761-6665
Camp Mataponi Naples 787-3221
Camp Med-O-Lark Washington 800-292-7757
Carver Hill Rockport Jana Halwick 236-0745
Castine Harbor Lodge Holiday House 326-4335
Castine Inn Tom Gutow 326-4365
Children's Chapel Rockport 236-4404
Clark's Cove Farm & Inn Walpole Timothy & Tamara Cheney 563-8704
Community House Kennebunkport David Goodwin 967-2831
Claremont Hotel Southwest Harbor John Madeira 244-5036
Edgewood Farm Deer Isle Loring Kydd 348-6612
French's Point Stockton Springs Jessika Brooks 567-3650
Green Landing Lodge East Boothbay
GooseCove Lodge Deer Isle Joanne Parisi 1-800-728-1963
Hidden Valley Camp Montville Peter Kassen 342-5177
The Inn At Ocean's Edge Lincolnville 236-0945
The John Peters Estate Blue Hill (preferred wedding contact is through the website)
Lang Farm Tenants Harbor Fletcher Smith 596-6295
Linekin Bay Resort Boothbay Harbor 1-866-8472
The Lookout Flye Point Brooklin Butch 359-2188
Lucerne Inn Lucerne Brian 843-5123
The Manor Inn Castine 800 464 7559
Merryspring Nature Center 207-236-2239
Migis Lodge South Casco, 655-4524
Newagen Seaside Inn South Port Jason Schlosser (800) 654-5242
Norumbega Castle Camden Kent Keatinge 236-4646
Norumbega Hall Ballroom Bangor 941-8307
Oakland House Seaside Resort Brooksville Jim and Sally Littlefield 1800-359-relax
Oceanside Meadows Inn Prospect Harbor Ben Waller 963-5557
Point Lookout Resort Lisa Tapken 800-515-3611
Samoset Resort Rockland Will Clayton 800-341-1650
Sebasco Harbor Resort Sebasco Estates 800-225-3819
Spruce Point Inn Boothbay Harbor 633-5835
Sprucewold Lodge Boothbay Harbor Richard Pizer 800-732-9778
Stone Crest Waldo Caryn and Chris Coleman 342-2109
Stonehouse Manor Phippsburg 877-389-1141
The Sumaria Harborfront Conference Center New Harbor Lurie Sprague-Palino 563-8539
Youngtown Inn and Restaurant Lincolnville Mary Ann and Manuel Mercier 1-800-291-8438
Waterfall Arts Center Montville 589-3025
Webb Pond Campground 565-2195
Wentworth Event Center Belfast, Kristine Colson 930-3630
Whitehall Inn Camden Rebecca & Russ Miller 1-800-789-6565

Maine Windjammers
http://www.stephentaber.com/

Amy Wilton Hope 542-5497
Attic Images Rockland Herbert Cole 594-2614
Aureole Photography Portland Holly Haywood and Bernard C. Meyers 772-2445
Bonnie Harrison Gorham 839-6750
Greg Bader Evansville Indiana 812- 483-1604
Jamie Bloomquist Camden 749-3600
Boathouse Studios Brian and Malia Wedge 207-522.7280
Blush Imagery Beth Fitzgerald Portland 899-5585
Elizabeth Stultz Westbrook 510-7725
Felice Boucher Portland 773 3837
Karin Bos Meriden Studio Bucksport 469-6295
Tobin Brogunier 646-528-4060Kim Chapman
Kate Crabtree / Bangor
Linda Crayton 415-286-1286
Catherine Crockett, Portland, 767-4776
Lucy Cuneo Rockland 646-472-4262
Emily Carter Delamater Portland
emilie inc Emilie Sommer, Portland 877-2-EMILIE
Bonnie Farmer Rockport 763-3737
Rhonda Farnham Photography, Portland 773-3549
Farrin Photography Bar Harbor Robin 288-0960
Fenn Fotographics Washington Kim 845-2506
Harbor Weddings Blue Hill Ken Woisard 374-5174
Donna Just Southwest Harbor 244-9070
Stacey Kane Portland 885-0001
Lynn Karlin Belfast 338-4814
Kate & Keith Photography 978-743-9072
Becky Lowe Photography Camden 542-2995
Lauryn Sophia
Patrick McNamara Cape Neddick 363-8474
Bob Mitchel Southport 633-3161
Carol Miller Camden 594-4564
Thomas Morelli Brewer 989-2577
David Murray Kennebunkport 967-9040
Nadra Photography 332-2243
Perle Photography Meghan Benner Spruce Head
Portland Photo Company Windham Alicia Reynolds 200-4576
Sharyn Peavey Freeport 688-4623
Rene Minnis Photography Sabattus 375-4141
Dave Ridley Camden 230-1211
Riverside Studio Ellsworth William Brehm 667-7200
Liv Kristin Robinson Belfast 338-5624
Stewart Smith Portland 772-0911
Michele Stapleton Brunswick 729-8269
Marti Stone Rockport 236-3151
Amy True 632-2056 Westbrook
Greta Tucker Photography Portland 294-2993
Unusually Fine Max & Margaret (Web Contact)
Lyana Votey Photography 276-3808 Seal Harbor
Constance Wallace Camden 236-2900
Brian Wedge Harpswell 798-6920
Michael C.York Old Town 827-4367
Videographers

Ned Lightner Insight Productions Belfast 877-338-6161
Mark Rowe Video Productions Waterville 1-800-525-1732
Captured Moments Boston 617 970 2995
Doves

Ceremonial White Dove Release Services Washington Marc and Cynthia Archambault 845-2290

Massage

Julie Slade, Licensed Massage Therapist, Elegant Nails Camden 236-9584

Music

Aaron Topfer 877-YOURMUSIC
Bob Charest Band Westbrook Bob and Cindy 797-3848
Classical Gitarist Brian R. Cullen 729-4361
Rock & Roll Band Dapper Gents _
DJ Patrick Daniels (207) 939-3761
DJ/Karaoke~ Annette Lorraine Young • Echo Entertainment Rockland
Jerry Bazata 361-1085
PETE CHAMBERS DJ Westbrook (603) 347-1030
The Tony Boffa Band Portland 329-7478
Tracy Carlson Saco 284-4124
Elegant Wedding Duo (violin-cello) Emmy Hurd- Seymour Benstock 683-0515
Night Shift Entertainment Boston 800-465-1917
Phil Rich Swing Band Windham 892-1043
The Waiters Maine Wedding Band 207-228-3997

Ballroom Dance Instruction

Swing & Sway Dancing Rockland Christian Clayton 594-0940
Wedding Gowns

Patricia Buck Bridal Augusta 622-6224
Spoil Me Cathy Mullen Pearl Portland 773-0743

Dress Makers

Amy Curtis Portland 775-2532
Cynthia Archambault Washington 845-2290
Sandy McKeen Stockton Spring 567-3477
The Loft Richmond Kay Pierce 737-2056
Custom Linens & Sewing

In Stitches Searsmont Deborah Gallant 342-3834

Hair & Makeup Artists

From This Day Forward Cynthia Clayton and Mary Louise Carpenter Rockland 593-7774
Just Friends Hair Design Rockland 596-7600
LUX Hair Salon Hallowel 626-0699
Horse Carriages

John and Judy Cookson Lincolnville 763-3566

Trolley

All Aboard Trolley Rockland Jim Gamage
Oli's Trolley Bar Harbor 288-9899

Custom Framing

Belfast Framer 338-6465

Specialty Linen

BBJ Linen 414-355-9010
Rentals

Grand Rental Ellsworth 1-888-244-6337
One Stop Party Shoppe 1-800-244-5966
Party Fundamentals 800-213-4443
Sperry Tents Sea Coast 603-570-4857
Wallace Rentals Trenton 667-6210

Limousines

Bay & Mystical Limousine Augusta 629-9230
Country Coach Charters Nobleboro 380-7201
Fields of Greens Sam Hawes 877-4817
Flo Hutchins Scarborough 1-800-646-0068
Limousine Service Camden Jimmy Hall 236-0665
Honeymoon, Travel~ Looking For Adventure

Oceanside Meadows Inn 14 Day Discovery Maine Downeast Ben Walter and Sonja Sundaram 963-5557
art-sites The Indispensable Guides to Contemporary Art-Architecture-Design
art-SITES NORTHERN ITALY; art-SITES LONDON; art-SITES SAN FRANCISCO;
art-SITES PARIS; art-SITES SPAIN; art-SITES BRITAIN & IRELAND; art-SITES FRANCE Sidra Stich 415-437-2456
Alda's flower room where your most beautiful floral arrangements are created prior to delivery.
As landscape architect (M.L.A. University of Pennsylvania) practicing in Maine near Belfast since 1971, I have access to the finest wild Maine flowers, garden flowers as well as the choicest flowers from my growers in Maine to California and beyond.The roses are exceptional. I grow fresh gardenias, stephanotis, orchids and miniature roses in my large dome greenhouse. I grow sweet peas, hydrangea, lilacs, lily of the valley, tulips, peonies, nasturtiums, pansies, poppies, primroses, lupines, larkspur, snapdragons, daffodils and zinnias on the land. I don't charge by the flower. My style is very full and fragrant. A $100 deposit will hold the date and allow me to create your personal proposal.
Alda Stich 207-342-5796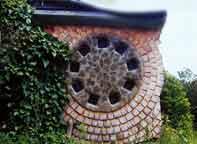 When you phone, you will reach Alda in her studio.
2007 & 2008 Maine wedding and celebration flowers.... Sit back and enjoy the show!
Spring ----- Summer ----- Autumn
See more of my original offerings:
New! Alda's Maine Origami Wishing Boats®
Asian-American And Topiary Themes 1999