"visualize - actualize" "tastefully imperfect, naturally harmonious" "concrete metaphor" "lithic soul" (bo's cheerful trademarks)
Visualize Actualize -- Bo's list of structural concepts and blogs.
Bo's Large Snapping Turtle Sculpture 2005 .... ACI 2005 Gold Award Winner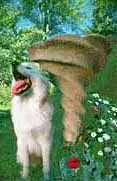 3ft h Spiral Stand With Birdbath. (From $80)
10ft h Gate (Concrete & Steel: from $750).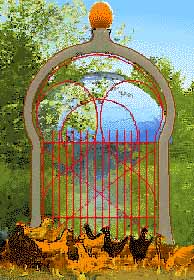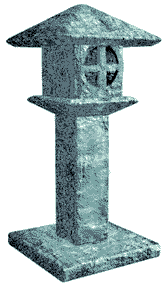 4ft h Japanese Style Lantern ( From $ 400).

This lantern rendering was sent to my customer, for approval, before I cast it in stone , (concrete).
'Prices' listed above are very tentative, since each order is customized sculpture and therefore needs careful review of customized features. Final pricing and costs must be agreed to within 30 days of actual customized production. I do not carry an inventory of these products. Sculptural sales are now taxed in my State (Maine). Wholesale buyer qualifications must be approved by my State, if tax with holding is applied for. Remote-production, on-site contracted sculptural production, where the buyer supplies materials and custom specifications, might possibly not be subject to a sales tax.
My terms generally include 50% down payment, before sculpting begins, with full payment before pick up or delivery. Specify your own creature or sculptural style. Describe your desired resolution of details. Send me a picture to hear my estimated production cost. Handling, delivery and installation are to be arranged separately.


"Teddy Chair" and other nice stone pieces, (can be made hollow for shipping).
See a pictorial index of my design-build offerings. Click here.
My bigger scultures are linked here.
I helped author a "how to" book in a 2007. This 2007 book documents my sand casting and my ring reinforcement methods. Many high resolution color photos show multiple steps of forming 5 easy pieces. Minor errors and expanded details by Bo, click here.
(Publisher Link)~~ISBN: 9780764328671~~(Retailer Links)
Also, for those interested in my personal cement mix philosophy, click here.
Hire a custom-innovator / inventor / design consultant / Digital Models
Continuing framing and reinforcement studies (2007).
Bo's Sand Casting Method "Earth Molded Concrete: Artisan Secrets"
Restoration of Maine stone sculpture by Eric Sodeholtz.
Or see some freeform sculptural building ideas of mine.

Megalithic Masks: See giant stone mask .

See examples of fossiliferous color & texture for these or sculptures of your specifications.

See a tilt- up, bas-relief wall project: Euro Adobe Courtyard "

See an ecomomical CAD product : a photo- derived archiving of an artifact .

See some CAD sketches using curvaceous meshes.

Informal Apprentice Workshop Offer, Click Here
Work of Bo Atkinson
To build a symbol, hire a sculptor.
Note: These pages are placed in the public domain and are furnished "as is". The author assumes no responsibility for the use or misuse of the concepts in this series. All pertaining laws of life should be satisfied, in building or testing my concepts or descriptions, as are posted on my linked pages.
http://www.midcoast.com/~bo
---

Email comments, welcome :________boa1@pivot.net
Shipping, handling and installion cost extra.