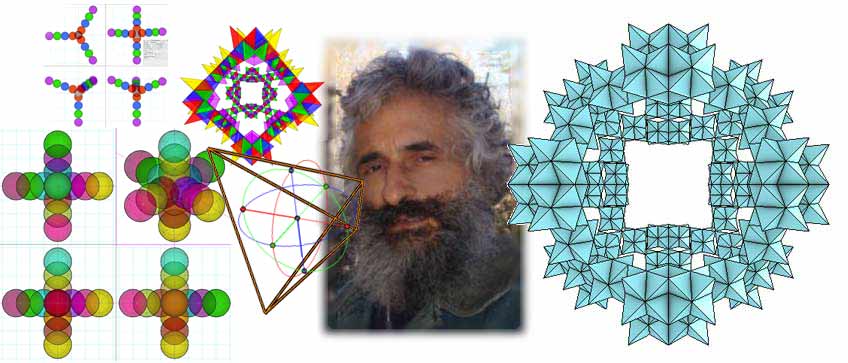 Bio And Life Story
Artgineer Services: Imagine ~ Design ~ Build

Technical Illustration & Research

Original Concept by & For Artist Joe Ginsberg of NY,NY - Full Service 3D Model-Rendering & Building By Bo


Cementitious Molding Research In My Maine Workshops: 2014
Inspired By Ruralist Montville Surroundings
5th generation Atkinson in the USA, still building with earth and stone.
I love to model harmoniously flowing design concepts, by request.
Consult by email, phone or Zoom.
Sample a concise, customized 3D model for $60.
To send paypal payment to Bo Atkinson:
Excerpts from Maine newspapers.
"It is hard to pin a label on Bo Atkinson because his life, his work, his philosophies are so integrated." . . . . . . (His) "Shelves are full of manufacturers' parts catalogs and trade magazines. It is the intellectual workshop of a Renaissance man.". . . . . From an article by Heidi Brugger,writing for The Republican Journal in Maine, USA. Describing his home she wrote: "...as a melding of a Zen garden, a French provincial homestead and Roman or even Etruscan ruins."
Richard Grant, writing about some of Bo's work , (land sculpture), for The Maine Times, (Garden Supplement): "The Garden is full of secrets, shaded alcoves and hidden ponds, and you are always catching glimpses of new sights, further surprises, where the mown pathways twist around corners, and passages."
And about my stone sculpture he wrote:
"...figures... that stand here and there in shady bowers, seeming to preside over tiny private fairylands..."
Bo's many pages on structural concepts and innovative designs.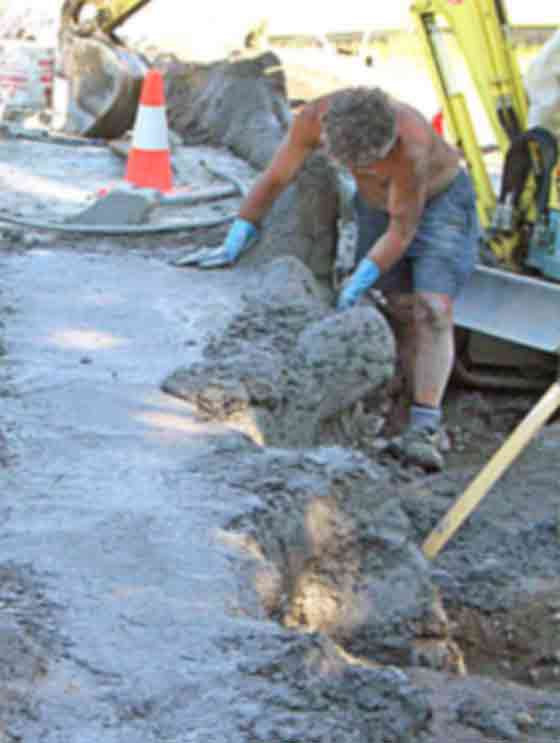 "To build a symbol, hire a sculptor"."Tastefully imperfect, naturally harmonious" Are some cheerful trademarks which I adopted long ago. Human imperfection and a need for balance seem to me important to remember as a contrast to the boastfulness of commercialism. At this point in life I am looking for projects which are especially creative. I began intensive work with CAD (computer aided design) in 1992. My mastery in many areas of building, environmental-conservation issues, materials science and electronic physics are balanced with creative philosophy and sculptural gardening. This link begins to describe my history.
_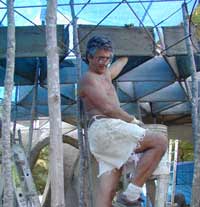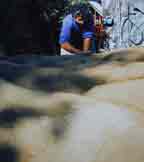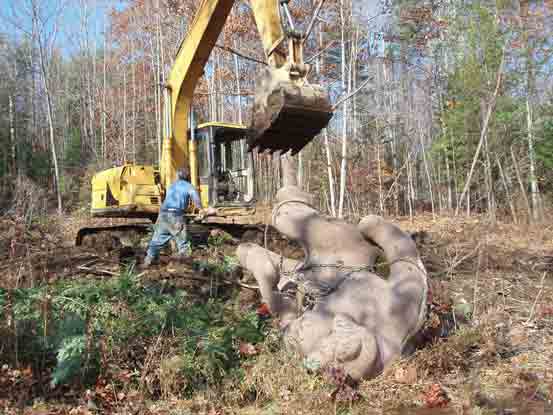 Harmoniously skilled with both heavy-equipment and subtle-energies.
Consider hiring me for your earth work project. I can rent 20+ ton excavators for efficient, and beautiful results. Computer-accurate cut and fill will provide the best results possible.
My Background- I have worked in varied constructive trades to earn a living, but artistic, geometric expression has always been at my core. I am a self educated generalist, with many interests. After my teen years spent in Italy, England and Vermont, i dropped out of formal education and left home to seek my fortune. I followed an older friend, to New York City, to learn about life and lived there for more than a year. Gradually, it was individualism which inspired my quest for ecological-sustainability and a rural life style. I moved to Maine around 1969 and supported myself with general building trades. Personal ingenuity and lack of substantial rural jobs flowered into my quest for increasing hand-to-mouth self-sufficiency. I did earn a diploma from The Cleveland Institute In Electronics, through a snail-mail correspondence course, in1975, (Electronics Technology). I loved some aspects of electronic theory, but lacked attractive opportunities or mentors. Besides, my real reference to the world is geometry. All of my formal schooling had focused on math and verbal memorization, which always held me back. I might have faired better in a world where language is more geometrically communicated. Fast forward to 1992, when 3D computer-aided-design became affordable. I finally focused on 3-d, non-linear geometry. I was completely self taught at first, using Windows 3.1-- Eventually the internet with publicly accessible forums and tech support, further educated me. This covers my general technical background. I also studied many varied biological, philosophic and spiritual disciplines as well, (largely from an independent stance, to avoid prejudice which easily arises, concerning almost anything outside of the dominant status quo).
I would have happily moved to the State of my parent's families, California, except that the Vietnam war was ragging on my 18th birthday. My draft board was in California and i chose to resist that war. (Basically to become a creative, instead of a soldier). Draft resistance hurt one's business opportunities, in the early 1970s. I eventually was inducted but with adept tutelage of a work associate, I learned how to "fail the test for soldiering". I became a free citizen again, with much relief. I simply knew too much about wars generally as my dad had served in the Military Police. Dad had seen plenty of improper political action, even in that "good war", (WWII). He was not joking. For better or worse, i never came to know other Atkinson's who were very independently-minded business people, proud not to sup together (according to one uncle). I am a fifth generation Atkinson, of the USA, still working with earth and stone. I have also volunteered in public service with my local volunteer fire department (10 years) and other civic groups like The Conservation Commission.
I would have happily applied for work with my Dad's uncle, Guy F Atkinson in California. My dad's uncle, Guy F Atkinson was a highly successful construction contractor. After his passing in the 1970's his company actually continued growing to become one of the top ten construction contractors in the USA,around 1990, (building large government projects internationally). If memory serves well, an early article on the internet described the take over of Guy F's company around 1990, or so. That article evaporated from the web and my knowledge of present-day Atkinsons is extremely limited. Guy F's older brother, Lynn, was my grandfather, who unfortunately died as a result of a construction accident, back in the 1930's. (These notes are to the best of my recollection. Suggestions for corrections are invited from anyone with better information). My dad's half brother named Lynn, also passed through a successful construction period, but lost it all in the great depression. I was fortunate to meet my uncle Lynn briefly in the 1950's. (as a young child), along with a few other legendary Atkinson relatives. They were all like inspiring hero's to me, as a child. My dad told me grandfather fell in a large construction ditch and developed a severe hernia injury, which was fatally treated in those days. My grandfather's company, was bought by Guy F Atkinson, just before the period of large government funded projects were started in the 1930s. Granddad missed out on all the huge contracts but dad said he was the first contractor to make Saturday a regular day off. Was my grandfather among the first employers to institute the American weekend? (As first notable employer to do so?) My dad became perhaps the first, within this family branch of Atkinsons, who turned towards the arts. Dad was a writer who never quite published. (He wrote about his WWII experience, but his publishers wanted a sexy novel. While dad was really a journalist by training, not a novelist). I grew up in Rome, Italy, where dad had served in WWII. I always loved construction as a result of hearing about so many Atkinson legends. He let me follow Guy F's newsletters printed on a green paper, an great inspiration for me as a small kid.
I was brought up, an American child, in Italy. I was imbued with many viewpoints of the world and many of it's flaws. I was both inspired and awed by the crumbling might of the great and ancient empires, Italian art, architecture and many global perplexities. The look and feel of age worn stone in architecture influenced me artistically. My efforts to promote such ideas in basic construction, could never gain market acceptance. New England, my home of 40+ years, is dominated by lumber construction. I have admired and built wooden houses and one sloop boat-hull (where i learned a lot about crafting curves into structure). I believe that Italy turned to masonry only after deforestation (long ago) and that cementitious models of construction might prolong the pristine woods of Maine. Preservation of resources and woods is a lost cause, apparently, as humans rarely give thought to societal survival. My deep interest in such matters makes me very unpopular. My efforts to innovate building systems are summarized on this website. Here is an example of my radical concepts for cementitious fabrication, (with further links). My small part is an attempt to inspire such change, despite the nearly impossible odds. Yet it also fed my creative fires to build with minimal budgets and prove innovative systems, despite my lack of financing. Thanks also to Maine's allowance of building without specialized credentials. I love structural challenges and wish for a new construction-problem to solve each day.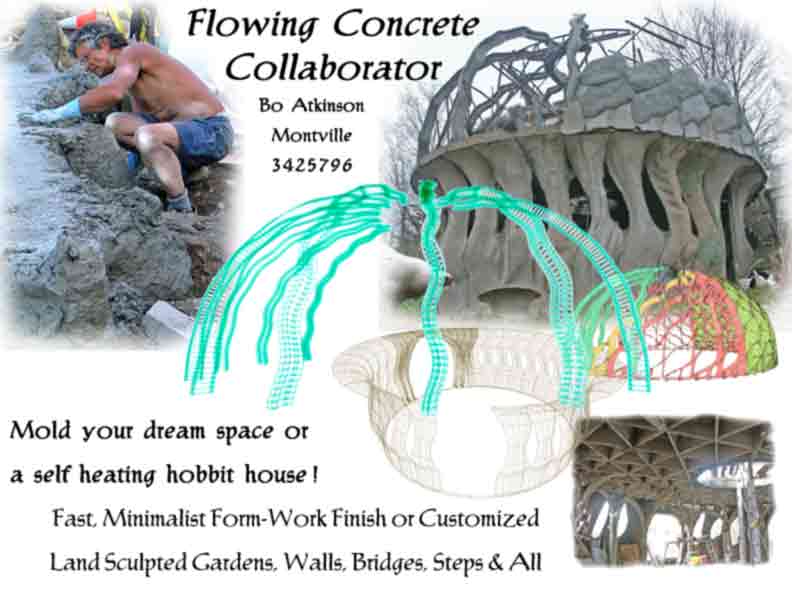 Read about Bo's low cost sand molding methods, click here.
Some specific information on my sand casting technique was published in a 2007 book. This 2007 book documents some sand casting and ring reinforcement methods. Many high resolution color photos show multiple steps of forming 5 easy to make pieces-- Easy examples, which call for a reader's personal, imaginative input. It is close up views of the process. The publisher did not hire me to develop imaginative input. The book contract specified a rush job, of several days, to complete the entire project, without prior development. The budget was small. The rough texture product fits naturalized, somewhat wild, gardening styles, not the highly trimmed or polished-manufactured stylization.
(Publisher Link)~~ISBN: 9780764328671~~(Retailer Links)
Various errata and further details by Bo. (Publisher never allowed me to proof read it).
Three decades of creative work in wood, stone, metals and design.
Sculptural hands, will travel.
Visit for a consultation in my garden studio.
Please call for appointment, my availability varies depending on projects.
Spring or summer is best for visits.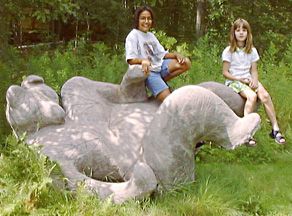 The content on this website, http://harmoniouspalette.com, is placed in the public domain only as a free exchange of ideas and as a "hard studied wish to serve life". The author assumes no responsibility for the improper use of the concepts in these web pages, as all relevant laws of life and local codes should be verified and observed before any building or experimentation proceeds. discussion is welcome, please write. Bo Atkinson

My retired corporation, Enersearch, was incorporated in 1980 but never materialized financially. A synergy of concepts were developed and are reflected in the pages of this series. The synergy continues as a single handed effort of Bo Atkinson, in Maine, USA.