"Teddy Chair" A Bear Chair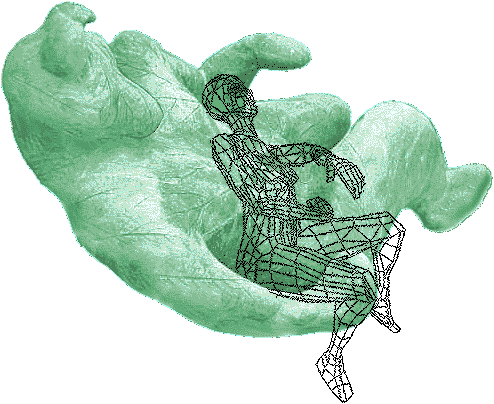 Eight & a half feet overall or large as you say!
. . . actually leafy and fossiliferous . . .
Rest on his arm, lean on him / her. Completely water and frost proof... and non- combustible. Installation by sculptor available anywhere . . . . Bonded stone with reinforcement steel, yet soothing ! Bear chairs custom built, (consulting, building, delivery and installation are charged by the hours required, materials used and travel expenses).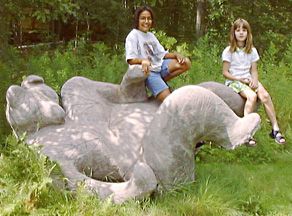 Client Testimonial: "Great photos. Every children's park in America should have one of these" (Name Withheld)
'Prices' listed below are very tentative, since each order is customized sculpture and therefore needs careful review of customized features. Final pricing and costs must be agreed to within 30 days of actual customized production. I do not carry an inventory of these products. Sculptural sales are now taxed in my State (Maine). Wholesale buyer qualifications must be approved by my State, if tax with holding is applied for. Remote-production, on-site contracted sculptural production, is usually not subject to sales taxes in Maine.
My terms generally include 50% down payment, before sculpting begins, with full payment before pick up or delivery. Specify your own creature or sculptural style. Describe your desired resolution of details. Send me a picture to hear my estimated production cost. Chairs like these below have smoothly detailed fossilized textures, suggestive of organic fossilization. (Color or custom features might add cost). A large animal like a lion form of chair, with plain texture, 5 ft height, might start around $800, custom built. The Calla Lily shaped chair, 4 ft height, plain texture, might start around $500, custom built.
Customized, concrete ideas sculpted to order, may average one $ per pound. Shipping & installation service cost extra.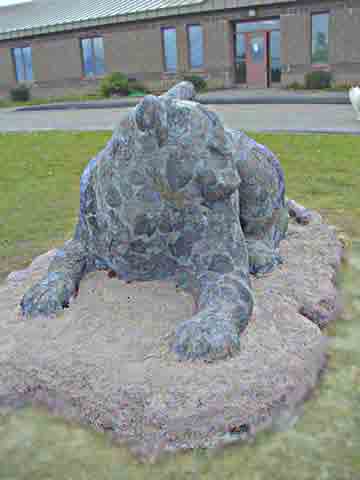 Concrete metaphors of almost any kind will happily be sculpted, as chairs, or in other imaginable ways. Add some wit and whimsy to your surroundings. Just let me know what you want and I will quote a price. Detailed plans are also available. See an example of an economical plan : archiving of an artifact . Below are tables and basins which I sculpted in the 1980's and 1990's. I can do similar work on advance-orders, with down payment. I no longer keep inventories to sell as a vendor would. I am not a vendor. I am a multi disciplinary contractor for hire.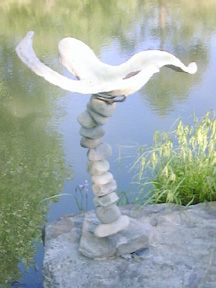 Birdbath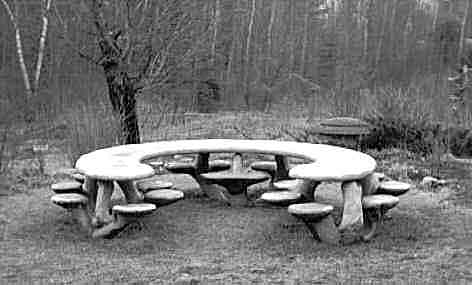 Small table below, starting at $200. Two stools $50 each, needs masonry installation, (provided separately).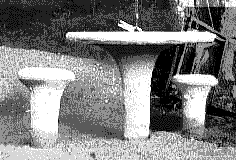 Free form Actualization.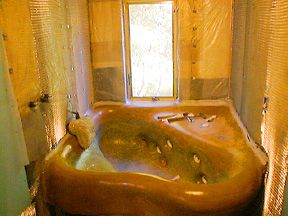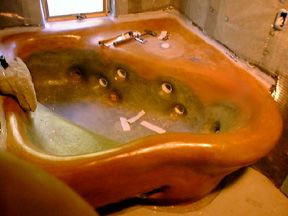 One of my interior bath installations, in progress. All work was done on site and finished some time ago. (I have to get some finished pictures, the walls were done in bas-relief). Whirlpool jets were embedded directly during the molding process and some Zypex (r) waterproofing was applied for extra measure. The water inlet (perched on the side of the tub) was made of concrete with a wide mouth to flow out a sheet like stream of water while filling.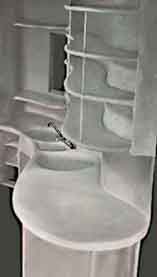 To Right: Kitchen sink and counter built integrally together, using ferrocement. (1978).Porous qualities of stone lend a soft feeling to kitchen counters. And why worry about big house fires when they are preventable with all stone construction? I'm working on many methods for building houses, "monolithic" bath and kitchen integrally, building multiple fixtures.
Here are my methods for sand casting-- "Earth Molded Concrete: Artisan Secrets"
Below:Pear bath built with large floor shower area.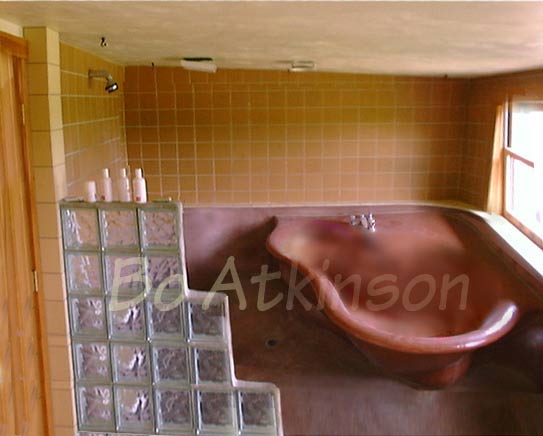 I contract many types of creative building with stone, metal, glass wood and composites. Call 1-207-342-5796 ~ Please start speaking when message-machine answers and we will pick up the phone when possible, as this method filters spam calls, (due to listing this number for so many years, on the internet).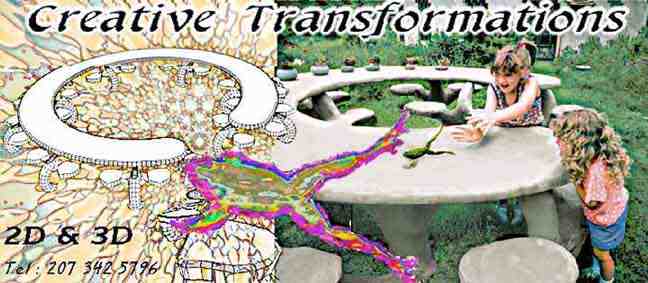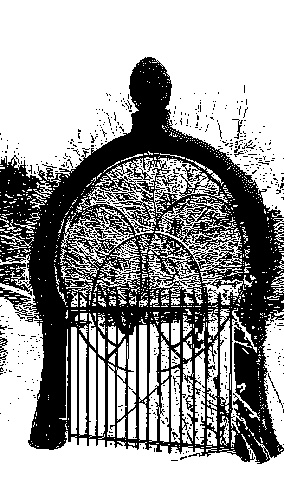 Tables, gates, what would you like sculpted?
See my outdoor studio where much of this is done.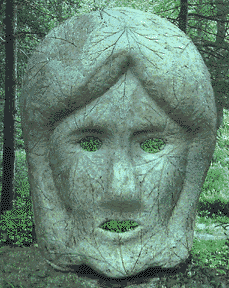 Available in various colors, facial expressions and sizes. Megalithic Masks beige color, plain texture: 5 ft h X 3.5 ft w might cost $900. A 7 ft h X 5 ft w : $1,500 , (add perhaps 60% extra for greater detail, leafy fossiliferous textures and pastel, earth tone colors). ( Handling, delivery and installation are to be arranged separately). Maine sales tax applies on production, but service-contract-builder work is not taxed by States, generally, as of my latest understanding.
Completely new gate styles may be commissioned. See some fountains, bridges and bas-relief sculpture. Or a lantern . My bigger sculptures are linked here. See my sculpted tree dome or see some early, (done in the 1990s), CAD modeling of mine.
See index page.
"visualize - actualize" "tastefully imperfect, naturally harmonious" (bo's cheerful trademarks)
The content on this website, http://harmoniouspalette.com, is placed in the public domain only as a free exchange of ideas and as a "hard studied wish to serve life". The author assumes no responsibility for the improper use of the concepts in these web pages, as all relevant laws of life and local codes should be verified and observed before any building or experimentation proceeds. discussion is welcome, please write. Bo Atkinson