Bo Atkinson offers design, installation and building services.
Inventive Geometry
Material Science
Integrated Craftsmanship
" Thinking outside the box"
about bo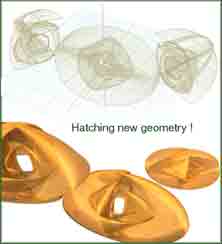 Pushing 3D CAD to the limits. Inventing new methods. Offering service and solutions at competitive pricing. I will consider all requests from small to large. My blurred images on the web provide faster access for dial up and mobile viewers in addition to savings on my www costs. Note: These pages are placed in the public domain and are furnished "as is". The author assumes no responsibility for the use or misuse of the concepts in this series. All pertaining laws should be satisfied, in duplicating or testing my concepts or descriptions, as are posted on my linked pages.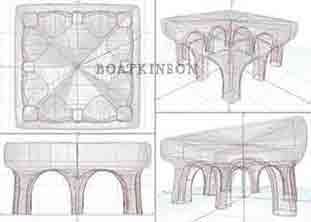 I love to model harmoniously flowing design concepts, by request. I am able to send very high resolution renderings, (pictures), for any size printer, in pdf format. My rates are as low as $40 for quickly modeled drawings and rarely over a few hundred for progressively edited work. My model images provide clear and computer accurate artwork for your engineers and architects to work from.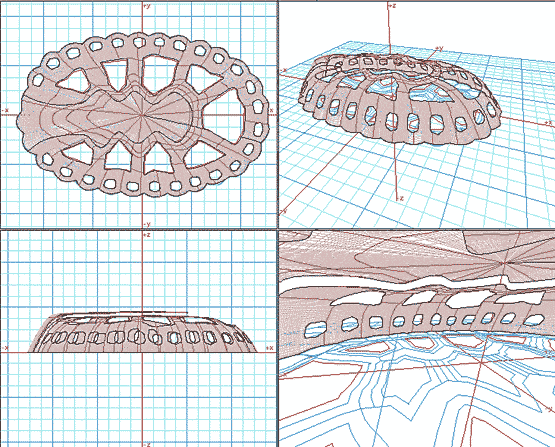 I have modeled many projects and therefore have plenty of geometry to quick start new creative designs. These can be edited and renovated for new project purposes, at almost any resolution requested. Some initial project concepts can be emailed to you over night. Efficient service offered with a smile.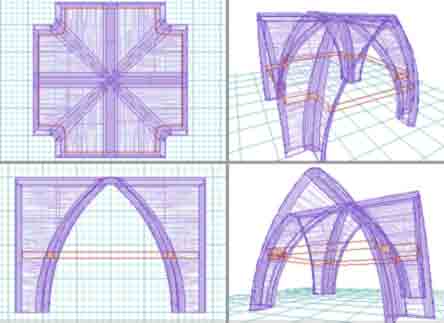 Above: A quick Gothic groin vault model example, responding to an email request, useful for preliminary consideration, in this case for cementitious materials. Below: A much more detailed study for innovation upon the traditional barrel vault, with a hawk structure on top! 3D views confirm accurate part-fits with material weights and volumes.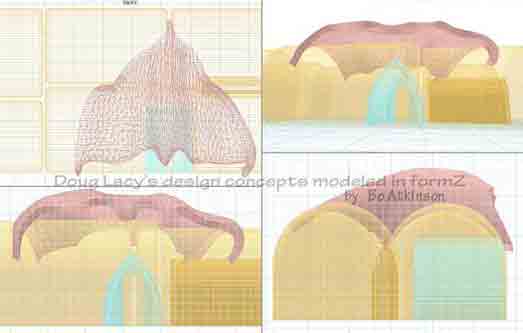 Prints are very effective in communicating design wishes to architects, engineers and municipalities, (in a proper quest for building permits). I am a modeler with decades of work experience in various building trades, from carpentry to land sculpting. I deeply understand a great deal about material science, structure, art and design software. (I am generally self educated with valid software licenses but have no certification credentials besides a technicians diploma in Electronics Technology, 1975, Cleveland Institute Of Electronics. That was primarily electronics communications technology, long before public access to the internet and long before the PC with graphical capabilities. Long before so many common things of today. I continually study technology from a backyard-science perspective. Yet i have lacked societal connections. So take advantage of my extensive design-build skills at a bargain price!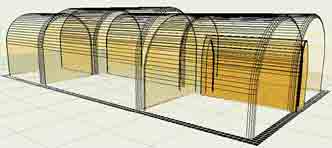 Progressive design can start with interior surfaces alone, later adding openings and appropriate exterior surfaces, all with great precision!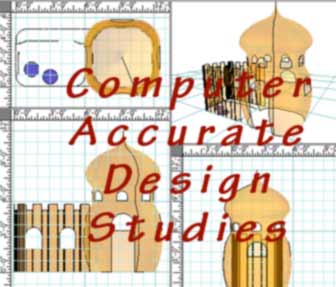 My clients, coming from different fields, request editing features as we go. Very focused 3d modeling work is available, just ask !
Below: Measurements in the old boat builder measures of feet-inches-sixteenths. All styles can be adapted.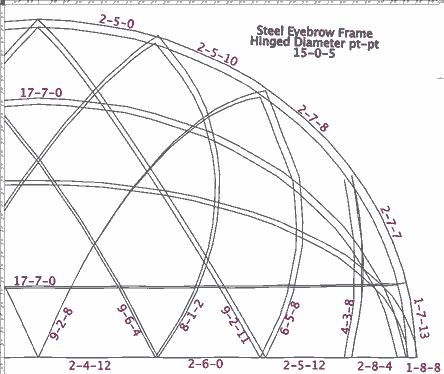 Curved or square design skills by experienced builder and a visionary ability.
Text can be added to clarify a document's intent. For my personal work.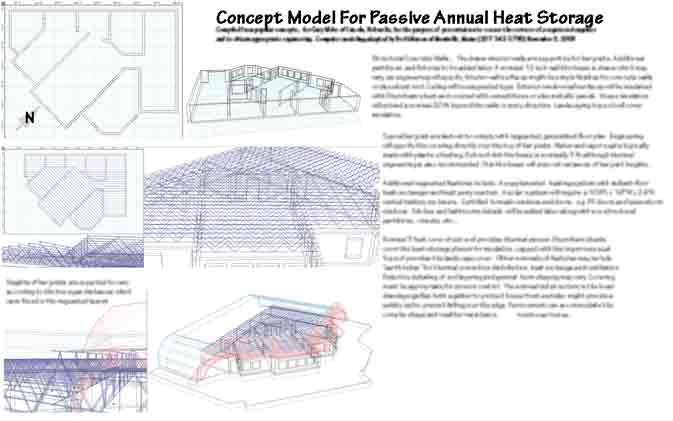 My modeling discipline is based on decades of conservation in design and material science.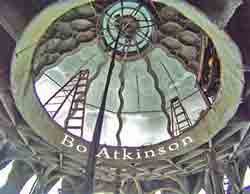 I love challenging work, like optimizing a water tank design under a confined deck space with obstacles.


Also, extremely simple layout drawings are customized per request, to aid design decisions.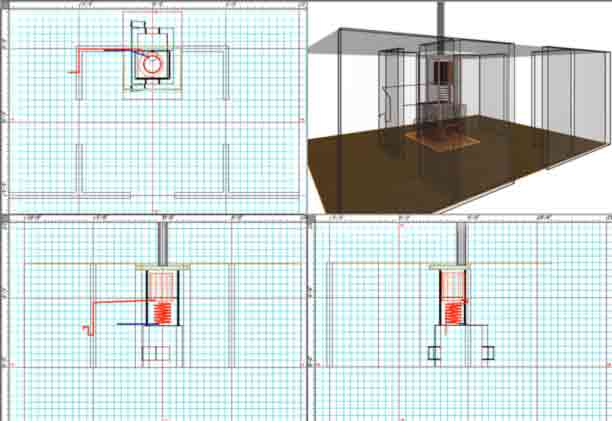 I also offer art content for web uses or printed media.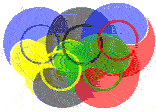 Competitive, Cooperative Conceptualization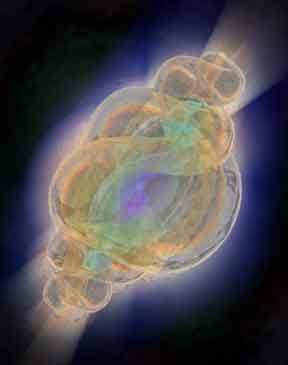 I offer unique 3D Models, renderings and physical prototypes. Have tools, will travel. Get ahead of the curve.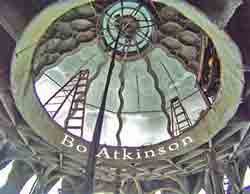 View through atrium of my most recent structural exploration.
Sheets of plastic ordinarily bend around one axis only. In this design, the intersections of five sheets were precisely determined, cut and assembled. Of particular interest was the resulting similarity to compound curvature, in this case achieved with ordinary sheet material. The sheets were screwed on to a framework of tubing, (lightweight EMT conduit).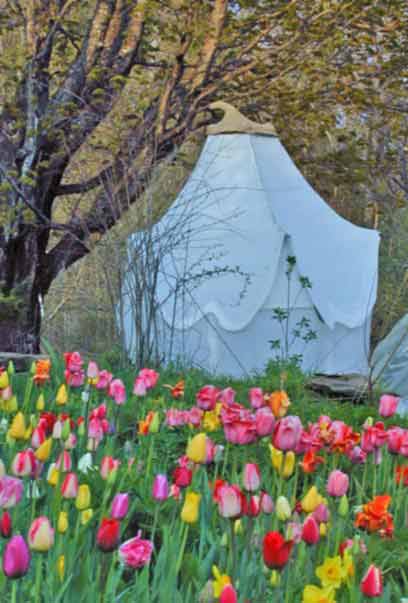 Here examples of new technical drawings in one of my favorite areas for 3D modeling: experimental-electromagnetics, experiment building and formulaic contemplation.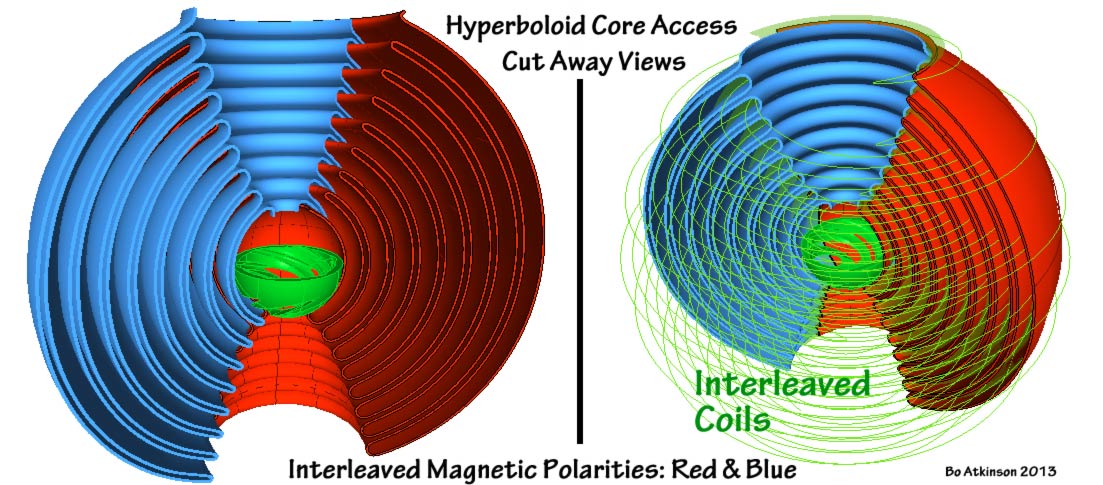 I welcome discussion which might relate to my work and web pages, as a free exchange of ideas. However, for customized modeling and lengthier consulting, i would appreciate a donation or payment. I have invested much of my life in building the content of this website, with the aim of contributing my energy for a better world.
To send paypal payment to Bo Atkinson:
Primary Software: Autodyssys' - formZ Other licensed software include: Adobe-Photoshop, 3d-Coat.
More examples of architectural modeling.
Structural Ferrocement Research
To build a symbol hire a sculptor

My Bio has moved, click here.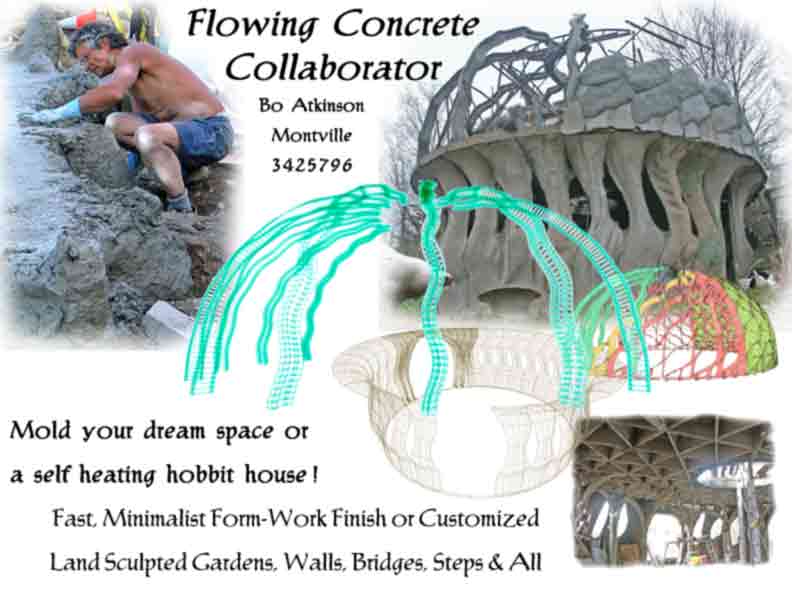 Machine sketching: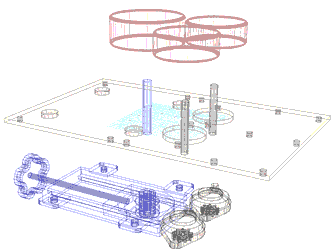 Click here to email me. (Please persist if you receive no answer, I need to aggressively filter spam-junk email).
Bo's Text Captioned Thumbnail Portfolio

This link begins to describe my history.

Note: These pages are placed in the public domain and are furnished "as is". The author assumes no responsibility for the use or misuse of the concepts in this series. All pertaining laws should be satisfied, in duplicating or testing my concepts or descriptions, as are posted on my linked pages.
Examples of Bo's inventive work. ... The boa spline-- A generic curve type which subdivides any other curve type into equally sized segments. Useful for many computer modeling purposes. The boa spline is a helix of "zero radius", which may trace any other type of curve and subdivide it into equal sized segments. This inventive method has many uses in geometry, rendering and real world construction .Click here for proof archived on the Autodyssys web site. For an older CAD era tutorial site explaining the rendering of film strips, click here. (A 1990s visual tutorial resource, now history ;) Let us be thankful we have any history ;)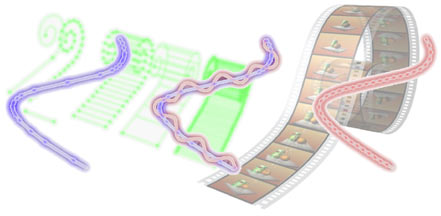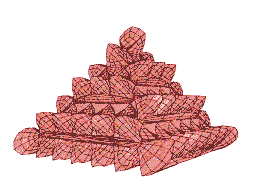 .