Somehow you have come to my Maine wedding web page and I am so pleased. There are many photos here, it might take a while to complete downloading. My style is most unique compared to other Maine florists.. I pick a third from the wild, a third from my large gardens and a third I bring in from all over the world. My helpers are exceptional. With best wishes for a most splendid wedding and celebration day, Alda Stich 207- 342- 5796 (Maine, USA)

A painting of Alda in her flower studio, (see credits below ).
A Perfect Wedding Gift ! Central Maine Land
Below: a floral arch by Alda measuring over 9 ft tall, (3 meters tall). Bo Atkinson built the custom birch frame , (you can see Bo's large scale decoration work by clicking here). If you are having a wedding in Maine, have a set date, and want exquisite flowers, call 207- 342- 5796 during standard business hours. Also, consider having a permanent decoration, click here. We can floralize anything!
Maine Weddings : Alda's signature piece- Frisky Floral Topiaries- about 36 " tall, composed of a fresh wild local moss base, stems entwined with vines and full fragrant floral tops for table center pieces or elsewhere. Tiny white lights with their battery packs hidden in the moss base add to the evening festivities!
*
*
Fresh, unsprayed flowers for your cakes.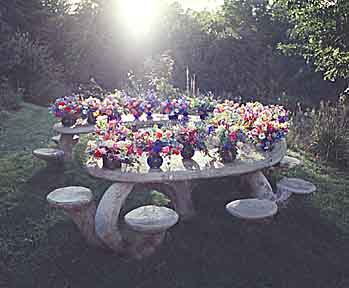 Bo's sculptural table.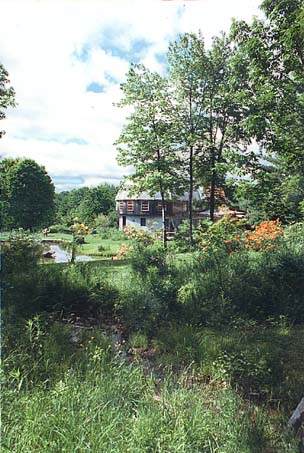 Last photo: Alda's 42 ft, translucent dome greenhouse and wild gardens.
See more of my original offerings:
Spring Flowers 07-08 -- - - Summer Flowers 07-08 -- - - Autumn Flowers 07-08
See more of my original offerings:
New! Alda's Maine Origami Wishing Boats®
Asian-American And Topiary Themes 2000
Alda's Celebration Source List
For large tree or built decorations, and lighting design, click here, to see Bo's organically elegant, tent design ideas.
Here is our inspector in one
of our garden prep areas.
Flower colors can be
adjusted only virtually!
The masterful water color painting at the top of this page is by Dianne Schelble of Liberty, Maine , USA , tel.: 207- 589 -4619