Here are some indoor views of Alda's innovative greenhouses.
Alda's tropical Stephanotis are for trailing bouquets.
Stephanotis is the Hawaiian Wedding Flower .
Alda's pure gardenias are perfect boutonniere flowers.
Natural drafts provide the only temperature control, (which greatly conserves on expenses).This has proved cost effective for more than four decades. Despite that an attic greenhouse is natural hot in summer and cold in winter.
Tropical conditions in summers and temperatures barely above freezing in winter-lows, has nevertheless allowed profitable flower growing.
An outdoor translucent 'Kasba' structure has provided some spring hardening and temporary shelter for other garden needs.
Another great use for our 'Kasba' is to burn used candles at night, in summer growing season, with FM radio to discourage vegetable-garden pests like deer and raccoon. The candles are left over from wedding jobs. .
A Maine wedding resort.
Most users throw these mostly used up candles into the trash. We reuse these remnants in the Kasba, only at night, to protect our vegetables from the deer and the corn from the raccoons.
Fig trees are great in the seasonally hot attic.
Attic gardens also hide antennas.
Alda's convertible dome expands spring hardening, allowing earlier planting.
Click here for Alda's Wedding Flower pages.
Ask your questions about renovating an attic space, converting it into an attic-garden:
Call Bo Atkinson 1-207-342-5796 ~ Please start speaking when message-machine answers and we will pick up the phone when possible, as this method filters spam calls, (due to listing this number for so many years, on the internet). or e m a i l

Bo offers conservationist techniques, concepts and building services.
Dome was built in 1980.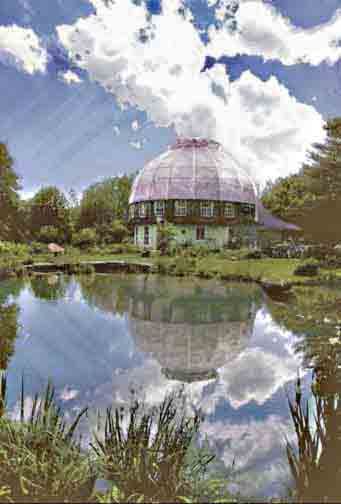 Asian-American And Topiary Themes 1999