Steel Framed Solar Wigwam Grow Dome
Here, below, is my ultra low cost version of my prototype dome: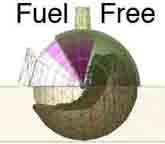 A Retractable Dome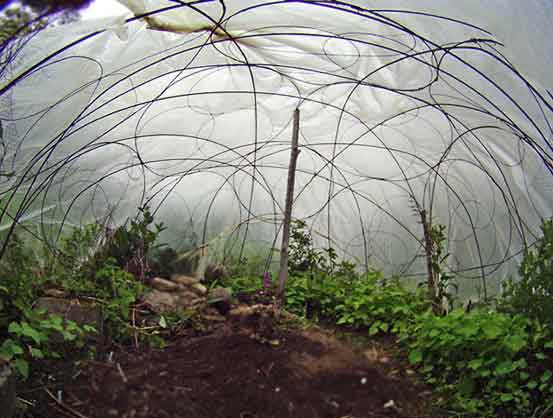 A decade ago, this experimental wire-ringed dome was formed to see how well ordinary-thin-wire-rings could stand up. Eventually it needed some added rebar rods added, (arches). It was used to cover seedlings in early spring weather. (To protect from frost). Also as a bean trellis, later in simmer. This page details my subsequent upgrading, which adds and tests a new shelter concept.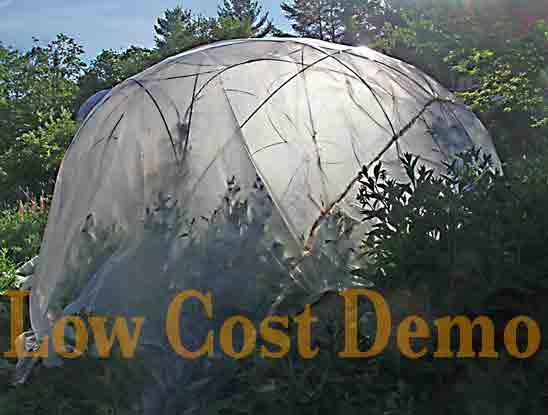 As of 2009, unusually challenging weather has stressed the growing season, here in Maine. An easy eyelid greenhouse or hot house feature was finally rigged, (in June 2010). Low cost construction details are being tested and shared freely. (Pictures edited for slow web networks. Higher resolutions are available.)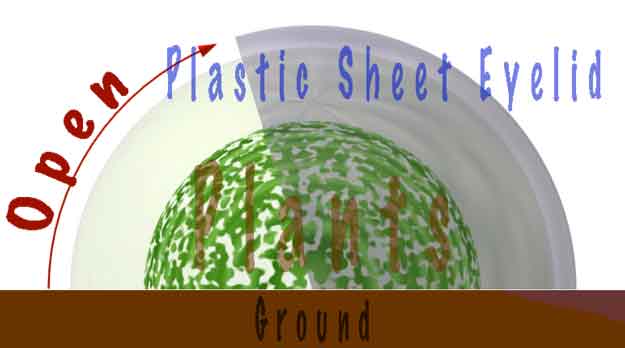 This is a small structure with little head room and arguably the cheapest type to make. It allows full ceiling opening for better noon sun and full closure for cooler or excessive cold rains in summer-- Strange cold rainy, drizzly and foggy weather bighted 2009 gardens in the upper North Eastern USA. Hot houses seemed to have prospered for warmer loving crops like tomatoes. This should help in case we get that again! (I'm on call if anyone wants help like this-.) This year begins my effort to grow beans and a warmer variety too. To see if these might mature well and store well during the winter.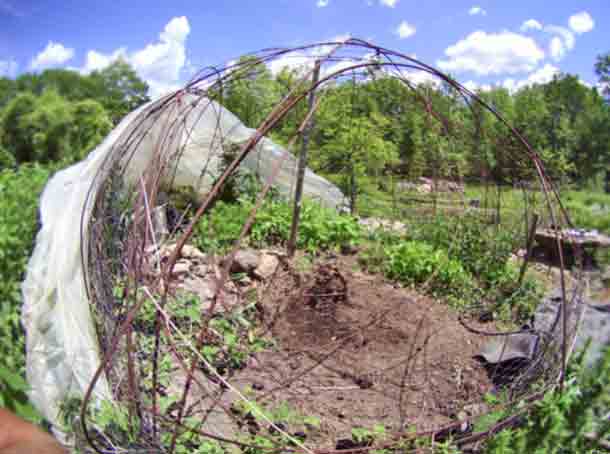 (I simply bent straight rebar over my previous wire rings, which needed that center stick for support.) Above shows noon time sun, as it shines right trough to ground. Instead of getting opaque sun exposure for the small food crop. Visit again in winter, to hear report on full season results.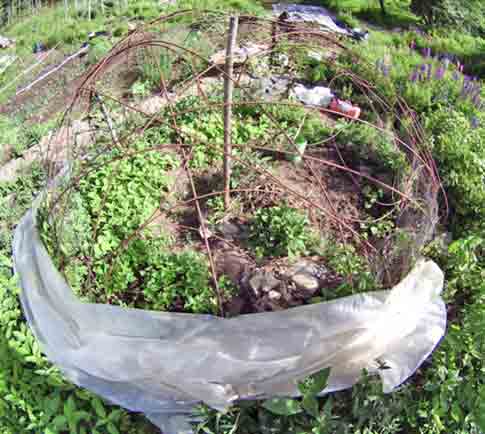 A generally square sheet was used. It was trimmed after installing the larger half-circumference arch made of bent rebar No effort was made here to tailor the sheet for a trimmed dome fit. This is a test of principals. Coaching, cutting-patterns or service is available, just write me to inquire and for any sort of customization,( including much larger sizes).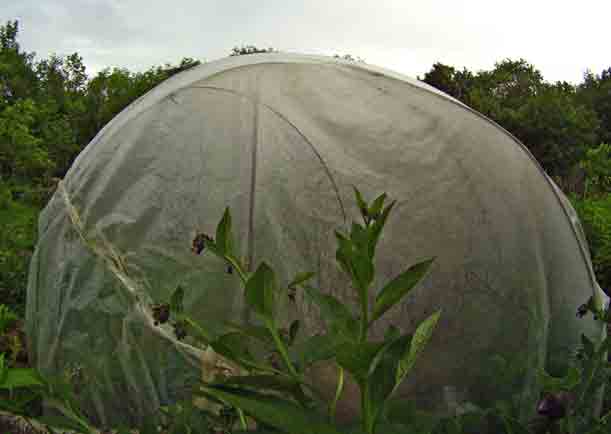 Rainy morning view. Note that a simple seam is made to add some extended sheet coverage. The seam is made simply by rolling edges together and then stapling. (Using a thick staple. Paper staple are not strong enough for windy weather.)
Geen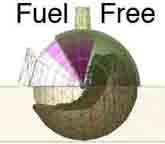 Convertible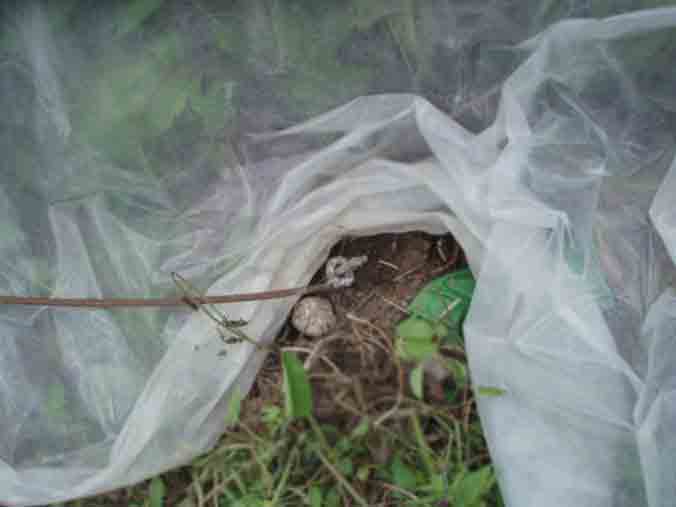 The large arch made of rebar was easily driven into the ground. More trimming details will follow below. (More after some welding details. Small welding details enhance low cost and low maintenance methods, generally.)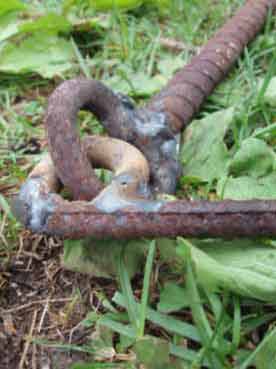 Here is the simple hinge. It happens to be made with recycled chain links, to save time. The pin uses 5/8" or #5 rebar, while the arch is #3 or 3/8" rebar.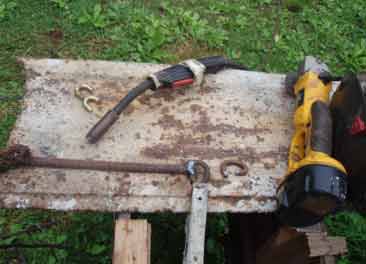 Welding can be simply improvised on the ground, to speed up production of customized work. Naturally,i could help organize3 with a production run of the general system.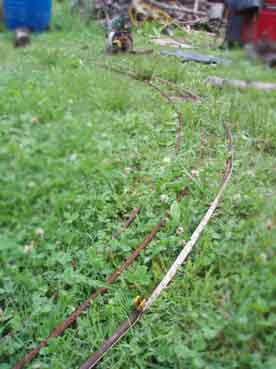 I had measured the arch length before bending, but it is checked here using close-pin to hold tape, while measuring it in curved form. DYI (do it yourself) people can use simpler methods. Write me, to encourage another page using only the human body for bending (with simpler tools).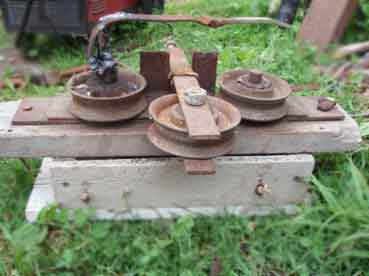 This is a recycled bender which chain-drives 2 wheels, with hand crank. It helps to pre-bend this arch. Yet oddly enough, rebar proves difficult to bend accurately. I might link more demos for alternative and more primitive methods to work with these things, if people write with questions. Communicaton inspires me to write and readers can point out typos which actually fool spell checkers.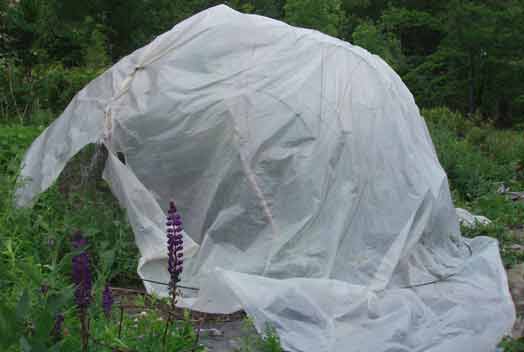 The loose fit of plastic has held up reasonably well in the wind. Though this site is at the base of a large hill (and many trees which reduce wind exposure).
Ultimately, trimming of the ordinary, 6 mil, PE sheet was done with scissor, before stapling over the arched rebar.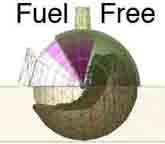 A Passive-Annualized-Heat-Storing-Greenhouse. It is another eyelid design is linked here. It is a feature-rich model with potentials for refining and then publishing or marketing. Write to me for more details and higher resolution images.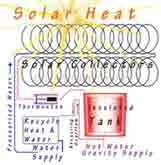 World's simplest solar water with storage and a 24/7 faucet. DIY? ....Note that some neighborhoods are litigiously regulated and generally outlaw do-it-yourself life-improvements !
My other web pages are linked here- Just click on pictures there to see my presentations.
Live safely. Study your rights and your local ordinances. This website advises common sense!
Writing to me is the best way to get focused answers. Or try calling 207-342-5796.