Architectural Concepts Modeled With Older Software (1995-2004) by Bo Atkinson, Montville Maine, USA Tel. 1-207-3425796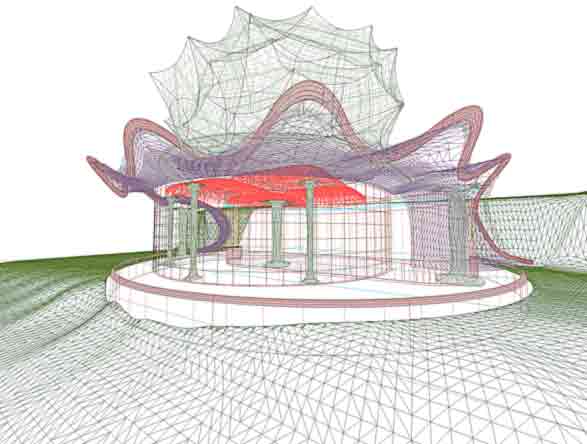 February 2004, Efforts With Passive Annual Heat Storage (PAHS)
Sailbox- vision seen off the misty Maine coast, summer 2003. I'm exploring a number of ways to build curvilinear ferrocement structures. A month was spent exploring a series of sail boat roof shapes. The modeling effort accidentally ranged all the way to elvish, ( picture below).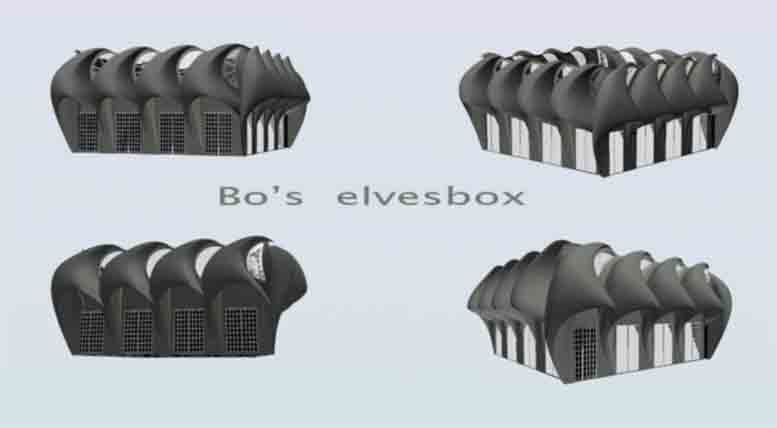 New ideas combining the computer and construction world !. ... Computer Aided Craftsmanship Raster Aided Vectors / Digitizer Aided Building Computer Aided Labor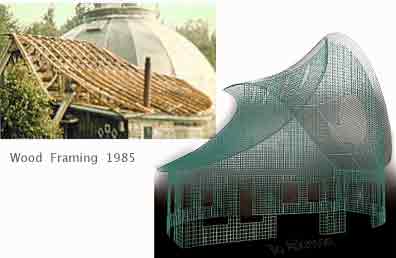 The wave like roof line and dome combination has interested me for many years. Click here for more pictures.
Translucent dome built single handedly by Bo
Bo's interest in truck poured concrete--- " corduroy wall" page
Hopes for house building robot, from PC to concrete, just add water!
Following are some structural concepts which are outlined conceptually.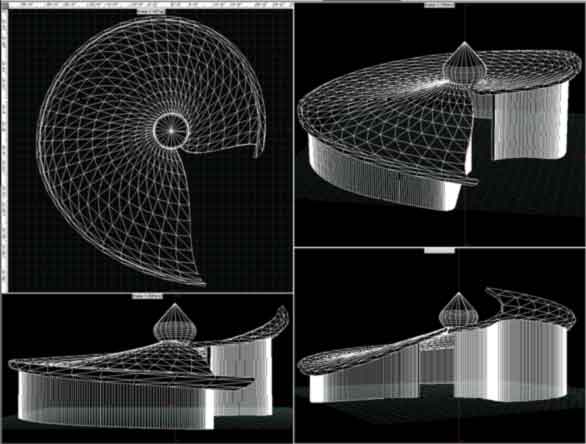 Above: Sea shell roofing with water catching pitch and an Asian aspect .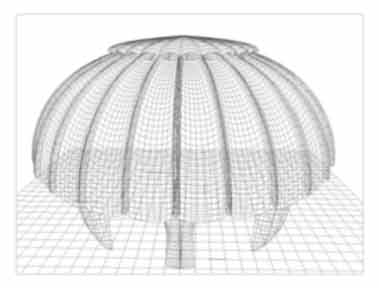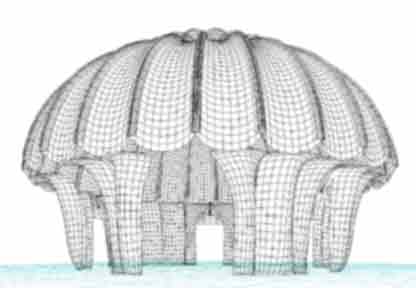 Fluted Dome concept, contemplated use of a partially sand mold, partially steel frame. (Like concrete tilt up except molds can start at a tilted angle to reduce required lifting capacity).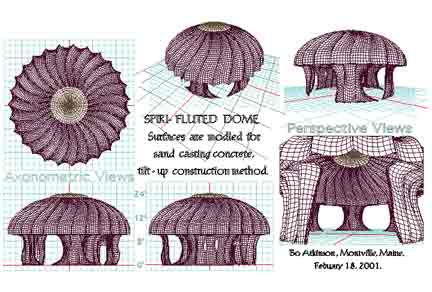 Continuing fluted dome concept with spiraling flutes and curving support walls.
See similar structure being built, (on a low budget).
The leaf like tessellation is based on an icosa derived geometry. Graphic to left is a fish eye view of "leaf" layout.
The ground floor walls will actually penetrate into the ground and are based on controlled splines.
Bo loves to work with powerful NURBS tools in formZ, which allow extended curling and bending of modeled objects. Curling thin shell concrete enhances it's structural integrity much like ribbing does in ordinary construction. Here is a page with some additional, speculative principles of curve related reinforcement. Further development of 3D rings and labor saving, 24/7 concrete construction for insulating walls.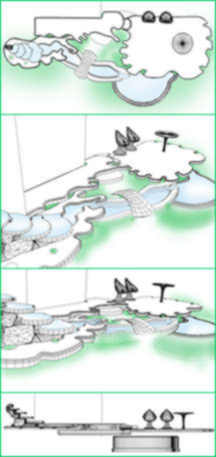 Above: Landscaping design with cascading pools and terraces.
Here is a detailed description of Bo's sand casting method.
Above: Concrete Bridge Concept. Click here to see bridge and garden decor built by Bo.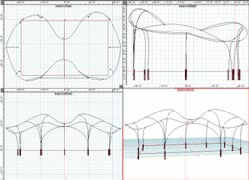 Tent model, click here for bigger image and photo of actual construction by Bo.
Ringforcement: a synergy of ferrocement, concrete, masonry and curved construction methods.
(Bo does not hold architectural or engineering licences, only freedom loving and software licences).
Note: These pages are placed in the public domain and are furnished "as is". The author assumes no responsibility for the use or misuse of the concepts in this series. All authorities should be satisfied first, as might be required, by relevant laws, before any building proceeds.
Searching Synergy ....

.... Free Exchange of Ideas
Enersearch was incorporated in 1980 but never materialized financially. A synergy of concepts were developed and are reflected in the pages of this series. The synergy continues as a single handed effort of Bo Atkinson, in Maine, USA.

Email comments welcome ~~~~~~~ boa1@pivot.net

Tel : 207 342 5796 . . . (Maine)