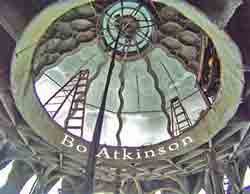 2009 Seen From Ground (Dirt) Floor - Artist's Low Budget Research.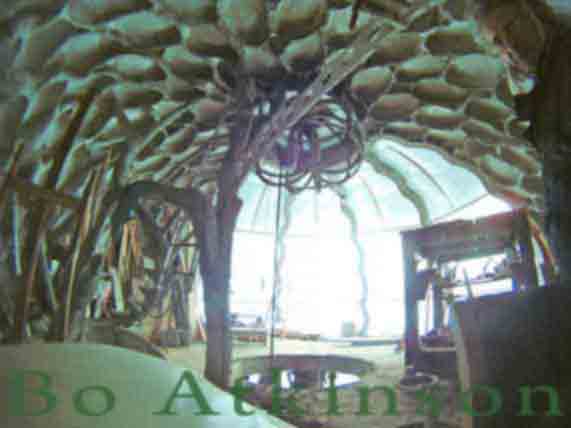 Raw Finished 'Finished' Condition
Actually a study of echo-free effects of coffers begins ;-)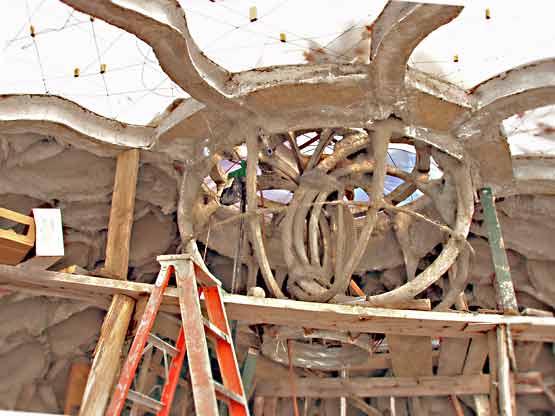 Above: Hand molded progress as of Sept 08. Below -- How could this largely-exposed interior structure endure freeze-thaw weather? Answer: the material is essentially low-cost ferrocement. Consider my services on your special structural project!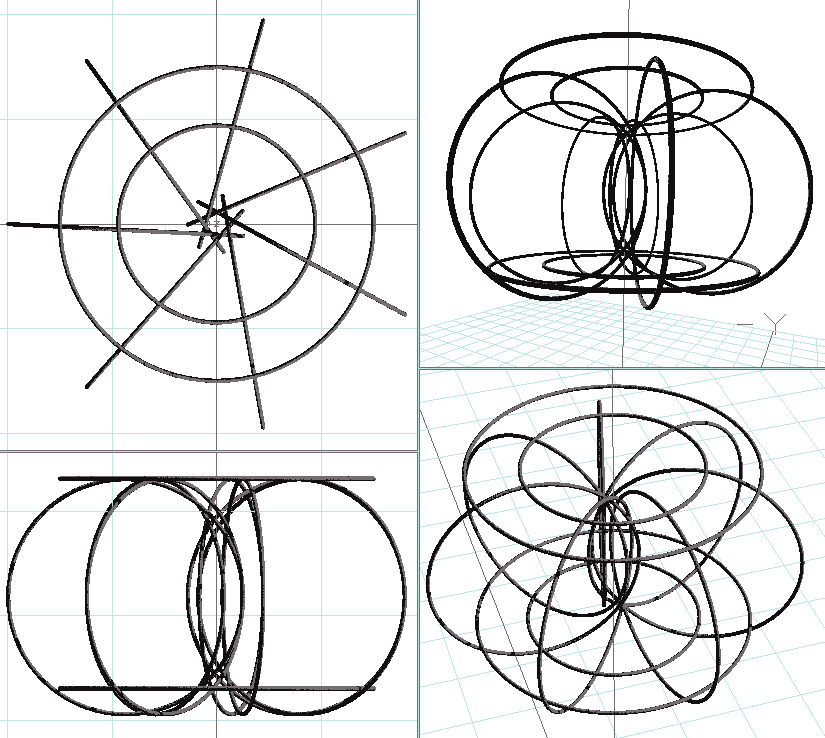 FInal framework style chosen for the dome top, (conceived years previously). A self penetrating donut truss work, conceptually studied first in formZ software. Translucent plastic will cover it, (as an oculus roof, seen above), attached to the concentric ring purlins, ( to keep light coming in). The dome project page is here.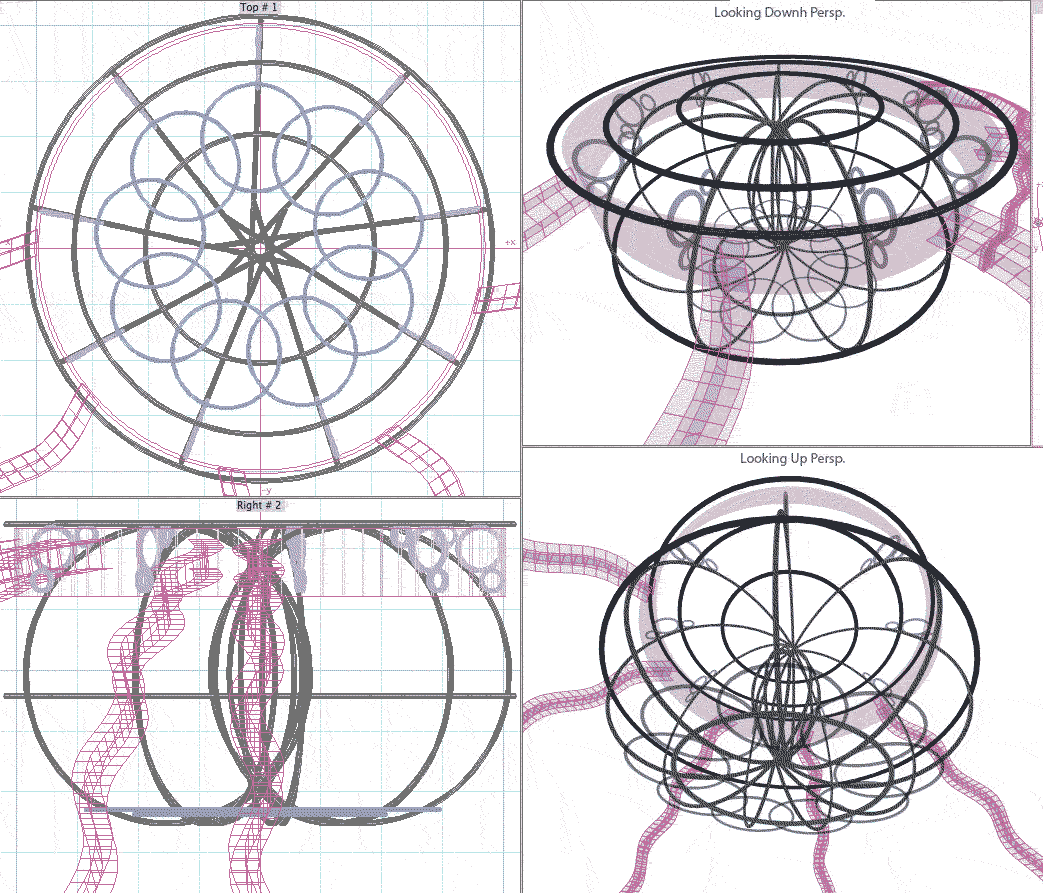 The ring elements were made during the winter of 07-08. Installation has taken years. Income paying work requires continuous interruptions. It stopped me from installing the donut truss sooner. Next is a photo of the installation site, ( the dome apex which had been built 2 summers ago. The innovator has to go on patiently, when paying jobs demand prolonged efforts which interfere with inventive work.)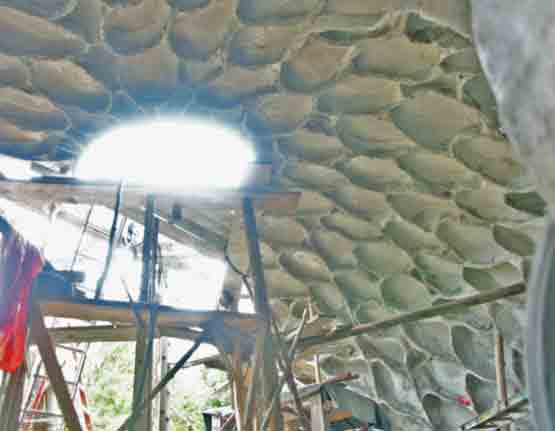 Photo above after ferrocement was roughed in, as of 2007, (slow, one man, live research progress). The general fabrication technique is explained, in part,(click here). Below is pictured the fit between the wavy arches and the toroidal truss. Another link attempts to explain "why rings?"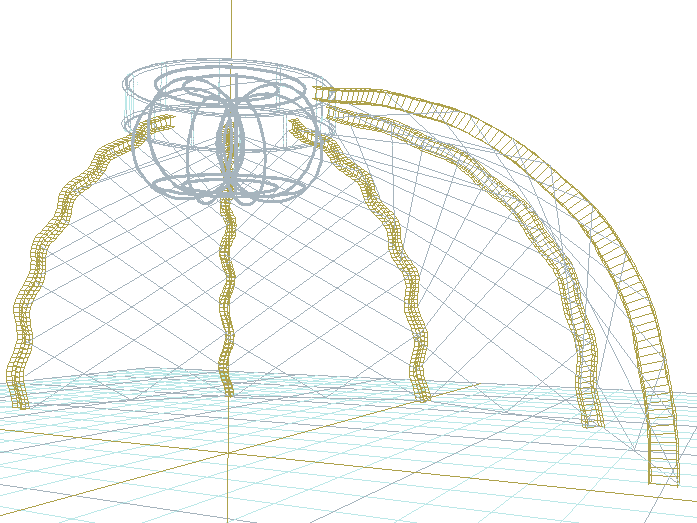 Donut RIngs: Fabrication Method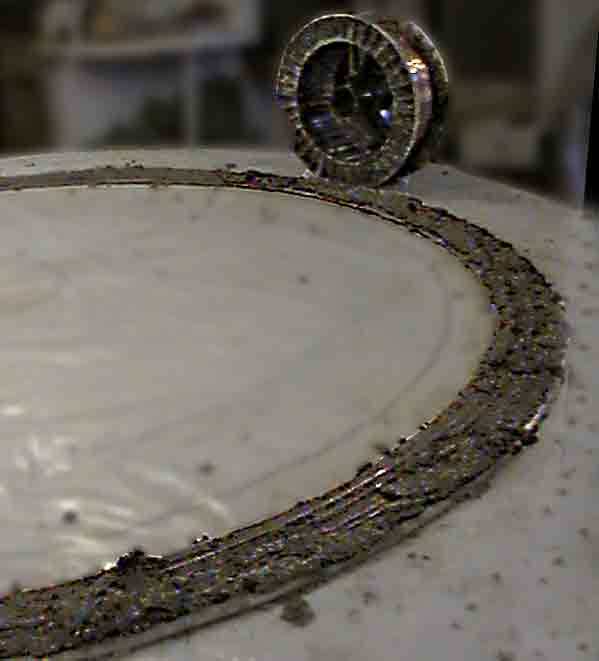 Rings were made on a large table. Various approaches were tried. The preferred method was simply to spread out a thin layer of fresh cement in a ring shape. The "shape" was a felt tip pen drawing on a sheet of PE plastic sheet. Next i rolled out 5 individual strands of wire over the fresh cement. Small daubs of cement were used to keep the laid wires well spaced out and in place. Two additional layers of cement were applied with more wires between each, thin cement layer.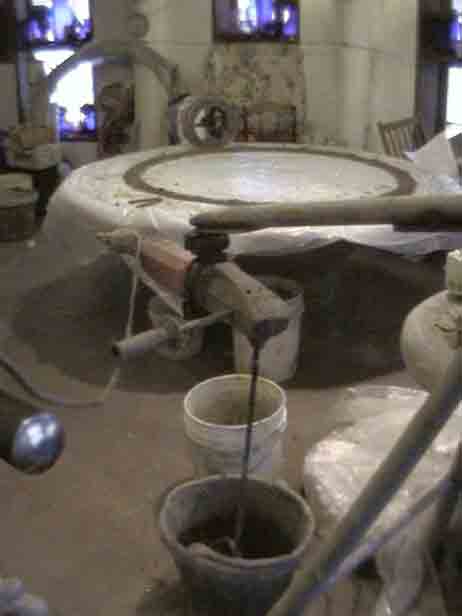 Plastic sheets above table protected the table surface from the cement work. A magic marker drew out the ring borders on the plastic, to guide cement placement. (A simple wire attached to a center pivot was used as a compass to draw good circle borders). An angle-drill mounted on an arm simplified mixing of the cement.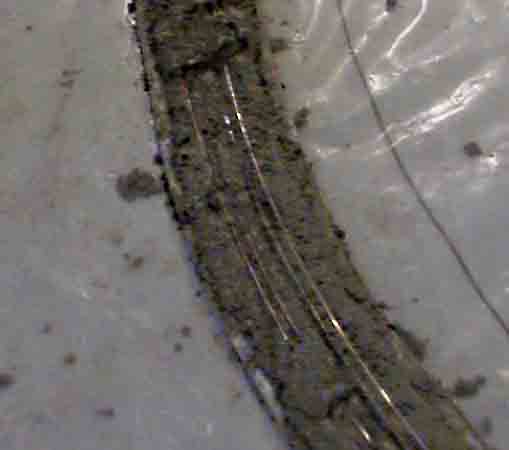 The cement was hand molded between the felt-tipped marker- lines. (No doubt, better invested production methods would produce stronger and more compact rings). The drawn lines held up for about 4 uses (before needing more darkening with the felt marker). As each layer was applied, a technique of patting by hand was used along with the hand-molded shaping.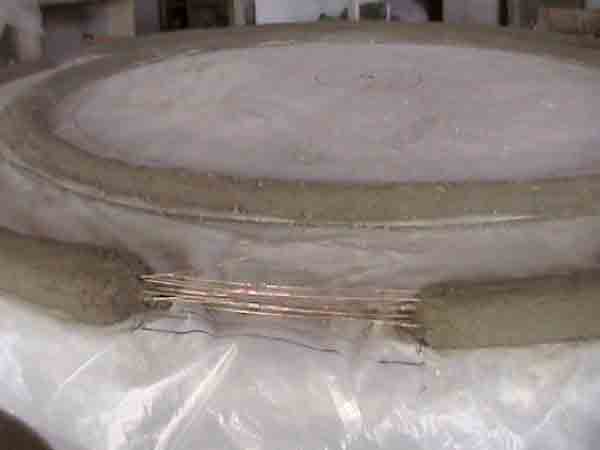 Two large rings will have to be installed "flat" within the vertically positioned rings. Since the vertical rings are closed, these large rings will be installed in partial sections or segments. Therefore some cement was omitted from these rings. The wire was cut to allow them to be inserted. More results will be inserted here by fall 2008.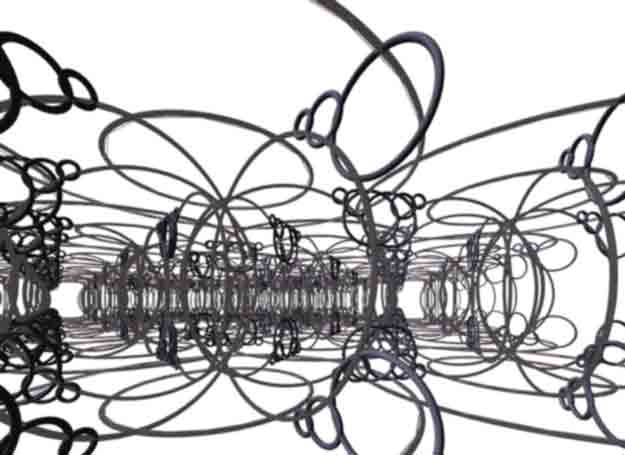 Concept for an array of many donut truss structures (to form a a large truss system).
Advertisement: PAHS / AGS / Self Heating / Self-Powered-HVAC .... Buy an existing, pre excavated house site in Maine!
Note: These pages are placed in the public domain and are furnished "as is". The author assumes no responsibility for the use or misuse of the concepts in this series. All authorities should be satisfied first, as might be required, by relevant laws, before any building proceeds.
Searching Synergy ....

.... Free Exchange of Ideas
Enersearch was incorporated in 1980 but never materialized financially. A synergy of concepts were developed and are reflected in the pages of this series. The synergy continues as a single handed effort of Bo Atkinson, in Maine, USA.

Email comments welcome ~~~~~~~ boa1@pivot.net

Tel : 207 342 5796 . . . (Maine)