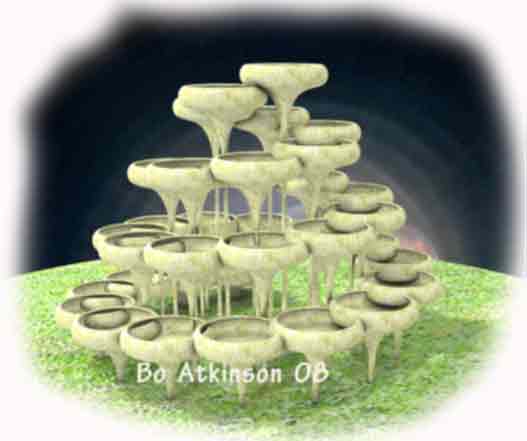 Harmonious-Innovator, Contractor, Modeler & Author ;-) Bo Atkinson In Maine, USA 2008
Green HVAC should conserve both on materials and energies. It should produce more with less. It should promote more salubrious growing conditions and therefore better living conditions. Reduce material costs to the individual and to the world-at-large. Consider all HVAC production cost to the individual and ultimately, all costs to the environment. This can promote peace and harmony, (without wasting away one's beloved nation. Dumb warfare which stains one's national reputation and wastes national treasures. An otherwise great national reputation can be restored through greener-tech-economic planning. Consider resisting the trickle of doom. Solar energy might increasingly play a useful part besides adding innovative food production more directly to consumers. This page-blog is a schematic look at food production capabilities built into a structure. A green structure for the cool-temperate northern climate. My domed, eyelid greenhouse design may be seen on this separate page.
Additionally, my concept of powering HVAC with a garden hose, in a rudimentary form, to be build at low cost, is here.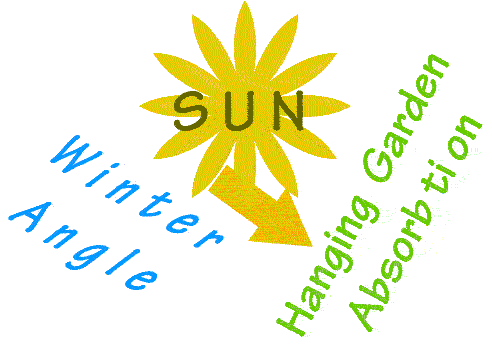 Integral design serves both as a structural shield from the environment and also for varied sustenance. The author's experience is with a wife who grows flowers for her wedding business, instead of food for us ;-) Flowers can provide cash sustenance through a floral business. Yet for most green-leaning individuals, useful food production is likewise very possible. Cash crops for local markets is also possible for persistent, patient souls, given an appropriate opportunity. Compare various approaches schematically as follows. First is illustrated a remix of the pole garden concept, combining an ancient concept like the hanging gardens of Babylon.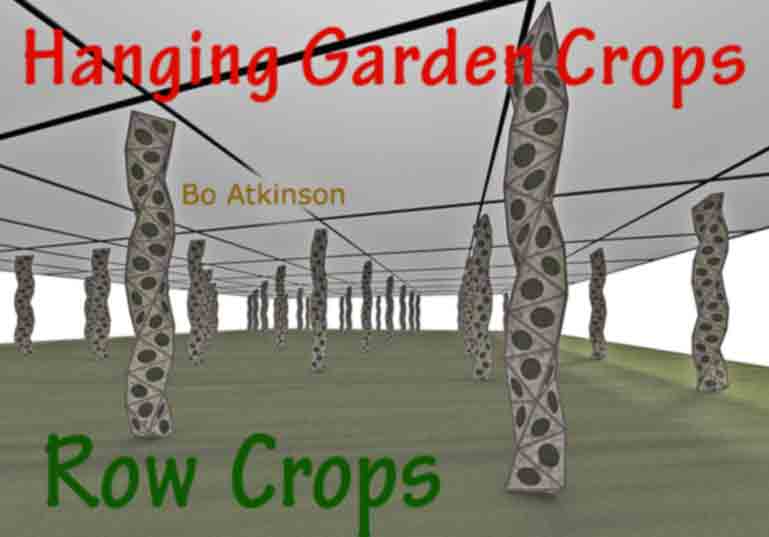 Instead of poles for support, planters can be fashioned into poles! (Integrated to include structural roof support). While a flat roof for a huge "pole garden" is illustrated, large or small peaked, or curved roofs can all employ planter-pillars. Flat roofs can require closer pole spacing in windy or icy regions. Critical needs are determined by seasonal uses. Visit again to find more detailing and context specifics, winter provides me time on the computer. The illustrated poles employ the deeply-enigmatic "tetrahelix" (a geometry invented by Buckminster Fuller). On Another note: Here is a 2009 inspirations for a "rolltop garden cover".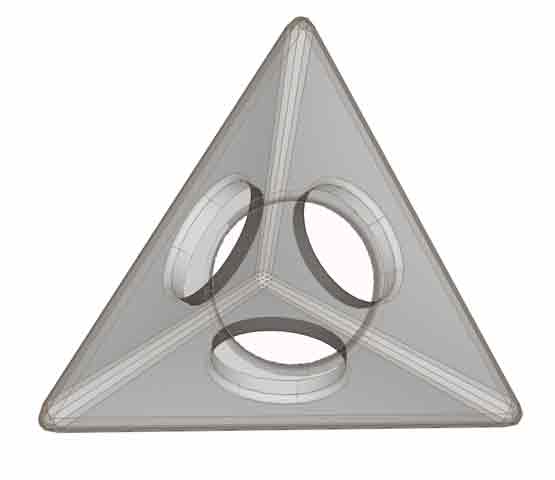 The tetrahelix is made with geometrically correct, face attached, tetrahedrons. A tetrahedron is the simplest, most rudimentary platonic solid (with a very far-reaching reputation). I conceptually suggest face attaching, (conceptually), hollow tetrahedrons with holes in each face. Or more practically, perhaps mold two of the hollowed-tetrahedrons as one piece, pictured as follows, on left. An "exploded" view appears on right showing the the double tetrahedron parts.

(In fact only two triangular faces could work for each section, with more fastening details, yet to be explained). Rooting medium will fill the hollows. Soil drainage is integrated through the entire tetrahelix, simplifying a trickle down, drip irrigation installation with one water tube, (perhaps with several drip holes). More links should be added to this page. With more public encouragement. I would do more rendering with plants and various greenhouse shapes. Next follows my continuing fascination with ring geometry--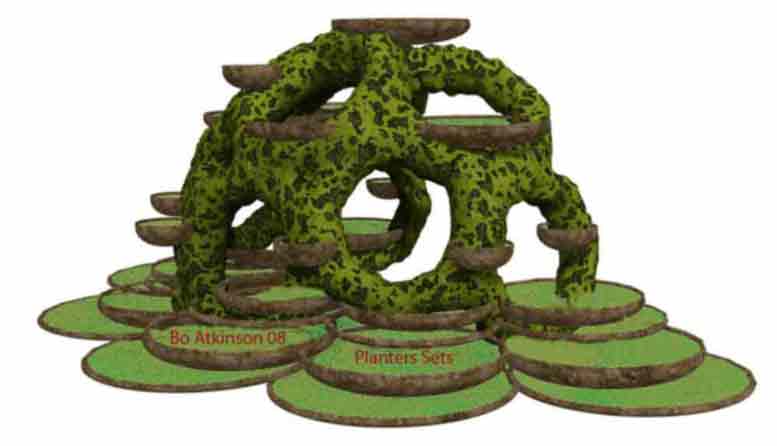 A ringed framework is made to hold shallow planters above. The entire ring framework can incorporate a porous rock garden medium for growing. For more planter styles, many can be seen here. Next below is another helix type--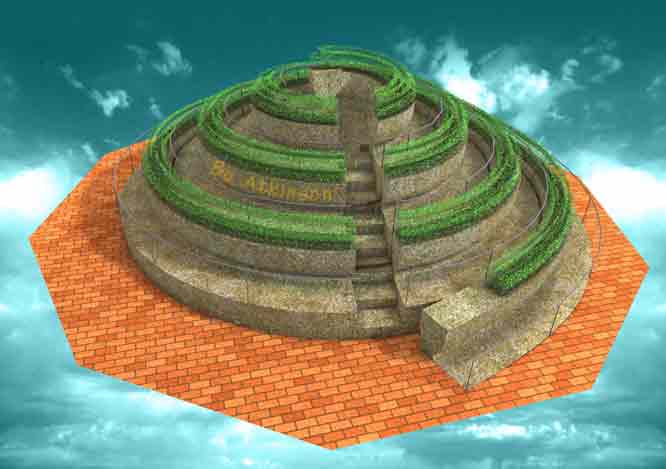 A large spiral mound planter is proposed, (pictured above). The main points of it are-- Possibilities for production of various plants like water cress, or any marketable plant variety. Slowly seeping water should both help the highly nutritious water cress plant generally and also might transport heat from the stratified greenhouse peak. Heat can be annualized for winter heating or other diverse uses as perhaps profitable algae production. Even fast composting or beneficial bug propagation can be contemplated to adapt to specific interests. Slowly seeping water also might automatically distribute plant nutrients.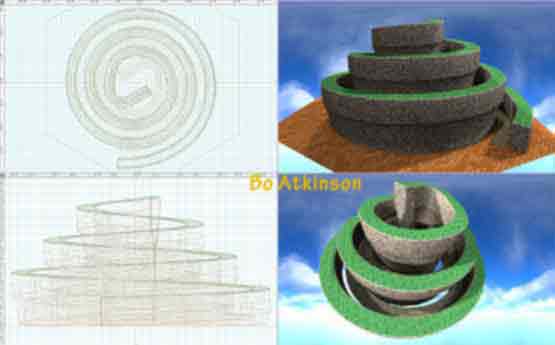 It therefore works towards a sustainable, self acting system, whether soil based or hydroponics! Heat carried down below the floor would provide an integrated, efficient means for annualized heat storage, or literally "free HVAC operation". Green Building should discover integrated solutions which work better and cost less to maintain (sustain)! Electrical supply is separate from this system and therefore it is less burdened by bulk power requirements of ordinary HVAC.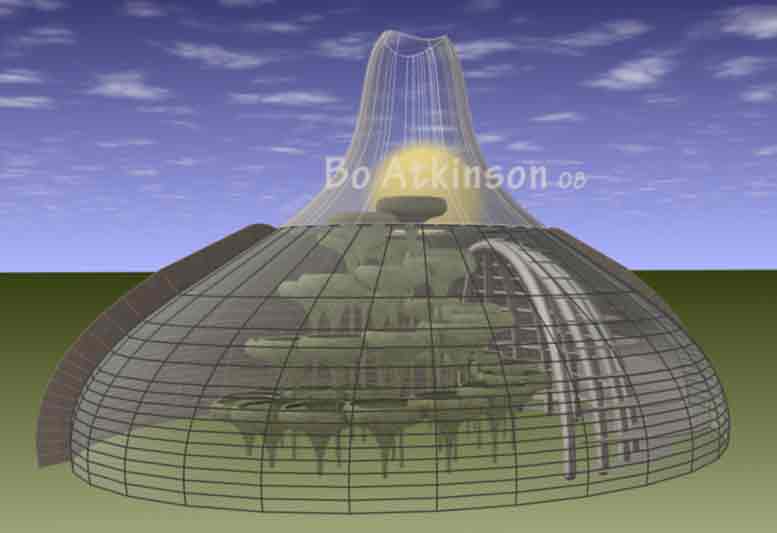 Solar Chimney? Yes I have lived in a solar chimney for many years, while testing the various, existent potentials. Controlled thermal drafts are subtle, but on an annualized basis, the contribution to HVAC is notable: Cost Free HVAC for a greenhouse deserves prompt study for alternative food production where cold or draught can be experimentally mitigated. (Investment or small contributions will also encourage continued study, by Bo Atkinson;) The oval greenhouse above models another cascading set of planters. Additionally shelf options are to the right. What is possible to grow with considerable climate control using water, solar and bio controls? Your email comments on this topic are welcome. While the oval shaping represents just one of many possible shapes, a one time construction cost can be offered. The popular, more easily mass produced Quonset Greenhouse is modeled next..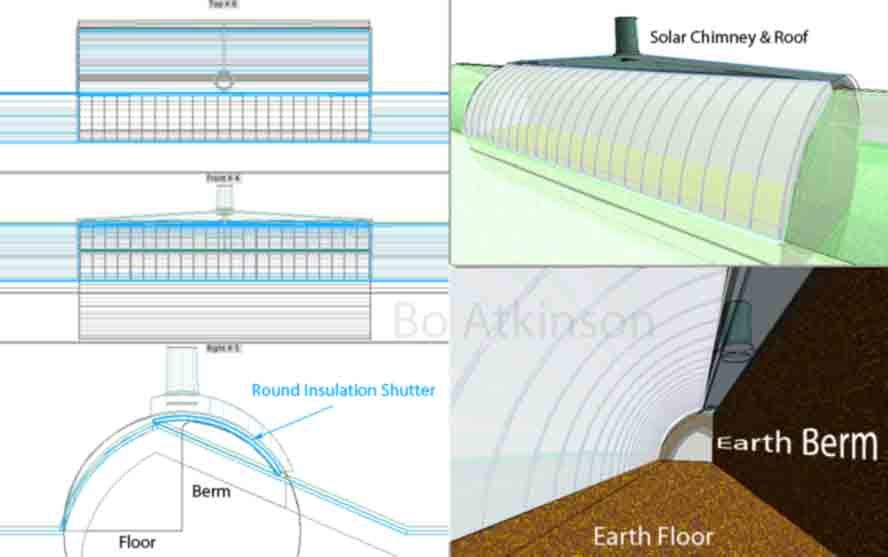 Unusually wide, perimeter insulation (blue outlines above), is the key to controlling wide fluctuations of greenhouse heat. Easily used and even automated controls are fairly easily installed for climate control 24/7/365. (Perpetual operation is sustained naturally). Sizing depends on investor-client needs. I, Bo Atkinson have been developing my skills of innovative, integrated construction for almost 40 years. Yet through scientifically based diet, i am physically able to perform hard labor like a younger man. Hire me to develop your own greenhouse, customized for your region, your site and your budget. A free preliminary Green HVAC proposal can be sent to you based on your information. Write to me and receive prompt replies, during winters... boa1@pivot.net or telephone me dawn to dusk, (north) eastern time zone 1-207-342-5796.( Leave detailed messages as i don't use a cell phone at present. I will try to respond as time permits, though sometimes i become very busy. Yet projects like these gain are given high priority.) See other web page blogs describing my green innovations.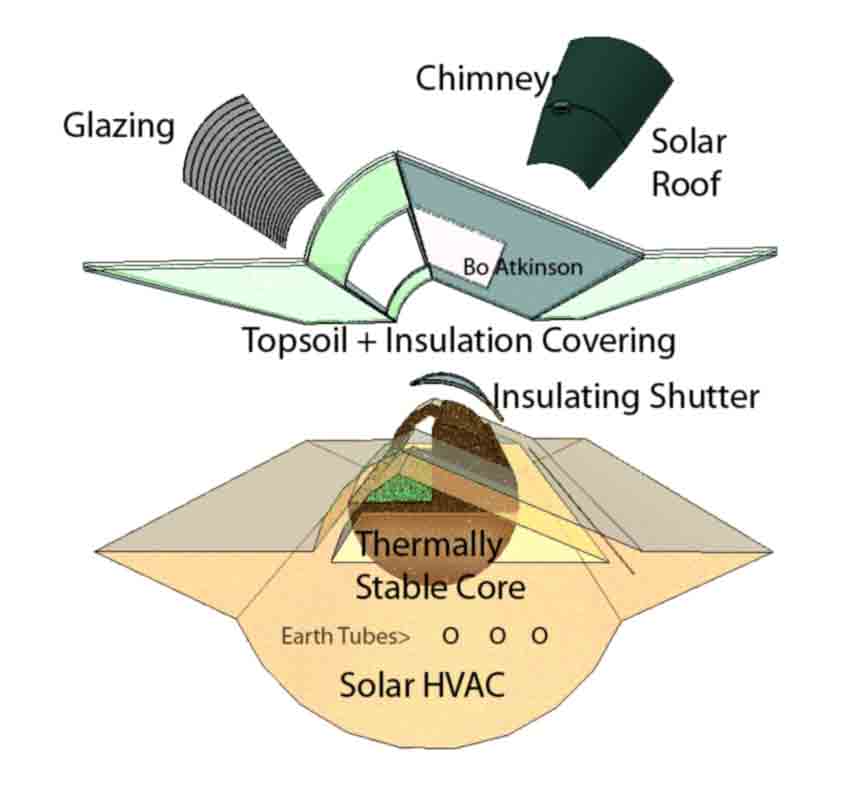 Various means to heat the ground beneath a house or a greenhouse have been suggested.To my knowledge, "scientific research" has not been done to compare the potentials of various design styles. My favorite methods to research are solar chimneys and also, where water is abundant, to trickle clean, solar-heated water downwards, (providing that no contaminants are in the water, so that the trickling is little different from natural, abundant rain, with heat added). Other variations might include heat pumps in closed hydronic systems.
Here is a page detailing a green roof structure which could also be covered with an appropriately sized greenhouse. This page will likely be updated through 2009.
Note: These pages are placed in the public domain and are furnished "as is". The author assumes no responsibility for the use or misuse of the concepts in this series. All authorities should be satisfied first, as might be required, by relevant laws, before any building proceeds.
Searching Synergy ....
.... Free Exchange of Ideas
Enersearch was incorporated in 1980 but never materialized financially. A synergy of concepts were developed and are reflected in the pages of this series. The synergy continues as a single handed effort of Bo Atkinson, in Maine, USA.

Email comments welcome ~~~~~~~ boa1@pivot.net

Tel : 207 342 5796 . . . (Maine)