Welcome flower loving friends to Maine Freedom Florist alda's flowers Storied 2015, way too cool, way too much fun, wedding and celebration flowers.
I hope you will enjoy Alda's simply beautiful, best of day spirited flowers.
Many thanks for sharing this web with friends! With best wishes to all,
Alda Stich alda@fairpoint.net 207-342-5796
Wedding places and special spaces throughout this beautiful State of Maine become Architecturally Alive with alda's fragrant flowers.
Point Lookout Resort, The Summit and Erikson Hall, overlooking the historic Penobscot Bay Lincolnville, Waldo County, Maine
All of the auspicious elements made all of these day so perfect.
Fragrant peonies, tulips, roses and Canterbury bells enhanced the arbor and performed their magic as only alda's fresh fragrant flowers can.
alda's heavenly scented May wedding flowers enhance free spirits uniting.
The Spring Bridesmaids wore plum and carried white roses, ranunculus, peonies, lily flowered and traditional French tulips, Japanese candelabra primroses, lilacs and Brodiaea Queen Fabiola .
My serenely radiant, beautiful Maine Bride carried a peak of perfection bouquet of fresh picked lily-of-the-valley and outstanding white, sieboldii snowflake primroses. These Japanese snowflake primroses are considered to be among the most beautiful of them all. My lilys-of -the-valley are a little taller and bigger than most but have that same you know it is spring in Maine, fragrance.
Here in these central, gentle mountains, about a half an hour from not to be missed 3.0 Belfast, our abundant lily-of-the-valley are in bloom later than in other places.
If you are thinking of having me to do your Wedding flowers, we can meet in Belfast or wherever convenient.
The Bride's Mom wore a wrist corsage of orchids and gardenias. The men of the Wedding party wore calla lily and gardenia boutonnieres.
Two large ceremonial silver bowls were filled with garden grown tulips, Solomon's seal, huge white roses, poet's narcissus and Canterbury bells.
The aisle chair ends of Jacob's ladder, spray roses, plum, white and burgundy/ black tulips, chocolate cosmos and ranunculus were arranged in my antique silver sugar and creamers.
After the service, the chair end arrangements were moved to the long, carved wood bars at the entrance of Erikson Hall.
The peony arbor swags were moved to the entrance of the Pavilion.
Three entrance tables were covered with my special signature Maine moss.
Large arrangements in gratis loaned collection of antique Maine silver looked and smelled splendid, befitting the finest Memorial Day weekend. A vintage floral color scheme of whites, ivories, purples, pinks, maroons and greens was beautiful. Spring Flowers are my finest. If you haven't chosen a date, I hope you will select my Spring flowers
72 inch round tables can seat ten guests. The large Pavilion space looked especially fine with large arrangements and abundant candle light. The Bride and Groom sat in the center at a table for two. The table arrangements were filled to overflowing with apple blossoms, rich spicy fragrant poet's and pheasant's eye narcissus, Thalia, leucojum, late blooming tulips including the deep purple black parrot tulips, Solomon's seal, candelabra primroses, abundant roses, and bellflowers.
The large silver bowls from the ceremony were set on my awaiting twiggy stands in front of the band.
I raise miniature roses in the dome greenhouse, perfect for so many things like cake decorating.
The men's room was filled with the fragrance of Maine lilacs, roses and bellflowers. The large Victorian ornate silver pitcher is inscribed
December 23rd 1887, A Happy Feast.
The ladies' powder room granite shelf had small silver moss filled cups filled with wild and freckled violets. You are beautiful. Be Happy. Be present.
The perfectly attired wedding moose attended at The Summit.
The Samoset Resort and Spa Rockport Knox County, Maine
A fresh picked, steam punk Wedding bouquet from alda's vast fragrant Spring garden.
My serenely radiant, beautiful Bride carried peak of perfection Wedding bouquet of City of Haarlem and Fondant hyacinths, hellebores, ivory stock, wild phlox, peachy pink Salmon Impression tulips and blush pink roses. The bottom of the bouquet was covered with "diamond" jewels.
Her Bridesmaids carried equally awesome bouquets of immense, goblet-shaped Impression tulips with a border of lacey Dusty Miller. The palette was vintage blush, all pinks, ivory, white and soft greens.
Wired hair flowers of orchids, Grand Duke of Tuscany jasmine and fragrant hyacinths. Our hair flowers make your day that much more fun.
View to the Rockland breakwater.
The men wore steam punk boutonnieres of more loosely formed, Festival Hyacinths, calla lilies and baby's breath.
Weddings at the Samoset are one of my specialties.
Camp Discovery on Webb Pond Downeast YMCA near Ellsworth, unorganized territory, Hancock County, Maine
The ceremonial meadow was not far from the lake and cabins.
Green mason jar chair ends in this woodsy clearing were filled with oak leaves, birch, white pine, fresh wild blueberry branches, vivid orange zinnias, orange alstromeria and pink, coral and white roses.
My serenely radiant, beautiful Maine Bride carried a peak of perfection warm colored Wedding bouquet of coral garden roses, vivid fragrant magenta phlox paniculata , foxgloves, peachy coral dahlias, fragrant soapwort, montbretia, sweet peas, ferns and honeysuckle.
The Bridesmaids carried similar smaller bouquets. Green mason jars with water were set on the head table to receive all bouquets.
The family created a simple birch arbor and colorful backdrop.
The Groom and men wore woodsy boutonnieres of my fresh picked fragrant stephanotis, ferns, white pine, montbretia and coral orange and pink roses.
The large ceremonial white baskets were moved to the entrance of the campy casual tent.
They were filled with orange dahlias, fragrant vivid phlox, safflower, snapdragons, nicotiana, maple samaras, hydrangea, Queen Anne's lace, astilbe, woodsy branches and wild Maine ferns.
The tables were set with floral summer wreaths placed on antique silver trays which surrounded loaned clear glass hurricane glasses with friend created, birch and moss candles.
A palette of warm floral colors of peach, tangerine, orange, all pinks from light to vibrant, and some white and cream for contrast filled the tent. Dahlias, zinnias, snapdragons, hydrangea, asters and Hypericum berries were used.
alda's fast becoming signature piece, a beer, wine and drink filled canoe, ice chilled to perfection and decorated with wild local sphagnum moss, ferns, amaranth, hypericum berries and tall orange wild Lilium superbum.
The Moms wore pin on corsages of orchids, roses and gardenias
Bar Harbor Regency Hotel, Stone House, Mount Desert Island, Hancock County, Maine near
alda's two level, antique flower van packed for delivery with all shades of serenity sky blue and white flowers. Maine sometimes has incredibly blue skies during the day and gorgeous star-filled skies during the night.
The flower girls carried woodsy rustic rabbit's foot clover baskets filled with ivory rose petals and Chinese blue forget-me-nots.
Bo Atkinson's root like, concrete tree bases held evergreen tree boughs.
High top cocktail tables overlooking the water were set with grey-green lichens, clarkia, snapdragons, garlic twirls and ammi. Lichens are a symbol of clean air. If you see lichens, you know you are breathing the finest cleanest.
The frisky chair ends were of garlic twirls, from my hard neck types of Maine garlic, Queen of the Meadow, open-faced Chantilly snapdragons that the bees prefer, astilbe, hydrangea, mignonette, bachelor buttons and godetia.
My serenely radiant, beautiful Maine Bride carried peak of perfection all white Wedding bouquet of fragrant tuberoses, snapdragons, astrantia, lisianthus, gaura, mignonette, roses, bellflowers and wild sea lavender.
Acadian summer, white Bridal bouquet with lots of fragrance and texture.
The Bridesmaids carried bouquets of long stemmed, blush, sweet peas, forget-me-nots, Queen Annes's lace, snapdragon and fragrant tuberoses. The family created a ceremonial wooden arbor.
Acadian Summer pastel, Bridesmaids bouquet with lots of fragrance and texture.
The woodsy, nautical, intimate tables for ten at the Stone House were set with my large clear low bowls filled with shades of serenity blue belladonna delphiniums, tweedia, white fuzzy American basket flowers, blue and white love-in-a-mist, lisianthus, bachelor buttons, hydrangea, ferns and southern pitcher plants.
The beautiful blue and white flowered tables had abundant candle lights and long wild, fresh picked ferns set on burlap runners.
Moss tables with my bird nest collection were for seating table number assigned beach stones and lots of family photos.
The Bok Amphitheater, Camden library, close to historic Penobscot Bay, Camden, Knox County, Maine
and the new Pig + Poet Restaurant at the historic 1901 Whitehall Inn bed and breakfast at the base of Mount Battie
Independence Day in Maine with beautiful shade of purple and white flowers for the Bride and her sister arriving in an antique horse drawn carriage.
The Duke and the boys waited patiently with their garland, bouquets and ribbon decorated St. George Cinderella Carriage-
My serenely radiant, beautiful Bride carried a peak of perfection bouquet of fresh picked Festiva Maxima peonies, peach-leaved bellflowers, Ocean Song lavender roses, and shades of lisianthus.
High fives for the Meow-Meow chorus.
The Bride's sister and bridesmaids carried similar bouquets with fragrant white peonies, white love-in-a-mist, lavender roses and purple lupines.
The Groom and men wore Black Tie boutonnieres of calla lilies, purple delphinium florets, white pine sprigs and Chinese privet.
The middle stage was set with two splendid, large white baskets of flowers.
Huge purple globe alliums, purple trachelium, bellflowers in white and purple, gorgeous Ocean Song lavender roses, larkspur and delphiniums filled the ceremonial baskets.
Of course best of day, garlic twirls, fragrant peonies and purple lupines were on the chair ends.
The Camden Amphitheater is a very special place to hold a Maine Wedding ceremony.
Contagious pure, radiant Joy for all.
The baskets were quickly transferred to the sitting porch of the Whitehall Inn before the guests arrived.
The bouquets and chair ends were positioned behind the Bride and Groom on the new Pig and Poet restaurant long bar.
Audra crafted flowers for the dining tables.
In lieu of guest book, "notes" were left as a musical composition.
I am quite convinced that people who like flowers most often also love animals.
Allamoosook Lodge, Lake side Inn, Orland, Hancock County, Maine
My serenely radiant, beautiful Bride carried a peak of perfection bouquet of long stemmed lavender, burgundy and white sweet peas, fragrant white phlox, deep maroon pincushion flowers, Queen Anne's lace, white roses, snapdragons, lisianthus, doll's eyes and white belladonna delphiniums.
Acadian summer white Bridal bouquet with lots of fragrance, texture and touches of burgundy, purple and lavender.
Her Bridesmaids carried all shades of purple flowers from really dark though pale lavender. Tibetan meadow rue, lavender and purple long stemmed sweet peas, foxgloves, phlox, bellflowers, black knight pincushions, roses, purple fuzzy centauria americana, tiger paw asters and dahlias were in the mix. The bouquets were placed in purple pint mason jars on the long head table.
The Groom and his men wore boutonnieres of sea lavender, ageratum, purple larkspur, eryngium, monkshood and white pine.
The Alamoosook lake side ceremony was beneath a family made, birch arbor.
The floral aisle chair ends in small purple mason jars were of dahlias, roses, larkspurs, sweet peas, hosta, lisianthus, ageratum, maroon wild cherries, and lacey dusty miller.
The dining room of the Allamoosook lodge, overlooking the lake was set with the colors of purple.
The Moms, and grandmom wore wrist corsages of moth orchids, heather, delphinium florets, monkshood and sea lavender.
A best friend, bridesmaid made the birch raised Wedding cake surrounded by tiny roses and gardenias
Traveling baskets were set with the arrangements of purple flowers for safe delivery.
Acadia National Park, Fraser Point, Schoodic, Winter Harbor, Hancock County, Maine
My serenely radiant, beautiful Bride carried a peak of perfection garden flower bouquet of blue and white belladonna delphiniums, dahlias, asters, pincushions, foxgloves, Queen Anne's lace, roses and sea lavender for rustic simplicity. Navy and white striped nautical ribbon bound the stems.
Her sister carried a smaller similar fragrant blue and white bouquet with more whites.
The flowers were set in packing boxes for safe pickup and transport. The table arrangements were to be placed in awaiting clear vases filled with black mussel shells. More often, Brides are sending a responsible pick up person to do the delivery and the set up. If the date is available, this is another nice, but more work, option.
The Groom and men wore delicate sea lavender, heather, rose and sphagnum boutonnieres bound with navy and white stripped nautical ribbon. The Moms wore pin on corsages with alstromeria, gardenias, roses, sea lavender and heather.
Sandy Point, Family Garden Party, top of the historic beautiful Penobscot Bay, Waldo County, Maine
The flower girl wore sweet peas and baby's breath in her hair.
She carried a basket of white rose petals and sea lavender, a local delicacy.
The beautifully sited family made, bedrock, birch chuppah arbor was made warm and welcoming with colorful shawls on the chairs.
Signature cocktails were served before the ceremony on hand hewn tables.
The Bridesmaids sisters carried all white bouquets of roses, calla lilies, sea star asters, snow in summer euphorbia, lacey dusty miller, foxgloves, dahlias, snapdragons, sweet peas and casa blanca lilies.
The bouquets were set in a packing basket for safe transport.
The bedrock birch arbor was decorated with non symmetrical all white and ivory flowers, kiwi and ivy vines.
The three fragrant pieces ready for transport were of white belladonna sea waltz delphiniums, roses, phlox David, southernwood artemisia, sweet peas, dahlias, casa blanca lilies and Queen Anne's lace.
The sisters and very special friends wore alda's Maine hair wreaths, floral crowns or floral halos. Whatever they are called, my delicate floral wreaths, made to size, have become a signature favorite .
The friends wore delicate halos of spray roses, ming fern and white wax flower. Many welcomed guests had never been this far north in Maine before. Alda hopes they will return for more Destination Events.
The Bride and her parents shared the excitement and joy.
A heartfelt ceremony beneath a bedrock birch chuppah arbor.
My serenely radiant, beautiful Bride carried a peak of perfection wild flower bouquet of pink, white and blush garden roses, fragrant hosta plantaginea, peachy pink sweet peas, snapdragons, calla lilies, pink snowberries and lavender Fama pincushions.
One of the prettiest layouts for a large 40' x 120' tent to hold a most wonderful lobster dinner celebration. Last minute garlands were made from hydrangeas, ivy, fresh kiwi vines, roses, and cafe au lait dahlias.
Weaver's Caterers, Belfast
Creamy mocha, peachy pink, blush Cafe au lait dahlias have a wonderful color range and good size for Wedding work. They are not always in bloom but are most splendid and fairly easy in this climate.
The band setting up.
Citronella tubs covered with corrugated paper collars and satin ribbons marked some of the heavy steel tent pegs and guy wires for safety.
Camp Bishopwood, Hope, Knox County, Maine on the shores of Lake Megunticook
The Groom and men wore burlap covered stemmed sunflower boutonnieres with tansy, eucalyptus, ivy and goldenrod.
My serenely radiant, beautiful Maine Bride carried a peak of perfection sunflower bouquet with fragrant white David phlox, seeded eucalyptus, and silver tipped wheat.
The Bridesmaids in vivid blue carried smaller similar summer sunflower bouquets.
Blueberry Cove University of Maine Camp, Tenant's Harbor, Knox County, Maine
The large celebration tent with family style long tables was joyously fluttery with family crafted banners and smiling happy guests. The Bride prepared succulents for all.
My serenely radiant, beautiful Maine Bride wore a delicate heather and white waxflower hair wreath. She carried a peak of perfection flower bouquet of garden asters, lisianthus, pink oriental lilies, spider mums, fragrant phlox, foxgloves, snapdragons, lisianthus and sweet peas.
Her sisters and Bridesmaids carried smaller but similar beautiful bouquets in shades of lavender, rosy to light pink, white and cream.
The bouquets in traveling baskets arrive in great shape.
The Bridesmaids wore forest, mint and navy dresses. No roses were used.
The flower girls carried white baskets bound with heather, calycina and snowberries and filled with blue lobelia cardinal flowers for tossing.
The Bride and flower girls wore measured to fit, floral crowns.
Many generations attended the Tenant's Harbor, Blueberry Cove water view ceremony.
Two galvanized containers at the back of the ceremonial site held wild and cultivated flowers of spider mums, hanging amaranth, larkspur, alstromeria, monkshood, orange safflower, Fuji mums, kiss me over the garden gate and wild branches.
The Groom and men wore boutonnieres of globe thistle, waxflower, ageratum, sea lavender and heather bound in navy satin.
A family made arbor was decorated by friends with Invincible Spirit rosy pink hydrangea.
Another ice filled signature canoe, this time with a pair of beer kegs, wine, water and soft drinks and decorated with ferns, tropical gingers, wild branches, sphagnum moss, orange Chinese lanterns and gladiola florets.
Lines of assorted high and low table vases filled with wild and garden flowers in all colors were set on vintage cotton cloths perfect for the family style tent and site.
The Dapper Gents, a Maine rock and roll band provided the fabulousness.
Dill, herbs, zinnias, Fuji and spider mums, phlox, snapdragons, lisianthus, crab apples, viburnum berries, dahlias, turtleheads, celosia and sweet peas were used in the high and low antique mason jars, small ink bottles and creamery pint vases.
Picnic tables with more clear glass vases were used for the guest book and gift tables. Additional fragrant bouquet vases were placed within the porta toilets and Wedding night cabin.
Hidden Valley Camp Montville Freedom, Waldo County, Maine
Garden roses, fragrant lilies, larkspur, foxglove, ferns and garlic twirls in a Blenko blue vase. This camp and most Maine summer camps are great places for floral events after season. The Hidden Valley is just over the mountain from alda's fragrant perennial gardens. Lilian and Chris Ficker create really fine meals at the Camp.
The Lookout, Mount Battie, Camden Hills State Park, Knox County, Maine where the Mountains meet the Sea
Two large galvanized tubs were first used at the mountain top ceremony and then moved to wine barrels for the celebration at the Savage Oakes Winery in Union, Maine. White, ivory, antiquey pinks, rosier pinks, quartz pinks, all pinks and burgundy flowers were in the mix. Roses, dahlias, fragrant cimicifuga, hydrangea, sweet pepper bush, trailing amaranth, celosia, spider and football mums, dahlias, kiss me over the garden gate, gladiolas, hosta, ferns, pink proteas, starfighter lilies and ivy were in the grand mix.
The Bridesmaids in wine burgundy and rosy quartz carried end of summer Maine bouquets of stargazer/ starfighter lilies, burgundy Dara dill, white dill, turtleheads, asters, phlox, snapdragons, hosta and Cornel red dahlias. The men wore pocket fern boutonnieres.
End of Summer Rosy quartz pink, burgundy and white, fragrant Maine Bridesmaids bouquet.
The groomsmen wore pocket ferns. The Groom wore an herbal boutonniere of rosemary, thyme, sage, lacy dusty miller and my newest fragrant offering , white champaca, first blooms from a dome grown specialty flower of Magnolia x alba.
The island flower girl wore a herbal floral halo and carried a basket of ferns filled with rose petals.
The flower girl wore a delicate herbal halo of sage, thyme, rosemary and pink snowberries. The Bride wore moth orchids with white wax flower and gardenias in her hair,
My serenely radiant, beautiful Maine Bride carried a peak of perfection large trailing flower bouquet of Stargazer lilies, Queen Anne's lace, long stemmed pink, white and burgundy sweet peas, pink snow berries, ferns, roses, astrantia, burgundy Dara ammi, ivy and fragrant hosta.
End of Summer large trailing rosy pink, raspberry, burgundy and white Maine Wedding bouquet.
The magnificent Wedding ceremony on top of Mount Battie showed smooth sailing in Camden Harbor and the Penobscot Bay. Alda wishes smooth sailing to each and every one of you.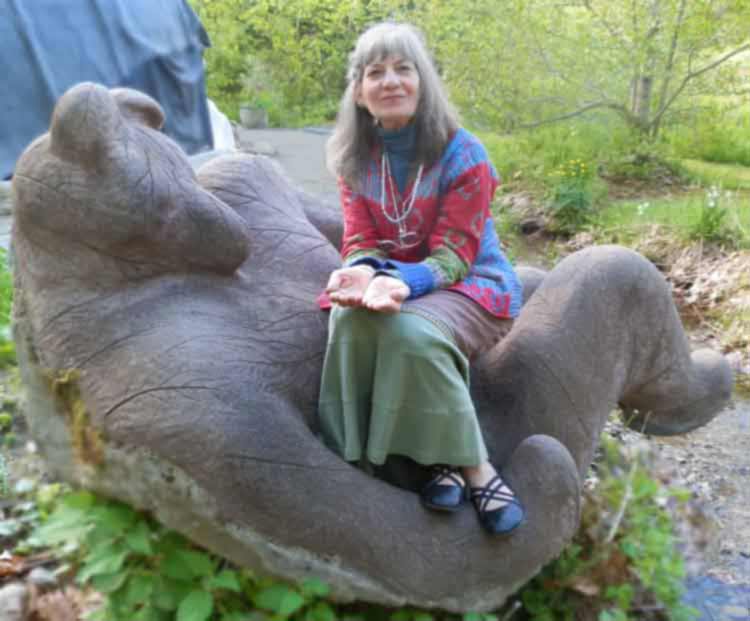 Alda sitting in the lap of Bo Atkinson's teddy chair in their fragrant garden. We have been striving for creative peaceful harmony together here since1971.
If you love abundant Spring, Summer, and Autumn flowers for 2016 Weddings and celebrations, do call 207-342-5796 or alda@fairpoint.net
For particulars see http://harmoniouspalette.com/Alda2014Dec18.html
See my many year evolved source links: http://harmoniouspalette.com/WeddingLinks.html
I love creative collaborations and have most wonderful growers and very talented helpers.

Bo can do larger projects like tents, interior and exterior decor. Here he is creating decorative, new poles, posts, beams with his signature leaf imprints.
http://harmoniouspalette.com/#index

Bo Atkinson created these two amazingly ancient, modern, reinforced concrete, marble-like concierge vestibule desks for the newly opened, Marmara Park Avenue Hotel in New York City, Joe Ginsberg, Interior Design.
Bo loves your thoughts for new, stimulating creations.