Welcome flower loving friends to Maine Freedom Florist • Alda's Flowers • 2014 • Way too cool, Way too much fun.
Click here for Alda's 2015 Weddings
I hope you will enjoy this year's retrospective of simply beautiful, halcyon* days.
*denoting a period of time in the past that was idyllically happy and peaceful
*a mythical bird said by ancient writers to breed in a nest floating at sea at the winter solstice, charming the wind and waves into calm.
Many thanks for sharing our web with your friends! With best wishes to all, alda stich and bo atkinson
• Point Lookout Resort, The Summit, overlooking the historic Penobscot Bay • Lincolnville, Waldo County, Maine
All of the auspicious elements made the day so perfect.
Magnificent day with a clear view toward Islesboro, the islands and possibly the lost mythical city of Norumbega. Breezy swags of eucalyptus greenery and lilies for the ends and a beautiful, fragrant central swag of hydrangea, roses, wild and cultivated lilies, pale blue delphiniums and nicotiana.
My serenely radiant, beautiful Bride carried a peak of perfection bouquet of poppy red/persimmon and blush roses, orchids, snapdragons, Queen Anne's lace, apple mint, calla lilies, foxgloves, honeysuckle, and loosestrife.
Orchids and baby gardenias from my collection, were worn in her hair. The men wore boutonnieres of poppy red orchids, white pine wisps, heather for good luck, and old fashioned delphinium florets.
The flower girls carried baskets of red rose petals lined with pussytoes wildflowers like kitten's paws.
The female moose looked on at the gathering around my large silver punch bowl for the seating card table. It was filled with hollyhocks, hanging coral red amaranth, eucalyptus, white and green fragrant nicotiana, apple mint, roses, lisianthus, alstromeria, the Peruvian lilies, and tiger lilies.
Floating candles lit the dinner tables that shined with my collection of large, footed silver bowls. They were filled with peach calla lilies, zinnias, roses, spun gold golden rod, dusty miller, golden black eyed Susans, ruby perilla, hydrangea, Queen Anne's lace and hosta.
A vase of assorted lilies from my greenhouse, on the grand piano for remembrance of time past.
Ready for take home, if you like. The flowers reset in Erikson Hall for Sunday brunch.
• Mount Desert Island • Hancock County, Maine
The delivery baskets filled with lush and luscious, pure live rainbows of colors.
Boutonnieres of old fashioned blue belladonna delphinium florets, heather and fresh wild Maine sphagnum moss.
The Bridesmaids carried bouquets of sumptuous roses, perilla, honeysuckle, dusty miller, lisianthus, snapdragons, hound's tooth forget me knots, hydrangea, ageratum, astrantia and apple mint.
My serenely radiant, beautiful Bride carried a peak of perfection bouquet of apricot and white foxgloves, peach calla lilies, gaura, feathery pink sanquisorba, Queen Anne's Lace, roses, honeysuckle, sweet pepper bush, hound's tooth forget me knots, snapdragons, blue salvia, and purple lisianthus; perfect for Maine sea and mountain elegance.
A pair of my loaned gratis, large baskets on matching stands will be moved after the ceremony to the bandstand in the tent. One of the nice things about coming home to Maine is the always to be remembered ceremony, celebration, flowers and fragrance.
Well thought out table seating buoys on a bed of moss; very fun, very frisky.
Designated tables and designated seating with hydrangea, dahlias, roses, spun gold goldenrod, tansy, hosta, ageratum, zinnias, dusty miller and apple mint. The flowers look really fine in my vast collection of gratis loaned, American blown, Blenko and Pilgrim cobalt blue glass, six inch vases.
Waterside tent overlooking Blue Hill Bay. Coastal Critters Clambakes & catering
Larger cobalt cocktail table arrangements, lovely with lit candles beneath. Monks hood, roses, verbena, apple mint, dusty miller, hydrangea, Sweet William, zinneas, Billy balls and amaranth within.
Hi Alda! The flowers were by far one of my favorite parts of the wedding. So many of the guests commented that our wedding had the most beautiful flowers they had seen at a wedding/anywhere. And honestly, I truly truly loved them.
Again, thank you so much Alda for the beautiful flowers. They really set the tone and helped make the wedding exactly the way I hoped it would be :)
Emily
• Point Lookout Resort ~The Summit and The Pavilion, Erikson Hall • Lincolnville, Waldo, County Maine
Soft pastels with the color green for good luck, and purple of coarse.
My serenely radiant, beautiful Bride carried a peak of perfection bouquet of blushing Bride proteas, white foxgloves, purple tiger paw asters, pink calla lilies, blush roses, sweet pepper bush, green hydrangea and green hypericum berries; perfect for Maine sea and mountain elegance.
The bouquets were bound in rustic twine.
The bridesmaids wore various shades of blush pink.
Antique pink baskets with twine for the flower girls. My collection of succulents were in most all of the arrangements.
Oma wore a wrist corsage of thistles, heather, gardenias, baby roses with a ribbon of green silk. I raise 10 types of gardenias in the dome. Some days none are blooming. Other days there are many to pure perfection.
The bridegroom and the men wore twine wrapped, succulent boutonnieres with bells of Ireland, Scottish heather, thistles, hops and small rosebuds. The color green, for more good luck.
The eight beautiful chair ends in loaned silver sugar and cream vases preceded the guests to the entrance of Erikson Hall down the mountain.
The continuous chuppah was composed of fresh dusty miller, green and white hydrangea, large white and blush pink roses, bells of Ireland, pink and white larkspur, pink veronica, and purple lisianthus.
At the entrance to the Pavilion, an eight foot table was set with fresh wild Maine moss ready to receive a few gifts and cherished notes.
A second eight foot wild moss table held honored photos and my classic silver, floral filled candelabra.
The amazing Pavilion was a superb, candle lit flower show. My vast silver collection with some high and some low arrangements created lots of wonderful visual motion and fragrance.
Some of the tables had my signature large silver bowls, filled with fresh fragrant flowers of hydrangea, roses, apple mint, wild meadow sweet, green hypericum berries, asters, clematis, sweet pepper bush and dahlias.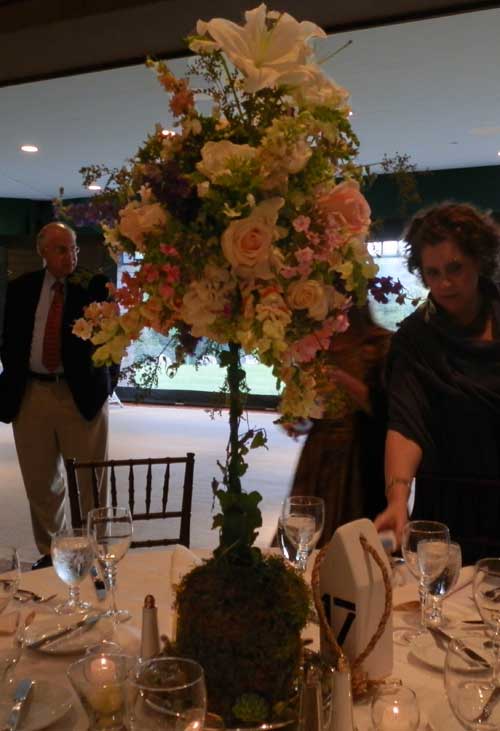 Even my signature topiaries were invited. This time with fragrant casa blanca lilies over the top. As you can see, my flowers really love attending your Weddings.
A circle of Bo Atkinson's lit birch boughs surrounded the large dance floor. They created a really cozy and warm feeling. Special chair flowers of hanging green amaranth, delphiniums, hydrangeas and lavender roses for the Bride and her bridegroom. The ceremonial bread Challah was also surrounded by a circle of tiny succulents.
Our powder room flowers will not let the mood be broken. Fluffy white basket flowers, Centauria americana and best of day floral notes for the teapot vases.
We have never seen a more breathtaking display and we are so pleased the photos captured the essence of your lovely flowers and Bo's boughs ! Thank you for making Lexi and Doug's wedding a glorious event. Fondly, Deborah
• The Samoset Resort and Spa • Rockport Knox County, Maine
My serenely radiant, beautiful Brides carried peak of perfection, complementary bouquets. On May 6, 2009, Maine passed LD2009, An Act to End Discrimination in Civil Marriage and Affirm Religious Freedom.
One Bride carried white Japanese pieris, snowflake leucojums, tulips, deep maroon calla lilies, hellebores and wine red, Marsala, burgundy roses.
The other Bride carried blush Japanese pieris, tulips, white calla lilies, snowflakes, hellebores and fragrant narcissus. Most all within these bouquets were grown in Alda's fragrant gardens. Like good wine, my cuttable shrubbery give more floral abundance with each passing age. Spring is one of the most beautiful seasons of all.
The Samoset coastal ceremony was skyped to Riga, Latvia, northern Europe.
Boutonnieres of white muscari, calla liles and maroon red, marsalla colored orchids were worn by special men.
Fragrant bouquets of tulips, white narcissus, snowflakes, hellebores and roses enchanted the Samoset Resort's candlelight dinner for about twenty guests.
Sweet Sensations wedding cake surrounded by the calla lily and rose swag from the ceremonial arch.
• First Church, near historic Penobscot Bay • Belfast, Waldo County, Maine
My serenely radiant, beautiful Bride carried a peak of perfection bouquet of lavender roses, shades of purple carnations, baby's breath encircled by a collar of fragrant rose geranium.
The bridegroom and his groomsmen wore beautiful fragrant boutonnieres of lavender roses, snowdrops, baby's breath, teaberry leaves, alder cones and green orchids.
The Bridesmaids carried mixed purple carnations, asters, roses, baby's breath and rose geranium. The flower girl carried a basket of crocuses and lavender rose petals.
• The Belfast Boat House on historic Penobscot Bay • Belfast, Waldo County, Maine
Boutonnieres of orange calla lilies, rose hips, roses and blue forget me knots were entwined with twine for the men.
The Bride crafted perfect small vases for the long, ocean side, tented dinner table.
The vases held saffron, veronica, blue hydrangea, montbretia, hypericum berries, rose hips and roses.
My serenely radiant, beautiful Bride carried a bouquet of peak of perfection orange roses, blue hydrangea, orange proteas, Peruvian lilies, my blush garden anemones, phlox, asclepias, dusty miller, chocolate cosmos and fern curls.
• The Blue Goose • Northport, Waldo County, Maine and • The Bok Amphitheater, close to the historic Penobscot Bay • Camden, Knox County, Maine
All of the mason jar vases were covered with Bride provided, timeless, birch bark.
Camden loves Weddings. The bridegroom and his groomsmen arrived early to set the mood and greet the guests at the Amphitheater.
The Moms carried nosegays with peonies, roses and snapdragon.
Well worn shoes filled with flowers, a wonderful remembrance tradition.
My serenely radiant, beautiful Bride carried a peak of perfection bouquet of roses, peonies, eucalyptus buds and Queen Anne's lace. Always a turtle lover, she and her dad were able to give this black one a helping hand crossing Route One. Her fragrant. fresh hair wreath crown was made of lady's mantle and jasmine. Camden loves Brides and their bridesmaids strolling through town to the ceremony. Alda and her most talented helpers love doing floral crowns and wedding and celebration flowers.
Two large galvanized tubs also covered in timeless birch bark, marked the historic amphitheater site at the base of the Library stairs.
Garlic twirls, roses, love in a mist, eucalyptus, thistles and dusty miller for the art deco chair ends in birch bark covered, pint mason jars.
At the Blue Goose Dance Hall, the ceremonial chair ends were reset on the entrance and gift table.
Sweet pea bouquets for the pie table and gift table.
The fine Blue Goose Dance Hall with Bo Atkinson's soft lighting. Various food carts catered.
Birch bark covered mason jars for the Bridesmaid's bouquets and table arrangements of fragrant peonies, asparagus fern, dusty miller, delphinium, snapdragons, love in a mist, hydrangea, swamp candles, Queen Anne's lace, roses, Iceland poppies, and seeded eucalyptus.
Lincolnville, Waldo County, Maine
Delivery basket of bouquets in shades of white, grey, coral, orange and green for the Bride and her bridesmaids.
Table flowers being primed.
The cozy, casual tent was set with assorted, wonderful, vintage china. Trillium Caterers.
Crisp vintage doilies held three assorted jars of zinnias, tithonia, dahlias, green hydrangeas, dusty miller, tassel flowers and baby's breath.
My serenely radiant, beautiful Bride carried a peak of perfection bouquet of roses, white anemone coronaria, montbretia, bells of Ireland, asclepias, sweet Annie and sweet peas. It was bound in leather with her Grand mom's rings.
Her floral crown was of Sweet Annie and baby's breath. Sweet Annie, orchids, and baby's breath were wired for her bridesmaids.
The ceremony setting was set in a grove of forest trees.
The bridegroom and his men wore boutonnieres of asclepias butterfly weed, roses, baby's breath, orchids and sweet Annie. Sweet Annie is the scent of the Common Ground Country Fair held each September in Unity, Maine. Well worth the drive and experience.
The leather bound, bridesmaids bouquets were of white coronaria anemones, orange roses, orange and red ranunculus, double peach snapdragons, baby's breath, and sweet Annie. Green spider mums and saffron made the tables pretty while awaiting the bouquets after the ceremony.
The cocktail tables as above with beautiful dahlias.
Placed flowers of roses, dahlias, saffron and celosia plumes for the hors d'oeuvre tables.
Hanging photos, ranunculus and wild grass vases, with vintage, weathered Maine seating chairs.
• John Calvin Steven's shingle style architecture, grand old sea captain's house • Owl's Head, Knox County, Maine
Just perfect for a come home to Maine, destination wedding.
Trillium Caterers. Daisies and Pearls, coordination.
The bridegroom's lichen bound boutonniere was composed of wisps of white pine, heather for good luck, and celestial blue, belladonna delphiniums.
Wired hair flowers and small gardenia, rosemary corsages for the Moms.
The entrance porch lily and eucalyptus garland was flanked by my really tall "lobster lilies", Lilium superbum.
The flower girl carried a basket of white petals with a handle of lichens and rosemary, The junior bridesmaid and bridesmaids carried all white bouquets of roses, casa blanca lilies, rosemary, orlaya, snapdragons, foxgloves, lisianthus, sweet peas and hydrangeas.
My serenely radiant, beautiful Bride carried a peak of perfection all white bouquet of roses, casa blanca lilies, rosemary, orlaya, snapdragons, foxgloves, lisianthus, sweet peas and hydrangeas.
The chair ends were of dusty miller, green amaranthus, hydrangea, sweet peas, lisianthus, and roses.
Perfection view toward the Mussel Ridge Channel.
The ceremonial baskets were replaced at the entrances to the tent.
Singing beach stones for table seatings.
Sweetheart table for two with clematis, lilies, roses and eucalyptus.
The tent poles were festooned with Bo Atkinson's lit birch trees. Sweet Sensations wedding cake.
The table flowers were in my larger cobalt blue vase collection. My fern and herb collections also loved attending.
Even the porta toilet tent and porta toilets had beautiful fragrant flowers.

Thank you thank you thank you. You were a wonderful spirit, appearing and then gone, re-appearing when needed, creating the perfect embellishments to our wedding site, our ceremony, our family, our guests. You and Bo transformed the tent into a beautiful garden where the magic of the ceremony continued. We ladies who were primping in the upstairs room were astounded when we first looked down on the garlands being hung below -- over-the-top beautiful bounty! And the bouquets -- and lilies (the lobster lilies still look good, standing on our porch) -- and powder room -- and corsages. Late in the evening, when Paul took his boutonniere off, he was fascinated by its intricacies. And wasn't the day glorious?!? I hope all your weddings are equally blessed by the weather gods, and I know they will be blessed by you. Please give my thanks to your various helpers and let them know how much we appreciate their contributions to this oh so wonderful day! Jeanne
• Clark's Cove Apple Orchard • Bristol, Lincoln County, Maine
Top of the orchard ceremony. The bridegroom's son was Best Man.
My serenely radiant, beautiful Bride carried a peak of perfection bouquet of roses, fern curls, ranunculus, peach calla lilies, chocolate cosmos, peach hypericum berries, Peruvian lilies, spider mums, and sanguisorba. She wore baby gardenias, orchids and baby's breath in her hair.
Bouquets for the bridesmaids.
They wore apple red, carried bouquets of fire and ice hydrangea, sunflowers, red and orange roses and Peruvian lilies. The bouquets were bound in burlap and lace. The Bride's Mom carried their beautiful baby Benjamin.
The groomsmen wore twine entwined boutonnieres of montbretia, tansy, red hypericum berries, angel vine and fern curls.
The aisle was set with sunflowers, helenium and Jerusalem artichokes in mason jars on stumps of wood; a really nice headstart for warmth during our long cold winters.
Two large baskets on natural stands were on the ceremony sides. They were peak of Autumn perfection with red oak leaves, Queen of the prairie seed heads, spider and football mums, sunflowers, gladiolas and roses.
Just picked apples by variety for the table seating assignments. Clark's Cove apple orchard is beautiful and vast.
Bittersweet, hops vine and roses created a guy wire entrance. Carved pumpkins guided the way through the darkness at sunset.
Fine food and servce from Laura Cabot Catering. Katherine's Event Planning- Maine Wedding Planner
The pumpkins "vases" were filled to brimming with green hydrangeas, bupleurum, dahlias, roses, lilies, orange hypericum berries, chrysanthemums and ranunculus. The guests were able to take them home at the end of the evening. They looked splendid carrying them on top of their heads.
Friendly, frisky pumpkin filled tent.
Eye-catching, stair stepdown reminder vase with helenium, anemones and dahlias. Leave a wish table to be opened on fist, fifth and fifteenth anniversaries.
The entrance to the barn at Clark's Cove Apple Orchard was hung with large, well wishing heart shaped, vine wreaths.
• Hidden Valley Camp • Montville Freedom, Waldo County, Maine
The bridesmaids carried all white fragrant bouquets of phlox, calla lilies, roses, Peruvian lilies, stock, fragrant cimicifuga, and sweet pepper bush. They were bound in burlap and lace.
My serenely radiant, beautiful Bride carried a peak of perfection bouquet of lavender roses, my lavender garden anemonies, purple lisianthus, and Picasso calla lilies.
• Memorial Tribute to our friend Peggy McKenna • Belfast Boathouse, Waldo County, Maine
"Moschi, moshi, Peggy. Miss U. Friend of All"
Fragrant lily door wreath with beetle free lilies grown in my dome, bells of Ireland, montbretia, roses, phlox, prairie gentian, Japaneses iris, hydrangea and Queen Anne's lace.
• Our Shops •
Bo Atkinson's Naga sculpture entrance to our low-key businesses. His large translucent dome sits over the original 1860's home, adored by Alda for growing orchids, ferns and fragrant tropical flowers. It is ideal for specialty hair flowers, boutonnieres and corsages. We've been working here year round since 1971.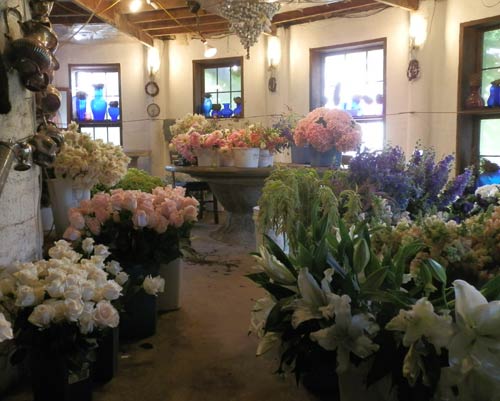 Alda's flower room excavated by Bo in 1976. The Maine night-air cools the stone walls and floor of this fine room allowing the flowers to open to perfection. My wonderful flower helpers and I have had ultimate fun producing floral arrangements for events all of these years.
The vase room is one level below this. Before you purchase containers, ask if I might have something suitable to loan gratis for you order.
I grow many gardenia varieties for fragrant, gorgeous hair flowers and corsages.
• Spring! •
•In 1989 Barbera Brooks wrote Fine Flowers by Phone the essential guide to ordering flowers long-distance. Under Bar Harbor, Fragrant Gardens Alda Stich, Montville Freedom, Maine 04941 (207)342-5796.
"Immediately after graduating from the University of Pennsylvania School of Landscape Architecture, Alda moved to her farm in Maine. From that day (in 1971), with husband, sculptor, contractor, researcher and designer, Bo Atkinson, she has striven for the perfect balance between ecology and aesthetics. Today Fragrant Gardens is the culmination of those efforts, a mecca for plants, birds, beneficial insects and butterflies.
The carefully planted wild gardens, laced with lawn paths, are sensational. On display are thousands of flowers, some collected during remote mountain expeditions, some exchanged through international plant societies, and some the product of patient cross-fertilization. You can imagine the unusual flowers and foliages that make up her English-style bouquets, reflecting a true wildflower naturalism.
In order of bloom, her specialties include many varieties of narcissus, primula, lilacs, lily of the valley, pansies, azaleas, columbines, violas, peonies, poppies, roses, bee balm, Queen Anne's lace, lilies, delphinium, bellflowers, heather, thistles, and asters all available according to season and demand. "
Minimum: $30.00 plus delivery
April -October : minimum, two weeks notice, required
Now accepting: PayPal, personal checks or cash
Also serves Augusta, Bangor, Belfast, Camden, Rockport and the entire State of Maine." •
Alda has cultivated a wonderful network of extraordinary growers as well. She is most humbled by your continued interest in her flowers over these many years. Your imagination and thoughtfullness sets the pace or you can leave it up to her. Do e-mail alda@fairpoint.net to set up a phone conversation.
See http://harmoniouspalette.com/EssentiallyMaineWeddingCelebrations2013.html for particulars above the Map.
With best wishes to all!
alda and bo
Previous Year: