Welcome flower loving friends to Maine Freedom Florist • Alda's Flowers • 2013
• The Jordan Pond House Seal Harbor •
   Acadia National Park, the perfect setting for love, Alda's Flowers, beautiful lobsters, blueberries and the most exceptional weathered pink granite soft twin peaks this side of San Francisco.
Perfect Maine elopement for six. Free spirited, over the arm summer bouquets of fragrant snapdragons, zinnias, lilies, millennium delphiniums, dahlias and sweet peas.

  • Historic 1883 The Asticou Inn, Northeast Harbor •

Maine soft pastel multicolored Wedding details~ peonies, roses, sweet peas, ferns, campanula, and blue belladonna delphiniums.


Maine Scottish boutonnieres of thistles, wild moss, heather, white pine and calla lilies.
Maine hair flower gardenias for the harpist.

Maine chair end flowers of blue anemones and soft pastels will be reset on the cocktail tables.

Bridal party in navy carried soft pastels and brights of fragrant lilacs and peonies, blue anemones, belladonna delphiniums, Scottish thistles and ferns.

Picture perfect groom created birch arbor and rose petaled aisle, Northeast Harbor, Maine.
My serenely radiant, beautiful Bride carried a mostly white bouquet with touches of baby pink peonies and roses, forget me nots, hydrangea and sweet peas.

Bo Atkinson decorated the Asticou dining room columns which surrounded a long farm table.
The fresh birch trees were festooned with tiny white lights.


Perfect June Bride table arrangements brilliant in Alda's antique Maine silver bowls filled with baby pink and white peonies, roses, sweet peas, iris, columbines, hydrangea, anemones and canterbury bells interspersed with hosta and fern leaves.


Silver vases awaited the bridesmaids' bouquets.


• The Samoset Resort on the Ocean, Rockport •
Somethings Vivid Turquoise Blue

Corsages with just formed, coral striped maple pods, orchids, roses, stephanotis, dusty miller and silk ribbon.

My serenely radiant, beautiful Bride and her maids carried bouquets of baby blue, peach, salmon, coral, sage, cream and turquoise. Peonies, delphiniums, hydrangea, coral roses, scabiosa pods, veronica, and bellflowers cascaded just a bit.


Frisky Italian garlic swirl arabesques in chair and arch pomanders later graced the cocktail tables and the gift table.


Vivid turquoise cloths were the perfect setting for family authored books, silver teapot table arrangements and antique
teacup candles.
• Vesper Hills Children's Chapel, Rockport •

Queen of the fairies sweet pea crown for a special eight year old.


My serenely radiant, beautiful Bride wore gardenias in her hair and carried a fragrant bouquet of cream, white and blush peonies, garden roses, lilacs and sweet peas.
• Camden Harbour Inn Natalie's,  Rockport •


Nautical red, white and blue center pieces with Freedom roses, white and royal blue delphiniums, red ranunculus, white sweet peas, hydrangea, hosta and tamarack branches.


Tiny silver vases and Adory wishing boats unified the celebration dinner for about forty guests.
Nadra Photography
• Historic 1899 The Megunticook Golf Club, Rockport •

Lichened fieldstone entrance wall, simply fragrant with my locafleure gardenias and freshly gathered sphagnum.

Pink, rose, yellow, blue and purple flowers in moss covered baskets

My greenhouse lilies for fragrance with Trillium Caterers antipasto.

• Signature best of day • dahlia, garlic twirls and hosta leaves were set between the platters on the buffets, just for the fun of it.

The Megunticook club house chandelier was decorated with flowers, ribbons and hanging green amaranth.



Three foot wide, Kousa dogwood, buffet flowers


Traditional dining table flowers with honeysuckle vines and primroses
• The Camden Library Rotunda•

• Historic 1931 Camden Library Amphitheater designed by landscape architect firm of Frederick Law Olmsted, Jr. •

My serenely radiant, beautiful Bride and her maids carried bouquets of pink and white peonies, lilacs, and roses.


Irish soul boutonnieres of crocosmia, blue belladonna delphiniums, bells of Ireland and heather.

Orchids, crocosmia, heather and gardenia corsages with silk ribbons


Two large baskets with sunflowers, brown-eyed Susans, blue delphiniums, hydrangea, Queen Anne's lace, and roses at the Bok Amphitheatre with a view to the sea

Chair and cocktail hour flowers

My serenely radiant, beautiful Bride carried flowers of ranunculus, crocosmia, ivory roses, brown-eyed Susans, goldenrod, delphiniums, bells of Ireland and sweet peas.
• Ducktrap Retreat, Lincolnville •


Wreaths on silver trays surrounded tall cylinders filled with beach stones and lights.

The fireplace mantle was strewn with sunflowers, fresh eucalyptus, belladonna delphiniums, larch and hanging amaranth.
Trillium Caterers
• Our Lady of Good Hope Catholic Church, Camden •


Symmetrical, smooth and formal flowers in colors of white, pink~ from watermelon to pale, and marine blues

All of the pew ends later adorned the tables at the historic 1901 White Hall Inn. The treasured seeing-eye dog ring bearer/ flower attendant was quite at home in his ceremonial Church pew, on my white vintage cloth runner and at the White Hall Inn celebration.


Shirt boutonnieres

Peonies, blush pink hydrangea, roses and celosia for the unity candle.


A trio of concentric flowers for the alter with phlox, peonies, hydrangea, Japanese primroses and astilbe.


My serenely radiant, beautiful Bride carried fragrant sweet peas, snapdragons, roses and peonies.

• St.Thomas' Episcopal Church, Camden •

The narthex entrance flowers of Solomon's Seal, soft yellow ranunculus, sapphire blue delphiniums, white roses, lisianthus, peonies, lilacs, anemones, beech, birch and hosta. Cymbidium orchids, bella delphiniums and lily of the valley corsages for the honored guests.

Small clip on basket arrangements for the aisle at St.Thomas' Church Camden then to Point Lookout for the cocktail tables.
Solomon's seal was over the top and hosta lined the baskets.

Spring branches, tulips and lilies for the sides of the church alter stairs.

My serenely radiant, beautiful Bride carried lily of the valley, columbines, peonies, ranunculus, snowflakes, roses, pheasant's eye narcissus, white bluebells and anemones.

The bridesmaids all wore fresh lilies of the valley and gardenias in their hair.

The men's formal boutonnieres were of lily of the valley, and ranunculus within calla lilies.


Wired gardenias for hair and corsages being prepared in my cool stone flower room at the big round stone table
• Point Lookout Resort, Northport •

Pink tulips, fragrant azaleas, ranunculus, bleeding heart, English bluebells, lisianthus, bella light blue, and mertensia for the bridesmaids' luncheon.

At the celebration, large mouth blown cobalt blue table flower vases held blue belladonna delphinium, pale yellow ranunculus, fragrant pheasant's eye narcissus, Citron roses, snowflakes, peonies, blue anemones and lilacs. Five floating candles surrounded the arrangements.
• Early Spring at Pt. Lookout •


The entrance seating card table was set with my very large silver punch bowl containing magnolia branches, white larkspur, hydrangea, delphiniums, peonies, and roses. Small bowls of white sweet peas and gardenias were used on the cocktail tables and other special places.

My serenely radiant, beautiful Bride carried a wispy plumed bouquet of peonies, roses, gardenias, and ranunculus. It was bound in satin with a rhinestone diamond wristlet.


The exceptional view of the Penobscot Bay from Pt. Lookout.


A lovebird theme with Freedom roses, pink andromeda and sweet peas for some of the tables


and others similarly in whites.
• Historic 1818, First Church, Belfast •

The six bridesmaid friends carried bouquets of lupines, delphiniums, primroses, sweet peas, anemones, dusty miller, canterbury bells, love in a mist, and thistles.


The program and ring bearer guys

carried wind fallen gathered robins' nests with fresh moss.

My serenely radiant, beautiful Bride carried a mostly white bouquet with lupines, columbine, ranunculus, English bluebells, sweet peas, snowflakes, thistle, anemones, white love in a mist, hydrangea and Japanese primroses.

Small clip on baskets of Solomon's seal and godetia graced the aisle of this fleur-de-lis, hand carved church.

Wisteria cascaded from the alter arrangements with towering Solomon's seal over the top.
• The Belfast Boathouse •


Clear glass bowls filled with lupines, dusty miller, sweet peas, anemones, canterbury bells, thistle, queen Anne's lace and ranunculus were set on burlap cloths.

Romantic kissing ball pomanders were suspended over the punch table.
• Historic 1807 Montville, 2013 Bride•

My serenely radiant, beautiful Bride carried orange roses, columbines, bluebells, dame's rocket and hot pink, red, orange yellow and white daisies. We love doing floral crowns. This delicate one was of yellow and white daisies with tiniest buds of miniature roses.
• Historic 1816 Newagen Seaside Inn •


An arch of kiwi vines, white delphiniums, dusty miller, green hypericum berries, bells of Ireland and white roses provided the wedding setting.

My serenely radiant, beautiful Bride carried a cascading bouquet of phalaenopsis orchids, roses, sweet peas and dusty miller.

Her bridesmaids' bouquets were all uniquely different in colors of grey, white, light green and yellow.
Blush Photography
• Historic 1909 Linekin Bay Resort •




My signature fresh Maine moss table ~ carefully gathered and replanted~ held jam jars with seating cards.


The tables were set with long thin arrangements of green and blue hydrangea, anemones, calla lilies, veronica and phlox.


Wired phalaenopsis orchids and blue belladonna delphiniums for hair flowers.

Fresh hops, orchids, calla lilies, delphinium, white heather and ivy for the corsages and groom's boutonnieres.

His groomsmen wore simple pockets of Maine Christmas fern for boutonnieres.

My serenely radiant, beautiful Bride carried a bouquet of mostly blue hydrangeas with calla lilies, delphiniums, forget-me-nots and anemones.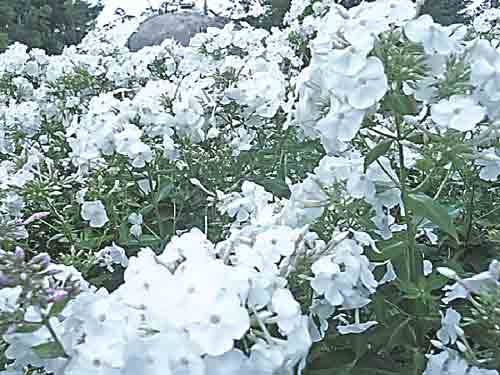 Essentially Maine, Wedding and Celebration Flowers ~Quintessentially lovely, vintage romantic,
rustic wild, casual comfort~
• Humbly Exquisite • Tastefully Unique • Frisky Fragrant Flowers •
Quick scroll below for unforgettable Maine floral personal experiences, receptions, board meetings, commercial events, product launches, photo shoots, and other elegant affairs. Alda specialties include • respectfully harvested branches • foliage • flowers • ferns • hair flowers • corsages • boutonnieres.  My forty year collection of gratis loaned vases or yours • Timeless frisky design •
To reserve for 2014 and beyond just for the fun of it •  Secure your date with a  $100 cash, check or PayPal deposit. Deposit is deductible prior to full payment.
Uniquely fragrant, pure floral sunshine woven into lovingly created designs • I do The Maine Highlands, The Maine Beaches, Mid-Coast, Kennebec & Moose River Valleys, Greater Portland & Casco Bay, Downeast & Acadia, Maine's Lakes & Mountains, Aroostook County
Delivery options • ① What most select,  Free design planning, $600 stress-free day of event full service, floral transportation setup, take down, and end of night or next day, wrap up for guests to take flowers home • ② Free design planning, $300 half day delivery and setup with loaned supplies returned in good shape in a timely manner   ★  For both of these options, beyond 75 miles, (that's Portland), or if gasoline rises above $5.00 a gallon, delivery may increase •  ③ Free design planning, no transportation fee. You pickup at my Fragrant Perennial Wild Gardens.   Alda's Fragrant Perennial Gardens are 2 miles off Route 3,  15.8 miles from Belfast, the Penobscot Bay and 33.4 miles from Augusta, I-95 .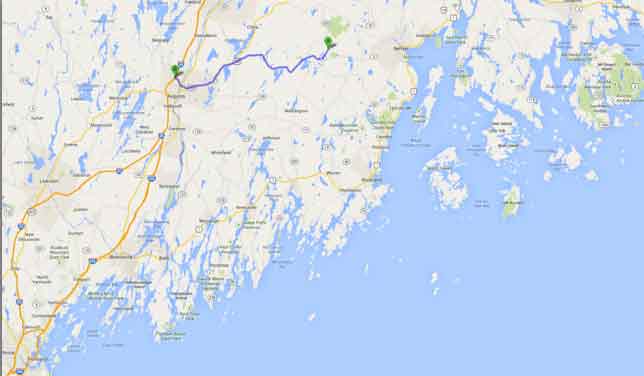 Alda and Bo are a husband and wife design team together for over forty years in the gentle mountains near Freedom. We love creative challenges that will make you happy. 
Inquires promptly answered 207-342-5796  Alda Stich<alda@fairpoint.net>
    Bo Atkinson<maine.boatkinson@gmail.com> 

Bo and I offer well received gifts or consultation.  We strive for the best in design, quality and impact.
Many design thoughts for you to ponder from Alda's prior years  http://harmoniouspalette.com/Aldaflowers2010/AldasFlowers2010.html
Alda's Source List  http://harmoniouspalette.com/WeddingLinks.html

Bo's Trees & Lights  http://harmoniouspalette.com/poeticdecor.html

Maine Freedom Pearls®  http://harmoniouspalette.com/AldaFlower-07and08/AldasRadicalPearls2008.html

Adory Wishing Boats http://harmoniouspalette.com/AldaFlower-07and08/OrigamiWishingBoats.html
Sept 2013  thank you notes  "Alda! What a wedding! We had so much fun and the event was lit by the beauty of your flowers. They might be composting or floating in Cutler Harbor(!) but they will live forever in our minds eye, and in the many photos , yet to come. Thank you for the special attention that you brought to our event-we will treasure it forever."
♥ love,    Sinéad & Dennis, Sag Harbor, NY  
"Dear Alda,
Just wanted to tell you how amazing, beautiful, creative, fabulous - there just aren't enough adjectives to express how beautiful your flowers and designs were.  Sally said you were the best, and I believe it. Thank you for everything you did - it looked so beautiful."
Linda Shaw, Pittston, Maine
So pleased to have made your acquaintance. I hope we will work together often. Alda

Our garden in winter. Our friendels and bridge.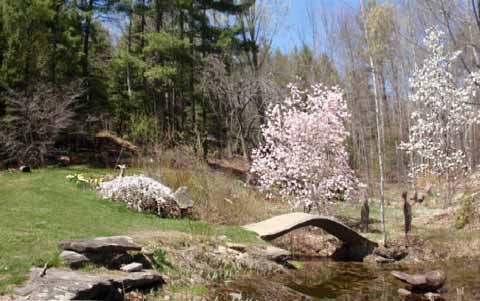 Our garden in spring.