A studded ferrocement system. All the work in these pictures were from one piecemeal project done between 1976 and 1978. While one picture negative below was damaged , blurring was also used as a speed www downloading.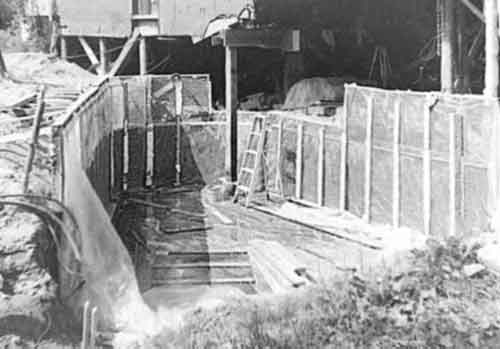 First Pic: A triangular or pie shaped cellar hole was dug and carved in ground under the corner of an existing old house. Temporary 1" X 4" boards (removed later), were framed tightly against the carved cellar hole. Then 6 mil polyplastic was stapled to the framed boards. Next, 4' X 8' sheets of expanded metal mesh were hung on the 1" X 4" frames. One end of the pie shaped cellar was not yet started in the first picture.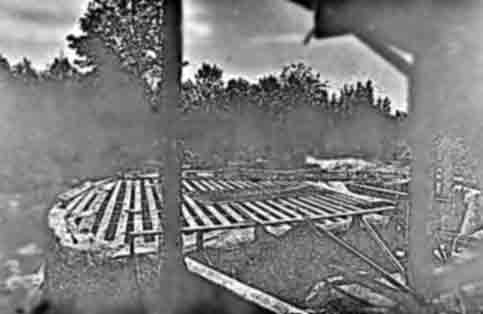 In the second picture, the 35mm film was badly damaged. It is taken from the right side of the first picture. It shows all walls already added. A curved wall for a dome radiusis on left side. The dome was built later (1980). More boards have been framed on a flat floor plane but with considerable space between each board. These are temporary.
Next....Plastic will cover these boards. Mesh will follow on top of plastic. Next the Rebar is laid out where floor joists will be formed. Next, 2"X5"X 8' mesh "U" shaped joist channels are hand formed and fitted on top of rebar lay out which is on top of flat mesh. The 2" X 5" studs were placed in cellar hole before the floor forming. These are seen in the 3rd picture, just below.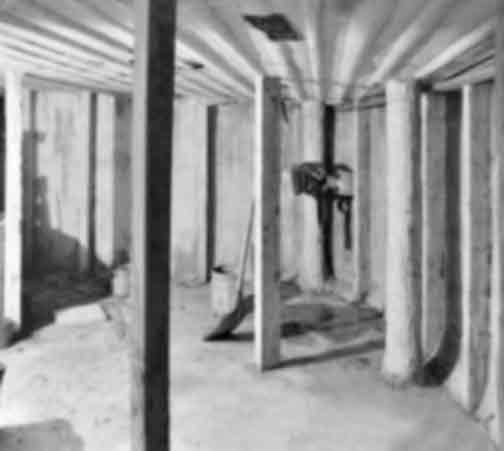 The cement studs in picture above were pre cast before placement and walls were also cemented before floor above. The floor above was cemented with joist forms integrally. Orbital sander was used to aid penetration of the cement. The smooth ridges in the ceiling of the cellar are due to the spacing of the mentioned flat boards. A thicker round pillar is on right, which employs helix wrapped wires around mesh tube, filled with concrete.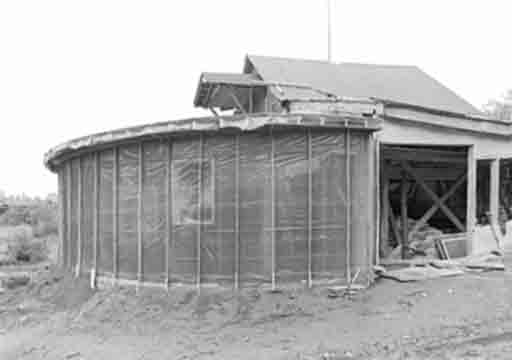 Above is a picture of the ground floor addition. The fourth picture shows a half round cylindrical wall under preparation. The cellar is beneath. The 2nd floor above was built first and supported with cast in place cement pillars. The 1"X4" boards have been rip sawed in half and framed along the perimeter of the first floor. (Obviously more pics would help here). Plastic has been hung on the inside of these ripped 1"X2" boards. Mesh was hung inside of this plastic. 2"X10" window frames were placed from the inside against the pre trimmed mesh. These materials were all tied and fastened for stability. The wood was masked to protect it and curing cement which followed. The cement was applied by hand trowel with a crew of about 7 inexperienced men at about $20 each, for a short day of labor, (a good wage back in 1976, in the backwoods).Following are pictures of the mesh skeletons framed on stick welded #3 rebar. The kitchen sink is shown in a "horse shoe" kitchen layout.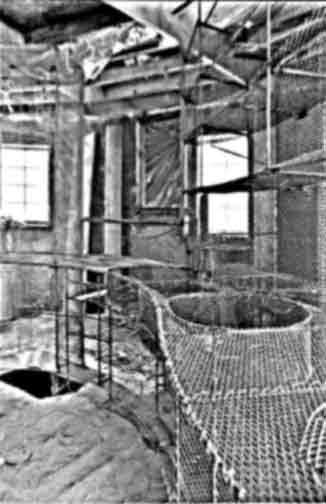 Last is a picture of the 1978 spiral stair case.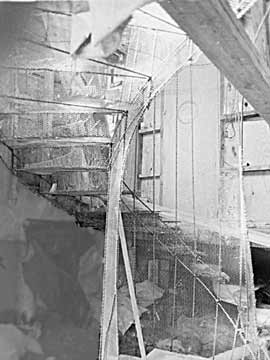 Bo's best building links & non-profit research follow below.
Note: These pages are placed in the public domain and are furnished "as is". The author assumes no responsibility for the use or misuse of the concepts in this series. All pertaining laws should be satisfied, in duplicating or testing my concepts or descriptions, as are posted on my linked pages.
Searching Synergy ....

.... Free Exchange of Ideas
Enersearch was incorporated in 1980 but never materialized financially. A synergy of concepts were developed and are reflected in the pages of this series. The synergy continues as a single handed effort of Bo Atkinson, in Maine, USA.

Email comments welcome ~~~~~~~ boa1@pivot.net
---
Tel : 207 342 5796 . . . (Maine)
Services ___Disclaimer ___Royalty Freedom ___About enersearch